Hair Today, Gone Tomorrow: Anne Hathaway's Fashion Devolution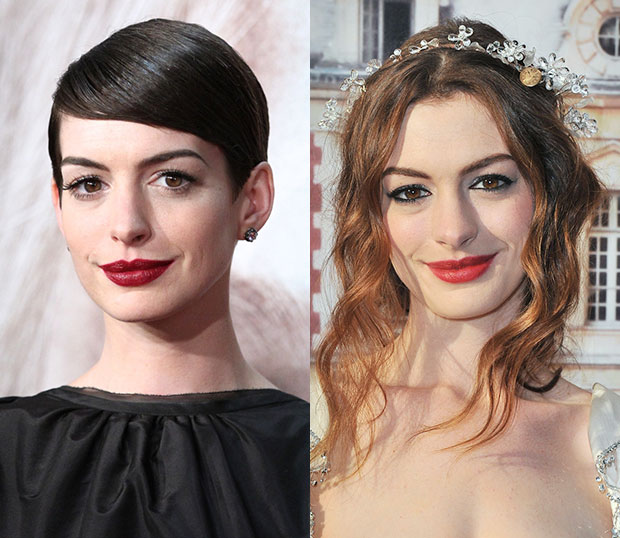 Anne Hathaway has come a long way since she burst onto the scene as a fresh-faced, haphazardly dressed 19-year-old in 2001's The Princess Diaries. In the decade since her silver screen debut, Hathaway has transformed from the proverbial fashion ugly duckling to graceful label-clad swan. Her red carpet appearances played like a real-life makeover montage. That is, until she decided to make herself more Oscar-friendly by shearing her locks for her role in Les Misérables. Along with her hair, Hathaway seems to have lost her finely-cultivated sense of style.
If Hathaway's red carpet looks from the numerous Les Mis premieres are any indication, our little songbird has gone off the edgy deep end. While Hathaway's shorter 'do has made possible a number of effortlessly chic looks, including her current Vogue cover, we're a little concerned that her drastic haircut has forced Hathaway to adopt a style she wasn't quite ready for. She went from classy to sassy in no time at all and it was too much, too soon for her to handle.
In her pre-haircut days, Hathaway was known for perfectly tailored looks that nipped in her trim waist and delicate fabricates that accentuated her willowy beauty. But now that she's gone all manic pixie on us she's a little less dreamy. Her closet seems to be full of ill-fitting suits and Halloween leftovers. 
Go ahead and flip through the gallery of Hathaway's devolution for a full report. We'll be watching The Devil Wears Prada on repeat to erase our memories of Hathaway's Les Mis travesties.
Anne Hathaway's Style Devolution
Follow Abbey Stone on Twitter @abbeystone
[Photo Credit: Wenn]
More:
Jessica Chastain, Kathryn Bigelow & More React to Golden Globe Nominations!
Late Night Last Night: Anne Hathaway and Jimmy Fallon Sing Mad Lib Christmas Carols
The 'Les Mis' Red Carpet: In Which Anne Hathaway Grows Wings
You Might Also Like:

20 Hottest Bikini Bodies of 2012: Megan Fox and More!