Hair Today: In Which We Get to the Root of Lindsay Lohan's Problems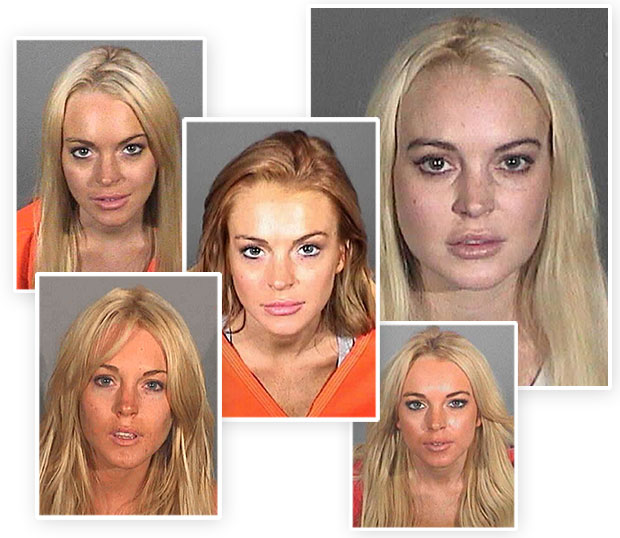 Thanks to Lindsay Lohan, we may now be able to answer the age old question of whether blondes really do have more fun once and for all. Or at least see whether they get into more trouble. If there is one thing Lohan does with more frequency than get in trouble with the law, it's change her hair. And now, after an intense investigation (and by that we mean looking at her mug shots and IMDbing her résumé), we have concluded the likelihood of Lohan's decline based on her hair color. Because, despite what we learned in sixth grade science, correlation really is causation.
First, let's take a closer look at those mug shots. In four of the five, Lohan has blonde hair:- July 24, 2007 (bottom left): Lindsay is arrested on suspicion of drunk driving, driving with a suspended license, and cocaine possession. Lindsay is ultimately sentenced to one day in jail and 10 days of community service, plus three years probation. Ruh roh No. 1.
– November 15, 2007 (bottom right): Lindz checks into the Lynwood, Calif. women's correction facility for her one day sentence. That lasts exactly 84 minutes. 
– July 20, 2010 (top left): Back to jail Lohan goes to serve a sentence for probation violation. 
– October 19, 2011 (top right): LiLo's probation is revoked for failing to perform her community service. She is briefly detained and held on $100,000 bail. In Lindsay's sole redheaded mug shot (from September 24, 2010), she was brought in for failing a drug test and violating her probation — again.
On the flip side, in all of Lindsay's critically and publicly acclaimed films, she sports her God-given hair color: red. The Parent Trap: red hair. Mean Girls: red hair. Freaky Friday: red hair with blonde highlights — and isn't this the most questionable of Lohan's early films? By the time Lindsay had garnered a reputation for being impossible to work with on the set of A Prairie Home Companion, she was back to her flaxen locks. Coincidence? I think not.
And that brings us to today. It was only in October that Lindsay went back to her red roots. Was she anticipating a Liz & Dick–fueled critical comeback? Unfortunately for Lohan, both her Lifetime movie and her personal life tanked this week. Back to blonde, it is! 
Follow Abbey Stone on Twitter @abbeystone
More:
Here We Go Again: Lindsay Lohan Arrested for Assault
The Absolute Worst Moments of Lindsay Lohan in 'Liz & Dick'
The Simple Answer to All of Lindsay Lohan's Problems
You Might Also Like:

Cory and Topanga Are In! Big 'Boy Meets World' Spinoff News