Happy 50th Birthday, Jon Stewart: 50 Reasons To Keep Him On Your Celeb Crush List
It may shock you to know that today, Jon Stewart is 50 years old.
Why might it shock you? Because if you even care one small iota about that factoid, you probably have a big ol' crush (of the platonic appreciation or romantic varieties) on the Daily Show host, and the revealing of said fact just made you laugh and shake your head. "Nah, my favorite political funnyman/journalist/role model/object of celebrity affection can't be 50 already! I just finished putting together my homemade 'Sexy Jon Poses' calendar for 2013!"
Well, it's true. On Nov. 28, 1962, the then-future host of The Daily Show was born in New York, meaning this is his 50th year of life. But fear not! Stewart's still got it. In fact, we found 50 reasons to love beloved comedian.
1. The man's got 18 Emmys. He's accepted an Emmy more times than Taylor Swift's last boyfriend has celebrates his birthday.
2. 10 of those Emmys were consecutive wins in the Outstanding Comedy Variety Program category. 3. He's just about the cutest.
4. All that and brains too. Pew Research discovered his viewers are often more informed than those who watch only MSNBC, CNN, and Fox News. 
5. He met his wife on a blind date. Here we go: awwwww. 6. He romanced The Nanny before he was all famous and sticking it to politicians on a nightly basis.
7. He said this: "The press can hold its magnifying glass up to our problems and illuminate problems heretofore unseen, or it can use its magnifying glass to light ants on fire, and then perhaps host a week of shows on the sudden, unexpected dangerous-flaming-ant epidemic. If we amplify everything, we hear nothing." (Rally to Restore Sanity, Oct. 2010) 
8. And while he said that, he was totally pulling off an American flag jumper I wouldn't let my grandpa wear.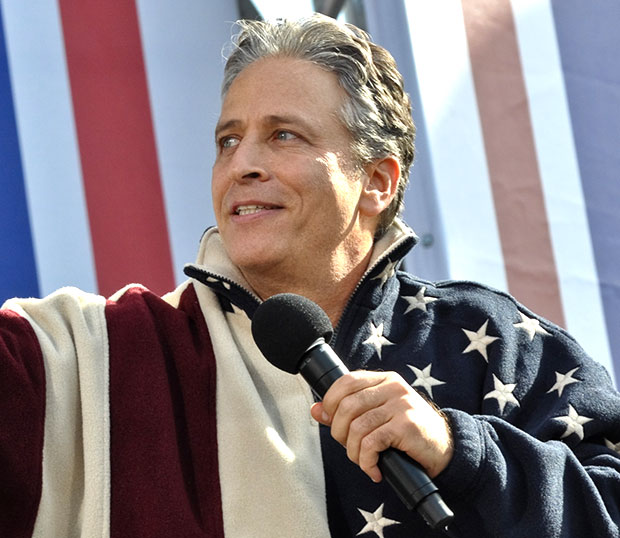 9. He's one of the most underappreciated, funniest Oscar hosts ever. "The singer Bjork couldn't be here tonight. She was trying on her Oscar dress and Dick Cheney shot her." Come on, Hollywood. Laugh a little!
10. He's the best person to attend to you after a very public, hurtful breakup.
11. It makes sense. After all, he's got a degree in Psychology from William and Mary University. 
12. He's got a dog named Monkey. 13. And one named after former Major League Baseball player Art Shamsky. 14. And a cat, if you're into that sort of thing. 15. He's a great dancer.
16. He's written three books: Naked Pictures of Famous People, America (The Book): A Guide To Democracy Inaction, and Earth (The Book): A Visitor's Guide to the Human Race.
17. He's funny, even when he's making up stories about famous people. (Like in Naked Pictures of Famous People.) 18. He's also still funny when he's doing a bit with Andy Dick.
19. His real last name is Liebowitz. Yes, like Annie Liebowitz. 
20. His new (and legal) last name comes from his middle name, which is Stuart. 21. He played soccer at William and Mary, which is the sport all the cute guys in my high school played, so that's got to be worth something. 22. His soccer legacy lives on through an award called the Liebo. It's an award for being the team clown and sweetheart, proving that Stewart has always been someone everyone wishes they were friends with. 23. He looks good, even with an alternate timeline goatee.
24. He's got a Grammy (the statue, not the old lady… but he's probably got one of those too). It's for an audiobook, but hey, it still counts for some serious cool points.
25. He's also been nominated for two Daytime Emmys. No, not for his Susan Lucci impression, but for his Rally to Restore Sanity.
26. He does a killer Glenn Beck impression.
27. He was in a fraternity in college…
28. …but he quit because he thought it was pointless. (Almost gotcha, didn't we?) 29. He hosted an MTV show. It was awkward. But only because the world didn't yet understand how magnificent Jon's brand of humor is.
30. He was in The First Wives Club as Elise's (Goldie Hawn) lover. Thankfully, that scene only made it to the cutting room floor. 
31. His unofficial test run for The Daily Show was as a frequent guest host on The Larry Sanders Show. 32. He's got two kids. (This is the part where we keep your celebrity crush in check. You're welcome, Mrs. Stewart.) 33. He was chosen as one of People's Most Beautiful People in 1999. (Crush train back on track!)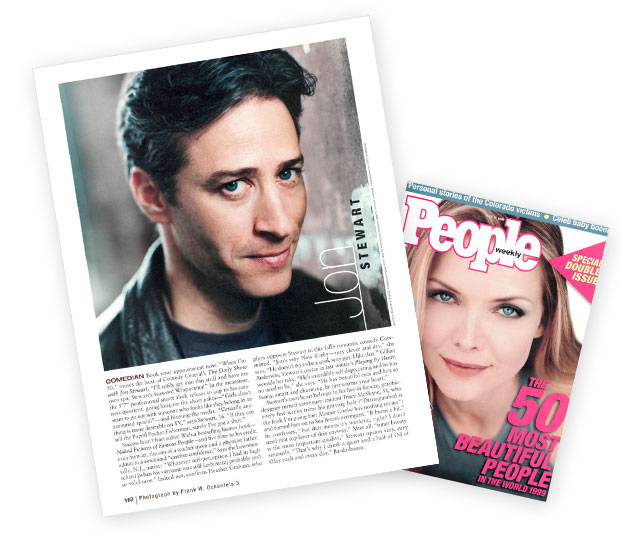 34. And for the most part, he still looks like he did in 1999. Nice.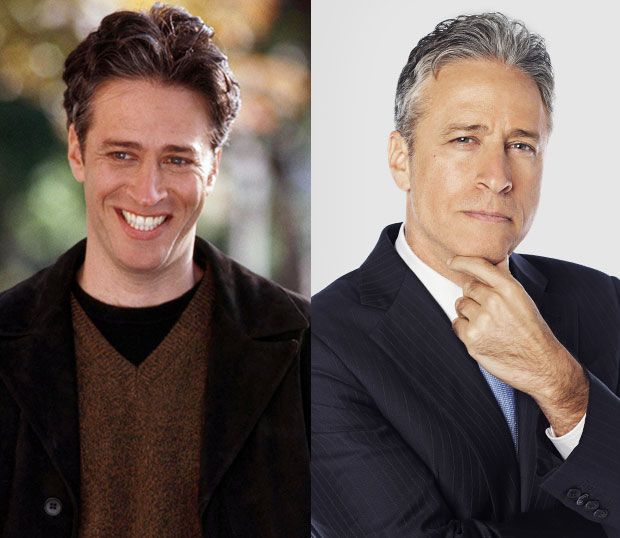 35. All hail his signature, and pointed, pop culture zingers used in a political context. ZING!
36. He's about as gangster as Mr. Rogers, but we still find this charming:
37. Columbia Journalism Review put him in the top four on a list of 20 journalists they praised for coverage of the 2004 Presidential Election. He even beat journalists from the New York Times and The Washington Post.
38. This explosion of truth on the now defunct Crossfire show on CNN, during which Stewart told Tucker Carlson, "You're as big a d**k on your show as you are on any show," is credited with getting the show canceled. CNN execs agreed that it was "hurting America."
39. He loves the Mets so much it makes up for how widely ridiculed they are by the majority of MLB fans. 
40. His company, Busboy Productions, gets its name from a job he once held at a Mexican restaurant. What's the opposite of being traumatized by a crappy, low-wage job? That's what's going on with this guy. 41. He's only 5'6" and he doesn't give a f**k. 42. There's an asteroid named in his honor: Asteroid 116939 Jonstewart. 43. He was so committed to turning The Daily Show into a thoughtful show full of political commentary, that many denizens of the Craig Kilborn era left. Stewart and his new crew built the show we know and love from the ground up. 44. Journalists, he's doing your job better than you are. Just ask Jim Cramer how he was doing after Stewart grilled him.
45. He should stay away from sharp things, but not in a mentally unstable way. It's more of a prone-to-adorable-yet-painful-mishaps way. 
46. Because of his show, we now know the glory of Ed Helms, Steven Colbert, and Steve Carrell. 
47. Sometimes, he just talks to God. NBD.
48. He spends a great deal of his week poking fun at Bill O'Reilly, yet he still manages to face off with him, in person, about once a year. 
49. He opened his latest debate with O'Reilly with this ridiculous line: "I'm here to plead to the mayor of Bullsh*t Mountain. Talk to your people!" And he still won. 50. He makes jokes at the expense of every single American leader he can find, but don't let that confuse you. This man loves this country.
Follow Kelsea on Twitter @KelseaStahler
[Photo Credit: Martin Crook/Comedy Central; C. Smith/ WENN; Martin Crook/Comedy Central; WENN]
More:
'The Daily Show': Jon Stewart Vents His Frustration With Obama's Big Bird Fixation
Jon Stewart Missed the Petraeus Scandal: 'I'm The Worst Journalist in the World'
Highlights From This Weekend's Jon Stewart and Bill O'Reilly's Debate
You Might Also Like:

Best Nude Scenes of 2012 — PICS

'Hunger Games: Catching Fire' First Look: The Quarter Quell Begins! — PICS