Happy Birthday, Justin Bieber! 19 Reasons Why 19 Will Be Better Than 18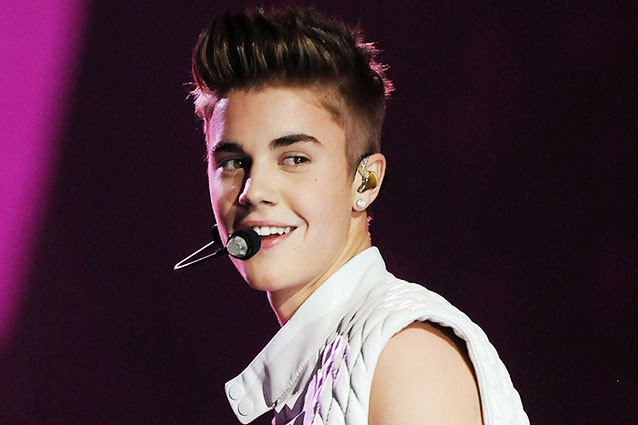 When you're Justin Bieber, a birthday means more than blowing out candles while your closest friends and family sing "Happy Birthday" to you. It means millions of your closest fans tweeting at you, posting on your official Facebook page, and screaming at you whenever you go out in public. It means news sites publishing articles about you (guilty!), other stars and celebrities wishing you well, and as many performances and parties you can fit into one 24-hour day. 
As if that wasn't already enough, a birthday also means that you're one year older, a.k.a. you are one year wiser (hopefully). Bieber has had a crazy year at 18, filled with ups and downs, scandals and achievements, all designed to help him navigate the life of a teen superstar. 
Learn from your mistakes, Bieber, and though next year will offer its own challenges, you'll know better than to fall for these again. And although 19 got off to a rough start (he tweeted "Worst birthday" on March 2 after getting kicked out of a UK nightclub), here are 19 reasons why 19 will be better than 18!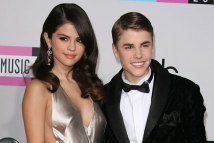 1. So you broke up with your girlfriend, Selena Gomez
You're no longer a part of a teen power couple. So what?!? You're Justin Bieber! Pick any one of your million screaming fans to go on a date with you, and you'll be guarenteed to make their day/week/month/year/life. Guaranteed.
2. You didn't get a Grammy nomination
Who cares? You're on a nationwide, sold out tour. You think your fans care about a trophy collecting dust on your shelf? All they want to see is you crooning all your biggest hits. 
3. Someone tried to murder you
At least you lived to see 19, right? The murder plot was thwarted, so your life is currently not in jeapordy. But maybe now's the time to beef up your personal security, yeah?
4. So you got into a Twitter feud with The Black Keys
When the drummer from The Black Keys, Patrick Carney, told TMZ that you didn't need or deserve a Grammy because you should be happy with all the money you make, you took to Twitter to suggest that somebody should slap him. At least you were wise enough to include the "haha" at the end, so instead of a nasty feud, you were just trading digs. You're learning already!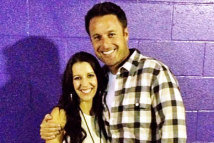 5. Your mom went on a date with Chris Harrison
Apparently, "no real sparks" flew between your mom, Pattie Mallete, and the Bachelor host. But maybe have a talk with Ryan Seacrest (who set up the date at one of your own concerts!) anyway about hitting the brakes on any more setups. 
6. A fan's mother sued you for her hearing loss
Now that you're older and your music is more mature, your fans are growing up with you too. Soon they won't need parental supervision at your concerts at all so you can avoid issues like this one altogether. And let's be honest, the younger generation is already going to suffer major hearing loss anyway thanks to their constant headphone usage. Now you can "entice the crowd into a frenzy of screams" as much as you want!
7. You were caught smoking weed 
Hey, if Jennifer Lawrence and Josh Hutcherson can do it and still be universally loved, then why can't you? Maybe next time make sure no one is documenting the act with photos, though. That's, like, high school 101.
8. Your new habit causes a disturbing "Cut for Bieber" trend
When your weed scandal causes your young, impressionable fans to mimic what started out as an inappropriate joke and self-mutilate in your name, and then post photos of it on the internet, step up and speak out ASAP to put a stop this horrible, terrible, awful trend. Do not remain silent while more young fans continue to harm themselves.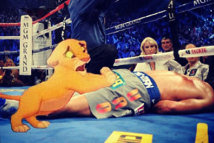 9. You angered the Phillipines with a photo of Manny Pacquiao
Lawmakers in the Philippines filed a resolution demanding that you apologize for insulting photos you posted of boxer and congressman Manny Pacquiao on your Instagram, following Pacquiao's defeat at the hands of Juan Manuel Marquez in their Dec. 9 fight. We have to admit, though, it was a clever idea (we definitely chuckled).  
10. You vomited on stage during a concert
But you handled it and kept going like a champ! You proved not only that singing while tossing your cookies was a possibility, but that it was yet another skill you possess. Plus, it was the perfect time to make an Anchorman joke. Yeah, milk probably was a bad choice. Let's try and stay away from dairy products before concerts in the future.
11. You angered the California Hamster Association (which is definitely a real thing)
Though you probably thought you were doing a good deed, giving your pet hamster away to fan wasn't so good for its health. The CHA said when you handed it to a fan at the Atlanta Jingle Ball, "The moment that hamster was handed off to a screaming girl in a harsh, frenzied environment was likely the moment it gazed at the short path to its doom." Let's keep our pets from on, shall we?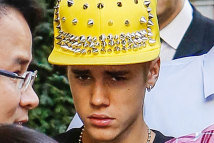 12. You wore… this thing
Sure, taking fashion risks is a no-brainer for stars of your caliber. But this hat — the color, the spikes, everything about it — just… no. Throw it away, burn it, bury it, never let it see the light of day again, or else you'll throw Damon Lindelof into another frenzy.
13. Your bodyguard sued you for assault and battery
Moshe Benabou, a former Israeli soldier who served as your bodyguard from March 2011 through October 2012, filed a complaint alleging that you punched him multiple times on Oct. 10, immediately prior to terminating his employment. Next time a member of your entourage tries to quit, just let him go. You'll find someone else to keep the swarms of screaming tweens away from you, don't worry.

14. You were sued for tweeting an incomplete phone number
You tried to play a joke on your fans — tweeting out a phone number you claimed was yours with the final digit missing — but two people in Texas did not appreciate it. Apparently, your Twitter followers took it upon themselves to figure out the last digit, and a woman named Dilcie and a man named Kent were the recipients of thousands of phone calls. Now, they want compensation for all the problems you caused with your "reckless" behavior. Next time, don't underestimate the power and energy your Beliebers possess. 

15. A photographer was killed trying to snap photos of your car
Bieber fever proved to be fatal when 29-year-old Chris Guetta was killed after being hit by a car while attempting to take pics of your white Ferrari. The accident reinvigorated the debate surrounding tighter laws regarding the paparazzi's access to celebrities, which will hopefully help prevent any more tragedies from occurring. 
16. Your computer was stolen… oh wait, just kidding!
In order to hype the release of your new single, "Beauty and a Beat," you claimed your computer was stolen. A mysterious Twitter handle (gexwy) claimed to be the thief and started threatening to post private videos of you online. But instead of a career-killing scandal, it turned out to be a massive hoax when you released the new music video featuring Nicki Minaj. Next time, don't prank the media (you know, the people who write about you for a living and help to perpetuate your fame?).
17. You were accused of being racist by the Congress of Aboriginal Peoples in Canada
In an interview with Rolling Stone, you said that you were, "Part Indian… I think Inuit or something? I'm enough percent that in Canada I can get free gas." This angered the Congress of Aboriginal Peoples, since they feel that you enforced a stereotype that Aboriginal Peoples in Canada get a "free ride," a stereotype that they have fought hard to dispel. Now that you've given your fair share of interviews, you should know to choose your words more carefully.
18. You were connected to an anti-abortion film
Well, your mother actually is. Pattie Mallete just signed on as the executive producer of the upcoming anti-abortion short film, Crescendo. Nothing you can learn from this or change about it, but it's good to know what your family is up to.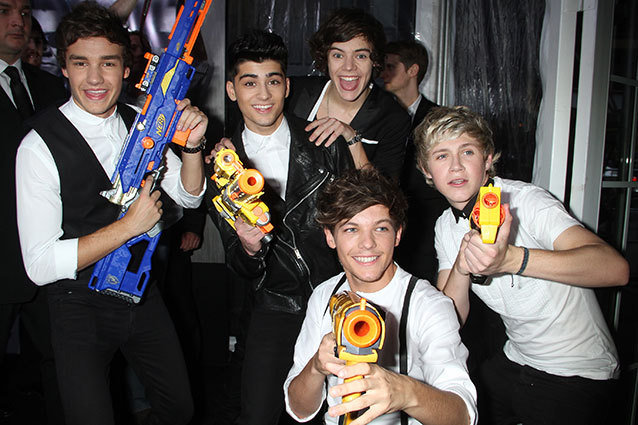 19. One Direction stole a bunch of your fans
Those enterprising Brits are bound to lose popularity in the next year, right? Besides, "Belieber" is such a better name for a devoted fan than "Directioner."
Happy 19th birthday, Justin Bieber! We look forward to whatever crazy and scandalous antics you get into this year — but if you take our advice, there'll be less of them. That's a good thing.
Follow Sydney on Twitter: @SydneyBucksbaum
[Photo Credit: Evan Agostini/Invision/AP Images/Adriana M. Barraza/Wenn (3)/Instagram/Twitter/Mr. Blue]
---
From Our Partners:


Justin Bieber Celebrates 19th Birthday, Loses His Pants (Vh1)


60 Celebrity Bikini Bodies: Guess Who! (Celebuzz)