Harper Beckham Offered Modeling Deal: What She Can Learn From Mom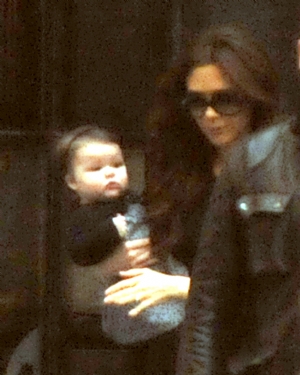 With parents as pretty as Posh and Becks, it's no surprise that little Harper Beckham would get a modeling contract some day. However, no one anticipated the fashion world beckoning before her first birthday.
On Monday, My1stYears.com, a British manufacturer of personalized baby gifts, offered the 9-month-old daughter of Victoria and David Beckham a modeling gig. In a letter to Harper, the company praises her for having "implacable style and taste" (we're guessing they meant impeccable) and says she was their "immediate first choice" to be the face of their next campaign. "Both your parents are fashion icons, and we can see no reason why you shouldn't start [your] own career in the fashion industry even at your young age," says the offer.
Babies understand more than you think they do, so while Harper probably can't talk, that doesn't mean she can't take tips from her mom. Here are some lessons from Victoria that should make Harper the world's top baby model.
Don't smile with your eyes — or any other part of your face.

Sorry, Tyra. While a nice smile is generally considered an asset in modeling, Victoria has managed to build a successful career in the fashion world despite the fact that she rarely bares her teeth. She claims she looks "a little bit serious" due to her "insecurities," but her stony expression has helped her craft her mysterious fashion robot image.
Don't shy away from matching outfits.

As Victoria preached, if people want a relationship with you, they've got to get with your friends. The fashion world can be a tough place, so it's important to stick by your pals — and nothing bonds girls together like wearing coordinating outfits.
Sunglasses are a must.

As Victoria explains, "I'm quite obsessed with sunglasses. I collect vintage Guccis and Carreras — they can make virtually any outfit look cool." A great pair of sunglasses can shield you from the paparazzi and make up for a designer's questionable fashion sense.
Don't be afraid to pose in your underwear.

According to Posh, one should never be shy about appearing in only their briefs (or diapers, as the case may be). In fact, Harper should ask mom and dad to come along on revealing shoots. If Posh and Becks are any indication, the family that poses in their undies together stays together.
More:
Victoria Beckham Responds to Criticism: She's 'Tired' But 'Not Miserable'
Victoria Beckham: Justin Bieber Thought My Son Was A Jolie-Pitt Kid
Victoria Beckham Poses for Baby Bump Photo
[E!]