Hogwarts-Approved Reading Lists for the 'Harry Potter' Houses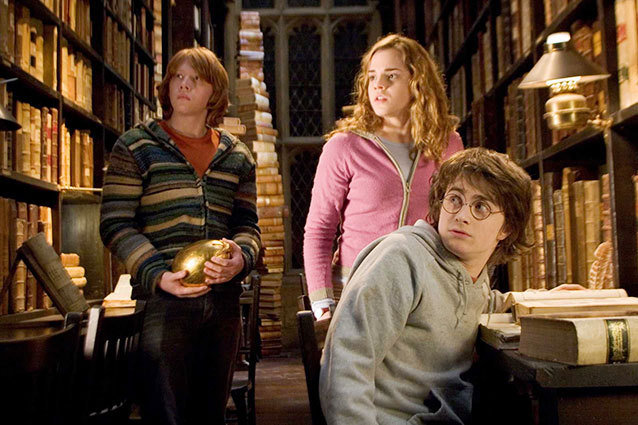 Warner Bros.
I love Harry Potter, you love Harry Potter, bloggers Jesse and Julia Galef love Harry Potter, we all love Harry Potter. The Galefs, who run what is self-professedly "possibly the world's #1 brother-sister blog about rationality, science, and philosophy," Measure of Doubt, have created reading lists for the four Hogwarts' houses.
The Galefs' bookshelves, which they have also photographed, are extensive, accurate, and very involved. But, seeing as Measure of Doubt is a website dedicated to philosophy, they are also very serious. Take the Gryffindor reading list, for example, where A Game of Thrones and The Killer Angels are the closest you get to the bestseller's list — they are surrounded by the likes of Plato, Herodotus, and Thucydides. And things aren't any better for Ravenclaw, Slytherin, or Hufflepuff. 
There are a smattering of whimsical titles in the list — including The Phantom Tollbooth for Ravenclaw, Watchmen for Slytherin, and The Princess Bride for Hufflepuff — but overall we'd say the lists are lacking in fun. 
But don't worry, Jesse and Julia, Hollywood.com's resident Harry Potter fanatic and book nerd (me) is here to offer some additions, mostly of the fictional variety. 
Gryffindor
A Wrinkle in Time
The Wonderful Wizard of Oz
Hatchet
The Hunger Games
Cloud Atlas
Life of Pi
Ender's Game
The Adventures of Huckleberry Finn
The Odyssey
Artemis Fowl
Ravenclaw
The Golden Compass
Harriet the Spy
The New York Trilogy
Gone Girl
The Alchemist
Catch 22
Fahrenheit 451
Infinite Jest
Jane Eyre
Complications
Syltherin
The Horned Man
Atlas Shrugged
The Girl With a Dragon Tattoo
Too Big to Fail
Steve Jobs
Guns, Germs, and Steel
I Hope They Serve Beer in Hell
The Tipping Point
Heart of Darkness
Macbeth 
Hufflepuff
The Complete Tales of Winnie-the-Pooh
The Perks of Being a Wallflower
The Fault in Our Stars
Tuesdays with Morrie
Pride and Prejudice
Marley and Me
To the Lighthouse
Of Mice and Men
Norweigian Wood
The Giving Tree 
Follow Abbey On Twitter @AbbeyStone
[Photo Credit: Warner Bros. pictures]
---
You Might Also Like:


15 Oscar-Winning Nude Scenes


Young Jack Black Is Totally Unrecognizable