Harry Styles Proposed To A Fan In A Wedding Dress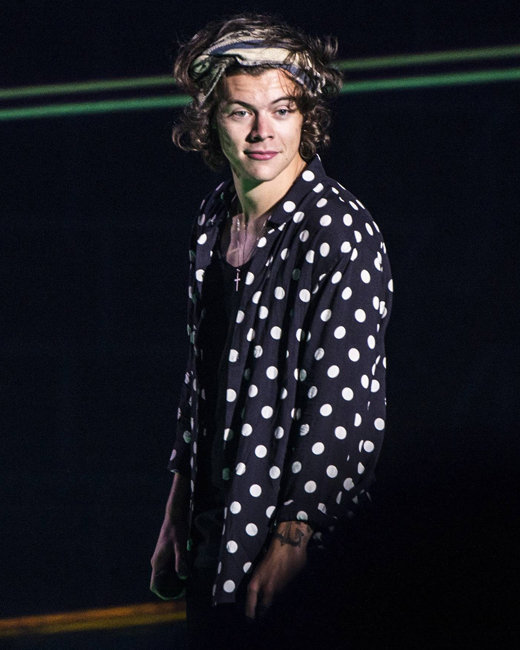 WENN
Last night, One Direction's front man, Harry Styles, got engaged! Well, sort of.
The band performed the first of two shows at Philadelphia's Lincoln Financial Field on their Where We Are tour. Towards the end of their concert, Styles paused between songs to ask the crowd if there was really a girl there in a wedding dress.
To rewind a little bit, yesterday Priya went to a One Direction concert. In a wedding dress.
THIS CHICK LEGIT SHOWED UP TO THE CONCERT IN A WEDDING DRESS pic.twitter.com/1l0H423rZV

— (Mad)ison| yesterday (@frickfrakhoran) August 13, 2014
Other 1D fans were posting pictures of her all over Twitter and Instagram.
went to a 1D concert, got a pic with a girl in a wedding dress pic.twitter.com/hiZzLwp5kc

— bridget (@bridgetelison) August 13, 2014

Even her own brother hopped on board the selfie train.
Yo I gotta pic with psycho wedding dress girl at the 1D concert. Do we look alike lol? #WWAPhilly #weddingdress pic.twitter.com/0zYt9JRTeq

— shriji thakker (@shrobro) August 13, 2014
So of course, this news managed to reach Harry Styles. Being the sweetie that his is, Harry made all of Priya's dreams come true:
Make sure your sound is on for this Vine. WARNING: There are some serious screaming fans.
Now every fan will be attending One Direction concerts looking like this:
"HARRY PROPOSED TO A FAN THAT WAS WEARING A WEDDING DRESS" @Harry_Styles next concert… #MTVHottest One Direction pic.twitter.com/95seVbCsDO

— ☯ℓєηα✖ (@JngerLena) August 14, 2014
Congrats Priya and Harry! We're dying of jealousy, but can we get a wedding invite?!