Harry Styles Has Slept with Two Women, Twitter Defends His Honor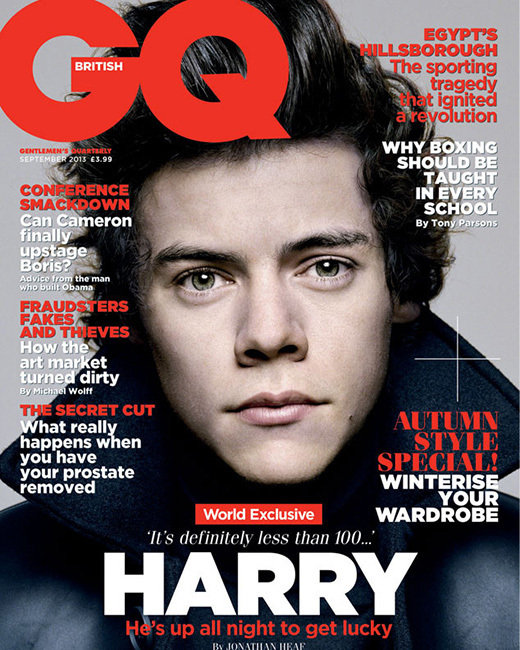 The September issue of GQ U.K. is out now and the boys (men? Jury's out) of One Direction fill the cover. Each member has an individual cover, but Harry Styles' is causing a bit of drama. Each cover features a quote and tagline, and Styles'deals with his sex life. "He's up all night to get lucky," the cover reads, borrowing from Daft Punk's latest hit.
Yes, One Directioners, the time has come. Harry has revealed a few details about himself that you've been dying to know. Please try to keep your screaming to a minimum.
When asked how many women he's had sex with, Styles reportedly said, "It's definitely less than 100… Yes, lower than 50… I'm not doing this! You're cornering me!" But after a bit more prodding he gave in. "Yes. Two people. I've only ever had sex with two people," he said. "That's my answer. Read from it what you will!"
So there you have it. Two people. Styles didn't say who those two people were, of course, so you'll just have to keep guessing. He did, however, address the rumors that he was bisexual.
"Bisexual? Me? I don't think so. I'm pretty sure I'm not." He seems to handle rumors quite well, adding, "Some of them are funny. Some of them are ridiculous. Some of them are annoying. I don't want to be one of those people that complains about the rumours. I never like it when a celebrity goes on Twitter and says, 'This isn't true!' It is what it is; I tend not to do that."
But just because Styles doesn't take to Twitter to defend himself doesn't mean his fans won't do it for him. The quotes and taglines on each of the covers incited quite the Twitter frenzy, with such gems as "HARRY ISN'T 'UP ALL NIGHT TO GET LUCKY' HES UP ALL NIGHT MAKING VINES, HANGING OUT WITH HIS HAIR STYLISTS, OLD PEOPLE, AND A BABY" and "F**K GQ I HOPE THEY DIE FROM CHLAMYDIA CIAO." And if their words didn't already display their rage, their use of caps lock certainly does.
You can buy the September issue of GQ U.K. now and judge for yourself whether the interview with One Direction deserves a caps lock response. Ciao.
Follow Jordyn on Twitter @jordynmyah | Follow Hollywood.com on Twitter @Hollywood_com
More:
Video for 'Best Song Ever' Proves One Direction Should Have a Sketch Comedy Show
A Directioner Reacts to One Direction's Brand New Movie Poster
One Direction Drops Trailer for 'This Is Us': Way More Than 'Never Say Never'
---
From Our Partners:


40 Most Revealing See-Through Red Carpet Looks (Vh1)


15 Stars Share Secrets of their Sex Lives (Celebuzz)