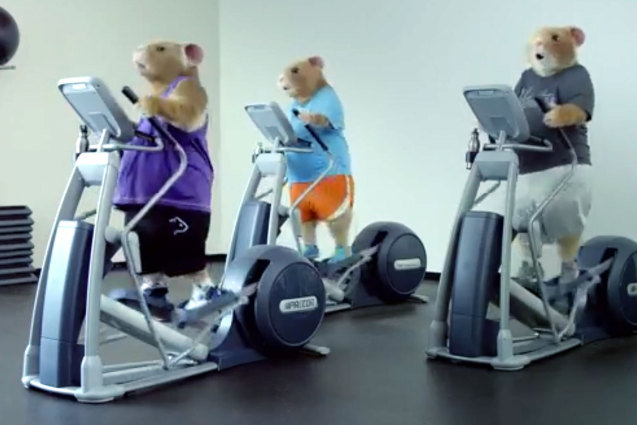 Kia
If you are one of the few who actually watched the VMAs on TV, rather than in Youtube clips the next day, you might have noticed Lady Gaga's new song "Applause" in a Kia commercial. The commercial features the Kia hamsters working out to her song before arriving at the red carpet in the 2014 Kia Soul. It is cheesy and cute, words that rarely describe anything related to Lady Gaga.
Now, Gaga and her music have appeared in commercials before, most notably in a promotion for Google Chrome. But her style was in the forefront of this ad: it related to her overall image. Gaga is calculating. She never appears in everyday clothing. She is not "just like us." It seemed that she valued her artistic image over money, though that image did make her a lot of money. Why, then, did she let her song appear in this commercial, which seems almost in contradiction of the Gaga aesthetic?
Perhaps Gaga wants people to focus on her music, rather than the person behind it. "Applause" is a great pop song, and it shines in the Kia commercial. But Gaga has stayed true to her crazy image for so long, it seems unwise for her to waver now. Watch the commercial below. 
 More:
Stop Threatening To Light Me On Fire: The Lady Gaga/Katy Perry Edition
All The People Imitated In Lady Gaga's 'Applause' Video: Madonna, Cher, And... Botticelli?
Lana Del Rey Proves To Be Not 'So Legit' In Her Lady Gaga Bashing
---
From Our Partners:


40 Most Revealing See-Through Red Carpet Looks (Vh1)


15 Stars Share Secrets of their Sex Lives (Celebuzz)