Heidi Klum Breaks Silence on Split from Seal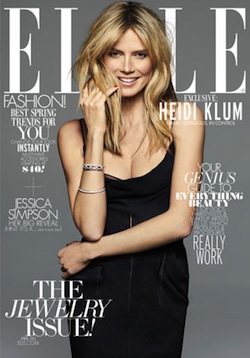 There's a down side to gushing about how much you love your husband everywhere from Oprah to the red carpet — if you break up, the whole world wants to know the details. Heidi Klum hasn't said much since announcing in January that she and Seal are divorcing, but she finally opens up in the latest issue of Elle.
"I feel like I'm in the eye of the tornado," says Klum. "It's emotions inside of your body that are a tornado. And then the outside world doing all this craziness—with you wanting it or not wanting it—is another tornado. But as hard as it is, so is life."
Those hoping to hear more about what exactly caused their split will be disappointed. The mom of four is taking the high road, telling the magazine, "I don't want to talk positively or negatively about the ups and downs that we had." She adds, "Every couple goes through things. Unfortunately, we're in the public, so the highs are out there. But I don't think it's necessary—especially for our children—to have the lows being printed in magazines and talked about." That may not be what nosy Project Runway fans want to read, but it's definitely a classy approach.
Source: E!