Heidi Klum Talks About 'Wild and Crazy' Sex with 'Marie Claire'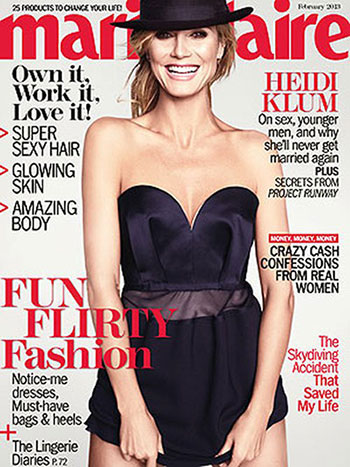 Heidi Klum has been known to say some ridiculous things. On Project Runway, the lovable, oft unintentionally hilarious host/judge once used the accidentally wonderful phrase, "They went like bagels," and another time the model not-so-subtly told Oprah that when she first met ex-husband Seal she noticed his "whole package," if you catch her drift. (She meant his penis.)
The German beauty has said some eyebrow-raising stuff once again, this time to Marie Claire, the cover of which she currently graces. Klum, who filed for divorce back in April from Seal, her husband of seven years, and has since been dating her former bodyguard Martin Kirsten, talked rather candidly about her sex life. "Some people are more experimental in bed and others are more boring. If you are wild and crazy, bring it on so the other person is well aware that you have little devil horns that come out every once in a while," the 39-year-old mother of three said.
Klum, who has an affinity for dressing up wildly outside of the bedroom on Halloween, admits she brings costumes into the equation in private, too. "It's good to make an effort to dress up sometimes, to do things outside of the norm."
The February issue of Maire Claire with Klum, in which she also talks about her family, her divorce and even First Lady Michelle Obama ("I don't think we've ever had a first lady who is as cool and fashion-oriented as she is"), in addition to those very personal details about her sex life, hits newsstands on January 15. Better pick one up right away, they will probably go like bagels.
[Photo credit: Marie Claire]
More: 
What the Heck Happened to 'Project Runway'?
Heidi Klum Goes Nude for 'Project Runway'

30 Hottest Lingerie Scenes from the Past 30 Years (Celebuzz)