Heidi Montag, Spencer Pratt Spent $10 Mill on Apocalypse Prep & More Bizarre News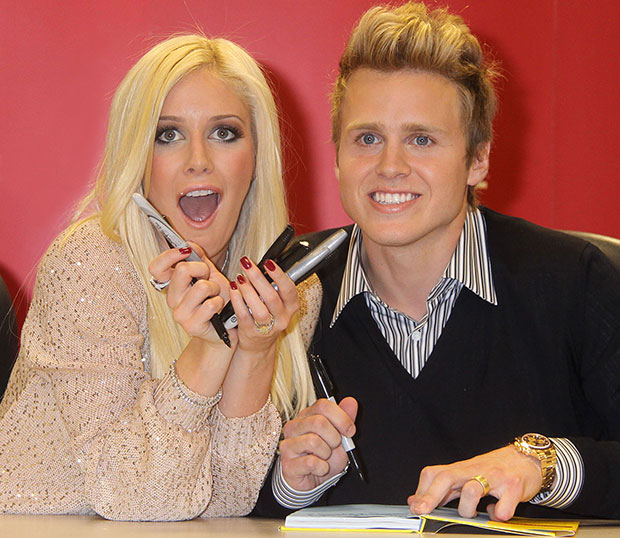 In yet another desperate attempt to make headlines (though it's unclear why they ever did before), former The Hills stars and current famewhores Heidi Montag and Spencer Pratt have opened up to Britain's OK! Magazine about the exorbitant sum of money they spent preparing for the Mayan Apocalypse.
Yeah, you read that right. Apparently, the couple blew through $10 million under the assumption that they couldn't take it with them after Dec. 21, 2012, giving their friends cars and cash, tipping valets and doormen $200 a piece, and buying themselves an armored truck and designer handbags.
"The thing is, we heard that the planet was going to end in 2012. We thought, we have got to spend this money before the asteroid hits," Pratt revealed. "Here's some advice, definitely do not spend your money thinking asteroids are coming."
You think? As vapid and ridiculous as Pratt and Montag came across on TV, there is no way this is real. They're totally in on it. But it's either really funny or really depressing to pretend they're not.
In other bizarre news:
Jackass acts like a jackass. Considering we all know who Bam Margera is because of a show called Jackass, it probably shouldn't be all that surprising that his latest headline-making stunt involves the reality star doing something completely gross and moronic. Apparently, Margera is attempting to jump-start his new rap career with a music video — which you can't see anymore, because YouTube pulled it down for being too gross. (Warning: It's really, really gross.) At some point during the clip, Margera drinks from what TMZ politely refers to as "his own yellow fountain." Hey, we warned you it was gross! [TMZ]
Arnold Schwarzenegger's past comes back to haunt him. Ahhhnold probably thought he'd said hasta la vista to some risqué photos he took when he was younger, but he should know that these things usually have a way of coming back around. One lucky (that's one word for it) buyer of a storage locker that once belonged to Penthouse founder Bob Guccione came across "an old photo of a 'young Arnold' performing a sex act." (Yes, it's that vague, no, we don't want to think about what that could mean.) While our natural inclination is to burn it and forget we ever saw it, there's no word as to what the new owner has decided to do with his find. [TMZ]
Viva la yoga revolucion! Russell Brand is fighting back against The Man, and by "man" we mean… a yoga studio. The comedian was apparently unhappy with the way his friend, yoga teacher Tej Kaur Kalsa, was being treated by her place of employment, so he inspired about half of the class — including Demi Moore — to walk out in support. [VH1]
Follow Jean on Twitter @hijean
[Photo Credit: Diane Cohen/FameFlynet]
More:
Zac Efron Surrounded By Dildos and More Bizarre News
'Twilight' Star's Tatto Mistake: Celebs With Cringeworthy Ink
In Defense of Miley Cyrus: Stop the Slut-Shaming Once and for All

'Hunger Games: Catching Fire': Spoilery Pics From Google Maps