Hey Girl, Ryan Gosling Wants You to Color Outside The Lines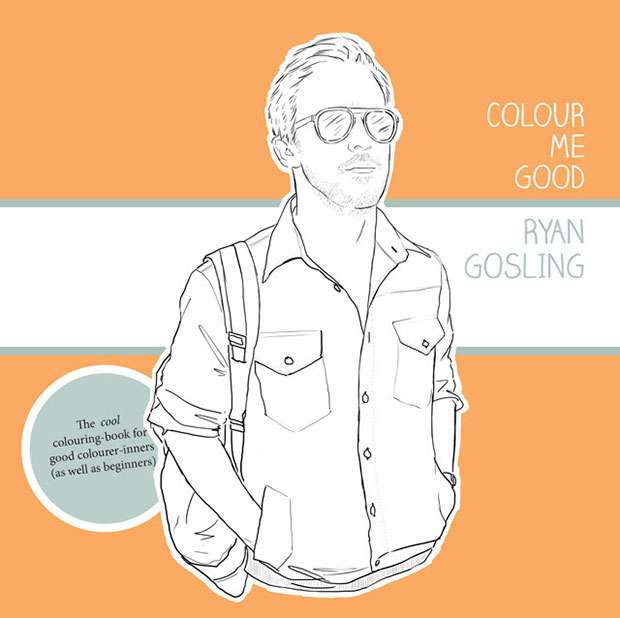 Alright, alright, alright. I know! There are so many innuendo-laden statements to be made, but let's try to be a bit demure about this, OK? (After all, coloring books are generally for kids.) The universe's favorite attractive person, Ryan Gosling has it all: looks, a winning personality, charm, wit, and a super-human ability to cause the entire female (and many members of the male) population to melt with a single bat of his eyelashes. And what else can you do to elevate the man who IS everything? By turning him into a coloring book, natch! Gotta get 'em hooked on Gos early.
That's right, according to Movieline, the girls who want everything can now color in (or outside) the lines of the Goose's perfect face, body, and, ahem mind. And it's all thanks to a brand new coloring book featuring nothing but pages and page of Gosling, ready to be defiled with the flick of your crayon.
The book, titled Color Me Good features simple sketches of Gosling's roles, including the highly-rememberable shirtless scene from Crazy, Stupid, Love. Consider this your chance to get your hands all over his photoshopped-looking body. And for $12, we think it's a bargain. Now excuse us as we go stare out the window wistfully, waiting for our coloring book (or Gosling himself) to arrive at our doorstep. Whichever comes first.
Life may not be fair (we're lookin' at you, Eva Mendes), but we'll make due however we can.
[Photo Credit: I Love Mel]
Follow Alicia on Twitter @alicialutes
More:
Awesome Bill Murray Coloring Book We Must Have — EXCLUSIVE
How to Save a Life: Ryan Gosling Edition
Michael Fassbender vs Ryan Gosling: '50 Shades of Grey' Fan Favorite