Hillary Clinton to Write a Book That's Totally Not About Running For President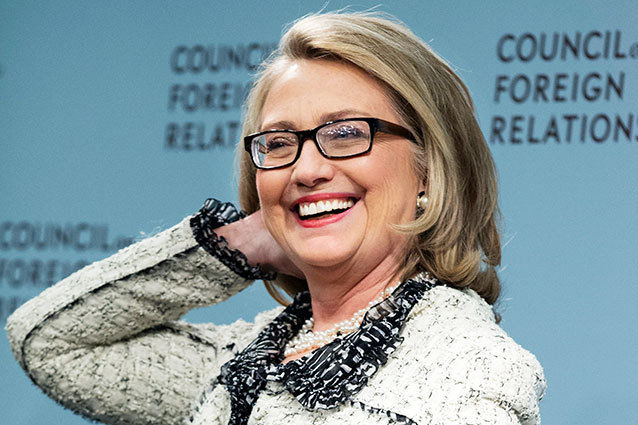 Hillary Clinton will take this opportunity, while everyone is loving her and she doesn't have to officially run for president yet, to write a book about global politics. The former secretary of state has signed a deal with Simon & Schuster to share with readers the "dramatic moments" from her four years inside the Obama administration and to "frame her thoughts about the recent history of U.S. foreign policy and the urgent, ongoing need for American leadership in a changing world." It's reportedly scheduled to be published next year.
A source told the AP that Clinton won't write about her 2008 campaign for the White House and won't acknowledge the possibility of a 2016 run. Though, of course, this project could represent a step in her dramatic public-image evolution between her last candidacy and her next one. By limiting the scope to her time as secretary of state, she can leave behind her struggles to win the public's favor as an unusually political First Lady, a cheating scandal "victim," and a candidate who couldn't out-charm Barack Obama in 2008.
And by presenting her vision for global politics, Clinton focuses on her public-policy strength — it's hard to imagine any candidate who can beat her on that score in 2016. For Hillary Clinton fans — and there are many of us now — it's been fun to watch her stop worrying about making people like her so she could focus on her demanding job, only to find that people loved her for it. We've gone from shockingly cruel and frequent jokes about her appearance to Internet memes that draw humor from her badass authority. A serious book about her policy, not her personal life, makes for a next logical step.
Who run the world? Hillary. 
Hollywood.com correspondent Jennifer Keishin Armstrong is the author of Sexy Feminism and Mary and Lou and Rhoda and Ted, a history of The Mary Tyler Moore Show, due out in May. Visit her online at JenniferKArmstrong.com.
Follow Jennifer on Twitter @jmkarmstrong 
---
From Our Partners


See 'Game of Thrones' as 'Mad Men' (Vulture)


Hayden Panetierre Bikinis in Miami (Celebuzz)