Hillary Clinton Gets an Eyeful … of Christina Aguilera's Cleavage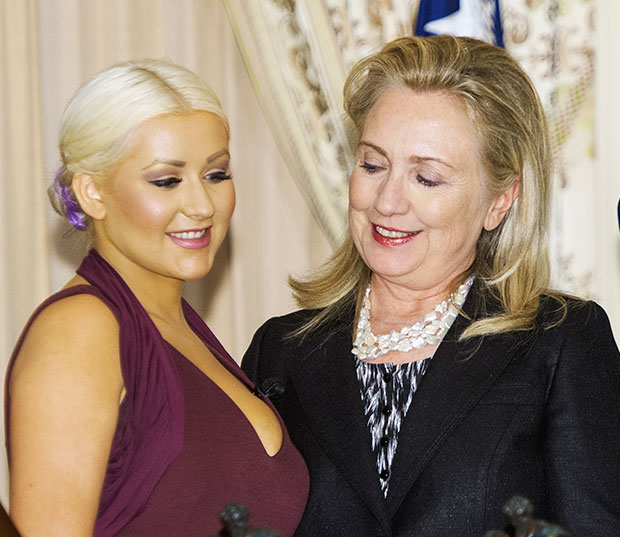 Before you begin your questioning and naysaying, let me assure you that this photograph is 100% real (meaning it wasn't created in Photoshop; I can't account for the authenticity of everything it depicts). In case you're still confused, this is a photograph of Secretary of State Hillary Clinton ogling Christina Aguilera's cleavage. We don't blame you, Hill, there's a lot going on there.
On Wednesday, Aguilera was named a recipient of the 11th Annual George McGovern Leadership Award by the US Department of State for her work as a United Nations World Food Program Ambassador Against Hunger. David Novak, CEO of Yum! Brands, was also honored for his help in fighting global hunger.
That's great and all (way to go, Christina!), but mostly we just think this photo-slash-scenario is funny. Here are 10 possible captions for the above photo:
"Potential Running Mate '16?"
"They're real…and they're spectacular."
"And here I was, thinking what a girl like Hillary wants was foreign policy reform."
"Please, Hillary, watch your hand."
"Something something BI-partisan."
"I finally understand Bill."
"Take a picture (and text it) Hil, it'll last longer."
"Yep, 'Your Body' is something worth singing about."
"So that's why everyone's watching The Voice."
And we can't forget the obvious … "OMG BOOBS!"
Add your own caption to the comments section. Play your cards right, and you just might become a meme…
Follow Abbey Stone on Twitter @abbeystone
[Photo Credit: Paul J Richards/Getty Images]
More:
Pizza Vs. Burritos: The Pop Culture Election — Round 2
Elephants Vs. Donkeys: The Pop Culture Election
Pop Culture Debate: Who Is Taylor Swift's 'We Are Never Ever Getting Back Together" About?
From Our Partners:

Jessica Simpson's Parents Joe and Tina List Their 4.3 Million Encino Mansion: Take a Peek Inside — PHOTOS
(Celebuzz)

(Celebuzz)