Hollywood.com Press Pass: Ellie Goulding at Madison Square Garden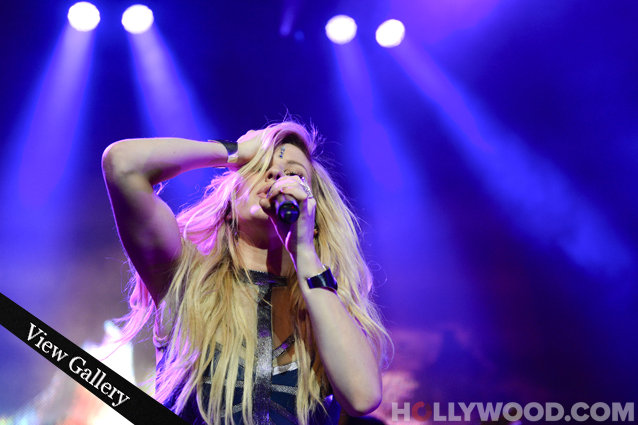 Cyndi Cappello/Hollywood.com
Kicking off the U.S. leg of her The Halcyon Days Tour, British singer Ellie Goulding performed to a soldout crowd at The Theatre at Madison Square Garden on March 12. Fans started lining up for general admission early in the day, braving the harsh New York City weather. One group of fans in the front row told me they got there at 8 AM, spending some 12 hours outside in the cold. That's some serious dedication.  
Opening up with her song "Figure 8," Goulding performed a set list full of other fan favorites like "Anything Can Happen" and "Goodness Gracious." She closed the show out with her current single "Burn," which is currently in the top 35 most downloaded singles on iTunes. Halfway through her set, Goulding slowed it down a notch and sang "Guns & Horses" and "Beating Heart" acoustically. From the second Goulding stepped out onstage, I could see how much she was feeding off of the energy from the audience, which was refreshing to watch.  
Still a relative newcomer, Goulding has set the bar higher for other artists. Her music is able to connect easily with varying ages, which makes her fan base pretty darn big. If you haven't heard a song of hers already, check some out now (you'll thank me). Although the majority of her shows for this tour in the U.S. are already sold-out, you still have enough time to figure out how to get tickets to a show near you. Seriously, just go out and buy some, I volunteer to go with you.