Hollywood Needs to Stop Telling Jennifer Lawrence She's Fat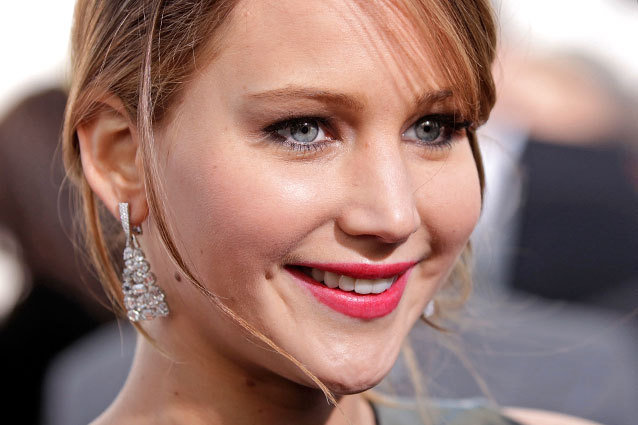 WENN
America — no, the entire world — is in love with Jennifer Lawrence. It's no secret, it's been reported on over and over. So, it's no surprise that in Lawrence's new interview, she once again captures our hearts and our heads when she speaks out against the over-the-top expectations in Hollywood, and how she refuses to conform. 
In the November issue of Harper's Bazaar UK, Lawrence says she is still facing pressure from Hollywood to be stick thin. When she was just starting out, the first overweight comments began, but she brushed it off as, "It was just the kind of s**t that actresses have to go through." But Lawrence explains it quickly began to get more personal. "Somebody told me I was fat, that I was going to get fired if I didn't lose a certain amount of weight. They brought in pictures of me where I was basically naked, and told me to use them as motivations for my diet. They thought that because of the way my career had gone, it wouldn't still hurt me. That somehow, after I won an Oscar, I'm above it all." Lawrence goes on to explain that it doesn't matter what kind of compliments or awards you get, an insult is an insult. Thankfully, Lawrence tries to not let it bother her anymore, instead claiming, "If anybody even tries to whisper the word 'diet,' I'm like, 'You can go f**k yourself.'" Hallelujah Jen. 
Lawrence goes to gain our eternal adoration by explaining her love of chips, Cheez-Its and on-set catering. "My bodyguard Gilbert, right before they call 'action,' I'm like, 'If there aren't Cheez-Its here by the time they call cut, just go home.' And he'll start running. It cracks me up how seriously he takes it…. It's not my performance that is motivating me. I want to get the on-set catering."
While Lawrence is arguably the most vocal about her hatred of the Hollywood body standard, other actors have also refused to conform to the unrealistic demands. For instance, Jennifer Love Hewitt got serious backlash in 2007 when she was photographed on vacation looking normal, as opposed to airbrushed to "perfection," in a bikini. Hewitt spoke out saying, "I know what I look like, and so do my friends and family. And like all women out there should, I love my body. To all girls with butts, boobs, hips and a waist, put on a bikini — put it on and stay strong."   
Demi Lovato is another famous face that has publicly dealt with her body issues. At the age of 12, Lovato developed an eating disorder, and after going to rehab, Lovato has returned to the spotlight looking healthy and happy. She says she now knows, "It's OK to love your body the way it is and it's OK to reach out and ask for help." 
We seriously hope this this trend of standing up for all body types will continue, and that other Hollywood actors will come forward to criticize the unreleastic Hollywood standards… or at least get photographed eating a burger once in a while. Until then, I'll leave you with this awesome clip of the refreshingly normal J.Law telling Ryan Seacrest she's "starving" on the Oscar red carpet. Check it out below. 
More:
You're Not Allowed to Hate Jennifer Lawrence 
Happy Birthday, Jennifer Lawrence!
Jennifer Lawrence Cast in 'East of Eden'
Follow @hollywood_com
| 
Follow @lexi_smail | 
---
From Our Partners:


A Complete History Of Twerking (1993-2013) (Vh1)


15 Stars Share Secrets of their Sex Lives (Celebuzz)