Honey Boo Boo's Celebrity Tour Tuckers Her Out: Are We Responsible?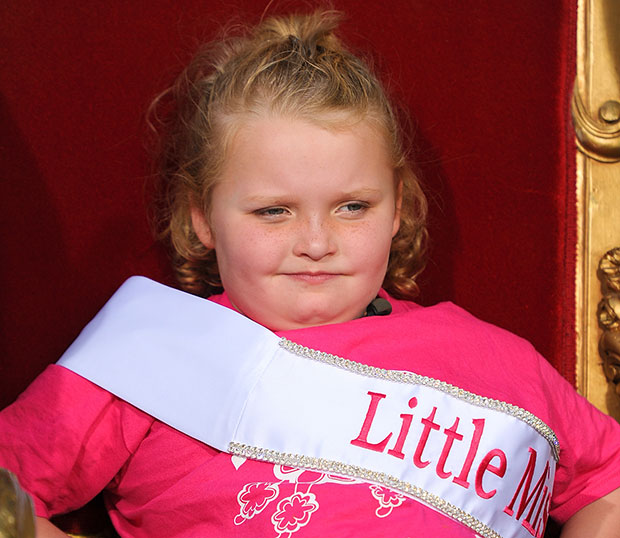 As a television-obsessed society, most of us know enough about the phenomenon that is
Honey Boo Boo Child
to have an opinion about her, her mama, and her reality show
Here Comes Honey Boo Boo
.
But there's a concept that seems to get lost in all of this is that at the center of this maelstrom of quips, GIFs, parody videos, and endless negative chatter. While Honey Boo Boo may be a persona larger than life, the 7-year-old who created her is just
Alana Thompson,
a Georgia girl who's just having fun the way she's been raised to. Make that little girl a celebrity, and things are bound to get, well, weird.
Thompson and her mother, Mama June, stopped by Dr. Drew On Call to talk about Thompson's new life in the limelight. And the youngster's actions were explanation enough. Sitting on her stool, shoeless, Thompson pretended to fall asleep when Dr. Drew attempted to ask her about her life as a new celebrity. Now, Honey Boo Boo getting sassy with an adult on television is nothing new. That's the entire reason she's famous. But when Mama June says to Thompson, "Come on, Alana. Let's get this done so we can go," it starts to leave a bad taste my mouth.
June's manner and her words are the sorts of things you hear when a mother is taking her child to the dentist's office or when she's getting them to take some medicine they don't want. Thompson followed it up by responding to her mother's question about enjoying being on television: "No! … Because the fans come up to me and I hate it." In other clip, Thompson talks about being treated differently and being called "Honey Boo Boo" at her elementary school. This little girl is experiencing something that is beyond her years: Now that she's a celebrity, there's little separation between her real life and her television life.
Adults deal with this phenomenon in a variety of ways, most of which include bad behavior or lines of shape wear and JC Penny-style dresses to maintain the height of their fame. For Honey Boo Boo, however, the game is different. While her persona is so large it feels like more of a cartoon than an extension of a person's life, she is very much a human child. She's not struggling to keep the fame train moving, she's aboard without any recollection of how she got there. Why else would she feel comfortable enough in front of a crowd of people and a slew of cameras to take off her shoes, pretend to sleep, and swat at the nice host, who she just met? She's still becoming a person, and for the past two years, she's been in front of a camera. For all she knows, this is just how it works.
While this video is titled "Honey Boo Boo falls asleep on television?" the headline should be less focused on the fact that a young child, who's been paraded around Los Angeles on a whirlwind press tour that saw her spaghetti dinner turned into a GIF wall and her every mispronunciation turned into a headline, is "acting out." Of course she's acting out. She's seven years old. Likewise, the fact that she called President Obama "Marack Obama" on Jimmy Kimmel is not a talking point. Seven-year-olds speak incorrectly sometimes and make up their own words. If she wasn't famous, her mispronunciation, her sloppy spaghetti dinner, and her sleepy child maneuvers would be greeted with "Awws" and "Oohs" instead of laughs and pointing fingers.
Part of the reason Honey Boo Boo is even a thing is because many of us were appalled at the phenom's origins on Toddlers & Tiaras – so appalled, that we couldn't turn off the television. We went into this knowing it was bad for the young girls. We created the reality monster by being interested. And now, all we have to do is look at Thompson's string of recent talk show interviews, which find her dipping her hands in her water glass, looking exhausted, and being uncooperative, to see the effects. She's a goofball kid whose family's choice of activities and meals may or may not appeal to you, and she's perfectly happy having cameras follow her around in her element so she can lay on the sassy one-liners. But what she didn't realize she was getting herself into was the suffocating world of Celebrity and it's clear that this little girl doesn't belong here.
While appearance after appearance demands the youngster to do her Honey Boo Boo thing, she's not simply a robot ready to play a recording over and over again. She's a tiny, real life, little human. And unfortunately, the size of her massive celebrity persona seems to cloud that.
Now, we could keep looking at these noteworthy interviews, looking for the shock and awe of an exhausted seven-year-old acting like an exhausted seven-year-old (but you guys, it's crazy because it's on television). Or we could acknowledge that our desire to see what Honey Boo Boo would do in situation X (fancy dinner in L.A., psychological chat with Dr. Drew, ignoring questions from Jimmy Kimmel) as if she is some sort of puppet for our entertainment is the basis of this entire phenomenon. That knowledge might make the viewing of this video, from Dr. Drew's show, just a little less of an item for you to gawk at and more of an example of what our collective interest has created. And it ain't pretty.
Follow Kelsea on Twitter @KelseaStahler
[Photo Credit: Noel Vasquez/Getty Images]
More:
Honey Boo Boo On South Park: Are Reality Stars Parker and Stone's Blind Spot?
What the F**k is a Honey Boo Boo?
Late Last Night: Housewives, Honey Boo Boo, and a Kardashian in the Line of Fire
From Our Partners:

Jon Hamm Goes Shirtless With Bikini-Clad Jessica Paré
(Celebuzz)

Kardashians Share Scary-Cute Childhood Halloween Pics
(Celebuzz)