Honey Boo Boo vs. The Kardashians in a Christmas Card Showdown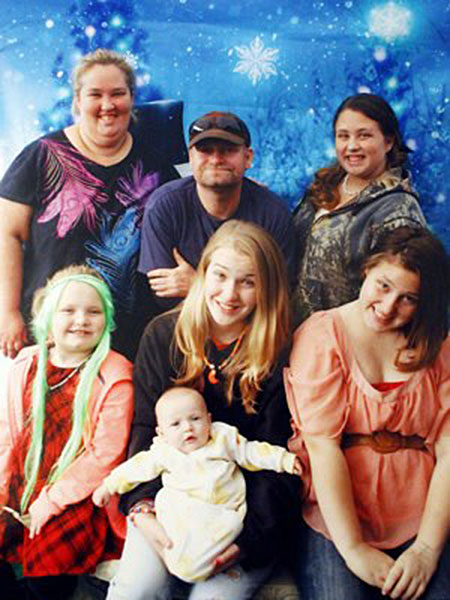 You can tell a lot about a family by its Christmas card: you can tell the family members' level of affluence, their comfort with displaying affection, the fact that they're not Jewish. Yes, judging other people based solely on their yuletide missives is a holiday tradition for many of us. And it's all the more fun when they're famous. We already got a glimpse at the Kardashians' Kristmas Kard (it's actually a finable offense to write the letter "C" when you're referencing the family), depicting the pop culture dynasty's luxurious embrace of winter festivity. And now, a clan from the other side of the reality television genre has released its greeting: the Honey Boo Boos.
In the new image, the Thompson and Shannon hybrid gather together to provide quite a different sort of celebration than the spectacle displayed in the Kardashians' kard. In place of the glitz and glamour showcased by the E! genera, we have a smaller, simpler, more intimate exhibition this time around. And when you compare the style of the Kardashians to the substance of Honey Boo Boo's inner circle, you're bound to ask yourself the all-important question: which is better? In life's endless array of scathing, bone-breaking competitions, we are faced with deciding which reality television family has the preferable Christmas card. Which best exemplifies the solstice? Who brings pride to the December holiday? Whose winter seems more content? Check out both images, and then join us in running through the categories of holiday cheer below…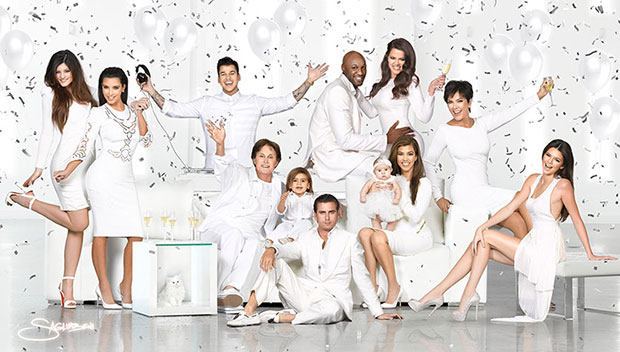 Snow
The Kardashians earn credit for draping the entire family in white, with a backdrop to match. And what are those glittery things falling from the abyss? You might be able to call that a gentle flurry. (2 points)
The HBBs don't really look prepared for winter as far as attire goes (they'd be freezing where many of us come from), but they've got some bona fide snowflakes to make up for it. (1 point)
Babies and Animals
Everybody loves animals, and some people love babies. The Kardashians love both, with two infants (2 points) and one cat (1 point). Unfortunately, the cat in the box might actually be dead in that picture (in which case, negative 10 points). 
On the other side of things, we've got one baby and no animals. Try and pick up your game, Boo Boos! (1 point)
Showmanship
You've got to give it to the Ks here. It looks like the entire herd is about to burst out in a holiday-themed power ballad. (5 points)
The Thompshans don't really put a whole mess of chutzpah into their presentation. Just your average family, sitting happily amongst one another, waiting for the flash. (0 points) But that might be just what Christmas is all about, which brings us to our final category…
Love
The all-important, immeasurable quality of love. On the one hand, you have the Kardashians, who banded their entire pack together to put on a festive show in the most Kardashian form imaginable. And then there is the family of Honey Boo Boo, huddling together, smiling genuinely, probably soliciting a more familiar picture to the lot of us. In this category, we can happily decree a duality in triumph. With all the negative sentiments tossed their way, these families both exemplify something that warrants value in our society: the appreciation of family. The Kardashians and Thompsons/Shannons alike work to showcase just how adherently they are bound to the other members of their families. Whether the means by which each does so takes the form of puttin' on the ritz or simply forming a small scrum of merriment, it makes no difference. All family members in both pictures have made show business fame on how much they cherish their loved ones. And no matter what holiday you celebrate, you've got to pinpoint that theme as the makings of one great Christmas card. (Infinity points all around)
Happy holidays, everyone! Go hug your siblings.
[Photo Credit: TLC; Nick Saglimbeni]
More:
Zooey Deschanel and Ben Gibbard Divorce Finalized: Zooey Asks Siri for Dating Advice
Merry Christmas, Jerk: The 10 Worst TV and Movie Salespeople
Patti Smith Has Penned a Follow-up to 'Just Kids'
You Might Also Like:

20 Hot (and Horrifying) Movie Sex Scenes