Hope Solo Accuses Her 'DWTS' Partner Maksim Chmerkovskiy of Abuse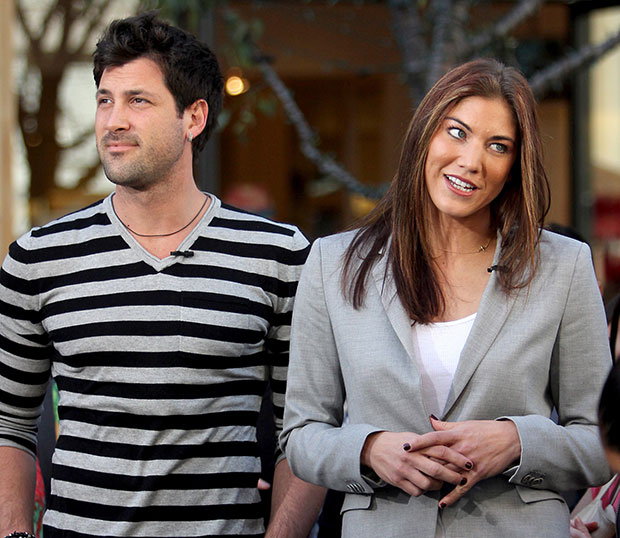 On Season 13 of Dancing With the Stars, US Women's Soccer Team goalkeeper Hope Solo paired up with professional ballroom dancer Maksim Chmerkovskiy to create one fiery couple. Throughout the season, DWTS fans witnessed a partnership that was often playful, sometimes emotional, and occasionally strained. The two strong-willed personalities often butted heads, and it wasn't unusual for rehearsals to end in tears. But save for a few glimpses of frustrating studio time, the audience remained blind to anything more intense going on behind the scenes, and Solo and Chmerkovskiy were able to dance their way to the semi-finals.
Now, nearly a year after her season aired, and high off her gold medal win at the London Olympics, Solo has released a memoir, titled Solo: A Story of Hope. In its pages, Solo tells a grimmer version of her relationship with Chmerkovskiy, claiming he physically abused her during rehearsals.
"He manhandled me in rehearsals from the start, pushing me, whacking my stomach, bending my arms roughly. I thought that was just how it went – how dancers worked with each other. I was tough. I could take it," Solo writes. That description, to dancers who are used to pushing their bodies to the extremes and enduring pain to achieve seemingly unobtainable goals (and "How did she get her leg so high?" reactions from the audience), wouldn't seem so out of line. But Hope continues.
"But it kept getting worse," she writes, "One day, Maks was trying to put me in a certain position and hit my stomach so hard with his open palm that I had a red handprint there for the rest of the day." And, worse yet, "He wanted my head in a specific position. To achieve that, he slapped me across the face. Hard." Even in the rigorous environment of a professional dance studio, physical contact with intent to harm, such as a "slap" or "hit" that leaves a mark, would be inappropriate.
But of course, there are two sides to every story. While Solo is claiming physical abuse, Chmerkovskiy is denying it. A source close to Chmerkovskiy told Hollywood.com, "He's very upset about it. They were very good friends. She invited him to the Olympics via Twitter. He's very hurt and shocked. They spent time after the season together."
And on Thursday, in the wake of Solo's pronouncement, Chmerkovskiy cryptically and pointedly tweeted, "Always hated hypocrites and liars … but when someone is both AND an opportunist, I just feel bad for them. Can't win at someone's expense."
In the midst of the he-said-she-said debate of what actually transpired in the studio — speaking of which, where is the video of this? Weren't all DWTS rehearsals recorded? — the nature of the beast is that dance training is demanding, physical, and oftentimes painful. But where do we draw the line?
Lori E. Cunningham is a Screen Actors Guild actor/singer/dancer who also ran her own dance company and school and whose students went on to study at Juilliard and NYU's prestigious Tisch School of the Arts. Having traveled to Russia to train with the Bolshoi Ballet at the age of 16, Cunningham is familiar with the high level of demand dance instructors place on their students, and the ways that demand often manifests itself physically.
"When I was in Russia, they would smack your legs," Cunningham tells Hollywood.com. "You couldn't even understand what they were saying, but you got [the message], and I didn't feel like I was being abused. In fact, in some ways it was like, 'They're all over me, that's good attention.' When you have a show like Dancing With The Stars, they're not coming from a dance background. I understand that [Solo's] an Olympic athlete and that she understands athleticism and competition and all of that, but it's not the same as growing up in the dance world, or in the gymnastics world. The level of training, commitment and discipline there is bar none, if you're a serious dancer."
In regards to Chmerkovskiy, Cunningham says, "But there is a certain element of mental discipline in old school dance, and it seems like Maksim, just from the little bit I've seen of the show, is of that old school dance mentality. Where you break down a person and build them back up. There's so much psychology behind that."
Katie Glasner, Assistant Chair of the Barnard College Department of Dance and a former professional dancer with the Twyla Tharp Dance Company, echoes Cunningham's sentiments as well as offers a historical perspective. "Dance training, ballet training, I'm not sure about gymnastics or acrobatics, but classical ballet training, up until about the mid 1990s was primarily a hands-on practice," she tells Hollywood.com.
But with the changing times, and the increased visibility of harassment suits brought against teachers, Glasner acknowledges that there has been a change in the dance studio. "With the escalation — or revelation — of sexual harassment, there were institutions which requested or demanded that dance teachers no longer touch the students. Previous to the mid 1990s, the extent to which a dancer or a colleague is handled is completely relevant to the situation."
Solo and Chmerkovskiy's relationship, however, was not purely student/teacher. Yes, he was teaching her the steps, but he was also her dance partner, and ballroom dancing is incredibly intimate. Swirling around the dance floor cheek-to-cheek, pulling off outrageous lifts that require a tremendous amount of trust, and creating a believable, often sexual, chemistry is all in a day's work. Merging that "old school" dance teacher mentality with a student unused to the environment in an emotionally-charged space seems a recipe for disaster.
Glasner says, "There may have been absolutely a relevant reason for [Chmerkovskiy] doing what he did. Taken out of context, it's not okay. I'm reluctant to say that it's okay in context, because I don't believe physical violence should be visited upon anyone. But it really is about creating a working relationship and knowing what the edges of the relationship are, knowing what the boundaries are. Because really what you're trying to do is create a good product."
Regardless of whose side you believe, in the case of Solo vs. Chmerkovskiy there was a clear lack of boundary-setting.
It should also be remembered that the rehearsals Solo describes were recorded for a reality competition program. Furthermore, it was understood that the footage would act as enticement for at-home viewers to vote their favorite personalities, not necessarily the best dancers, to victory. Because of this, anything that happened within the studio must be taken with a grain of salt.
Cunningham, who has also been a part of reality shows such as The Apprentice says, "This is a reality competition, so the more drama that they show in the studio, the better for them as a couple … When you see their rehearsals, I feel like a lot of that is contrived to generate buzz about the couple and their relationship, because it doesn't matter what points the judges give them, really, right? America votes them on and off."
She adds, "They do make Maksim out to be 'the bad boy of DWTS.' I don't know if that's for ratings, again it's a reality show. But smacking, punching, all that sort of stuff clearly violates a level of trust."
Follow Abbey Stone on Twitter @abbeystone
[Photo Credit: WENN.com]
More:
'Dancing With The Stars': Tom, Brooke, and the All-Stars Out For Blood — VIDEO
Dancing With The Stars' All-Star Pairings Announced
'Dancing with the Stars: All-Stars' 101 with Louis Van Amstel