Is Horse_ebooks Less Brilliant Now That We Know It's a Human?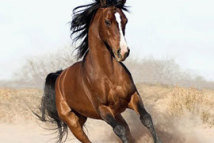 What does it mean to be human? 
It's a quandary braved by the great minds of Carlo Collodi, Isaac Asimov, Philip K. Dick, Brian Aldiss, and the two guys who wrote Short Circuit. And in every instance of wrestling with the question, the lines seem to become blurrier. What exactly changes when marionette puppet Pinocchio swaps splinters for skin cells at the end of the story? Who is to say whether the machines inhabiting Blade Runner's molting Los Angeles are of any shyer value than the humans bent on destroying them? Where exactly in Johnny 5's mainframe does a soul come into play after he is struck by lightning during that poorly planned government showcase?
And does it make any difference that the ingenious zen master Horse_ebooks, that which we have always identified as a "Twitter bot," has in fact been identified as a member of our own sentient species? Two members, in fact: The New Yorker identifies BuzzFeed creative director Jacob Bakkila and former Howcast production development VP Thomas Bender as the living, breathing souls behind the horse.
We can't quite land on an answer there. We've always appreciated the ostensibly automated mania that is the Horse_ebooks Twitter account as comical in its complete independence from any understanding of what comprises a functional thought. Its natural, unadulterated production of nonsense is what has made the Internet phenomenon such a popular, oft quoted craze. To know that gems like "Tired of Deli Delights?" were crafted not from the cogs of some copy machine, but instead from the mind of two fellows trying like the dickens to come up with something that sounds wacky.
On the one hand, we can argue that this robs the account of its authenticity, like the loss of some of the humor or fascination that comes from translating an interesting real life story to the medium of film. On the other, we can now attribute to Horse_ebooks a genuine accolate of ingenuity. This ain't just some computer regurgitating collected content with no understanding of the craft of comedy. These are two guys who truly know how to make people laugh, as is proven by the fame gained by their Twitter account over the past years of its existence.
But are we less likely to laugh now, knowing that the horse is a farce? We might be, but that doesn't mean that Bakkila and Bender have set their careers as absurdist humorists to rest: the two are pioneering an interactive video piece called Bear Stearns Bravo, the trailer for which you can watch below.
So, we can set our sights on this new creative venture by the Kaufmanian masterminds. Horse_ebooks might lose its luster for us, but we should really offer due praise to the pair for their experiment. They made something. Something that, no matter where it goes from here, will be remembered.
More:
Lady Gaga Sounds Like a Hypocrite on Twitter
The Nerds Win Twitter!
The Guy Behind the Modern Seinfeld Twitter Gets a Sitcom

Follow @Michael Arbeiter
| Follow @Hollywood_com
---
From Our Partners:


40 Most Revealing See-Through Red Carpet Looks (Vh1)


15 Stars Share Secrets of their Sex Lives (Celebuzz)