Hot Photos of the Day! (October 2013)
The hottest lifeguard in NYC
A huge thank you to Matt Lauer for making our Halloween complete. Dressed as the beautiful Pam Anderson circa the 90's in the hit show Baywatch , he made quite the entrance on the Today Show on October 31st in New York City. If we had known this was going to happen, we would've waited in line overnight just to get in the front row to witness this glorious event. We can't stop laughing.
Getty/NBC
They would..
Actresses Melissa McCarthy and Sandra Bullock dressed as fishermen while taking Bullocks son, Louis, Trick or Treating in Toluca Lake, California on October 31st. We kind of aren't surprised one bit by the comedic costume choices on their part.
Splash News
The luck of the Hannigans
Actress Alyson Hannigan spent her afternoon with her hubby and two daughters in Brentwood, California on October 31st. They all dressed up for Halloween in Irish inspired costumes while passing out candy to their neighbors while out trick or treating themselves.
Splash News
Where's the good candy at?
Actors Ben Affleck and Jennifer Garner took their three children out to Trick or Treat in Los Angeles, California on October 31st. Unfortunately, Bennifer didn't dress up, but their kids costumes made up for it. We're assuming they're scouting out for the "good houses" in the neighborhood with the good candy. I mean, that's what we do.
Splash News
Adorableness
Designer Rachel Zoe having some playtime fun with son Skyler Berman at Coldwater Canyon Park in Los Angeles on October 30th. Having a fun family event, they took turns pushing each other on the swing. He's just so cute we can't even handle it.
WENN
What does the fox say?
No but really.. We wonder what Jack Osbourne and Derek Hough were chatting about during this photo. On October 30th, Derek hosted a Halloween party at Hooray Henry in Los Angeles. Jack is re-wearing his fox costume from this weeks episode of Dancing With The Stars , while Derek's going with the classic teen wolf. We approve.
Splash News
Neighborly love
Joan Rivers stood outside her New York City apartment on October 29th, holding a baked cake and fabulous homemade sign to welcome her new neighbor, Orlando Bloom. We are now looking at apartments on your block Joan!
Splash News
Kitty Purrrrry
Singer Katy Perry arrived to Tokyo in the wee hours of the morning on October 30th. Greeted by a group of fans, Katy stopped to sign autographs and take some selfies. She even put on a set of cat ears that a fan had given her. She's just so perfect.
Splash News
Turn that frown upside down
Nicole Polizzi (Snooki) was on Good Morning America on October 29th in New York City after her and her dance partner, Sasha, were voted off of Dancing With The Stars earlier this week. Despite being sad, Snooks signed autographs with fans who were waiting outside. We were rooting for you girl!
Splash News
The new "hot" dance move
Singer Rihanna rocked out in a revealing leather outfit during her concert on October 29th in San Juan, Puerto Rico. We love serious face she's got going on. We also love action shots because the always are kind of hilarious. We assume what she was doing at the time of the photo, looked a lot better in person.
Splash News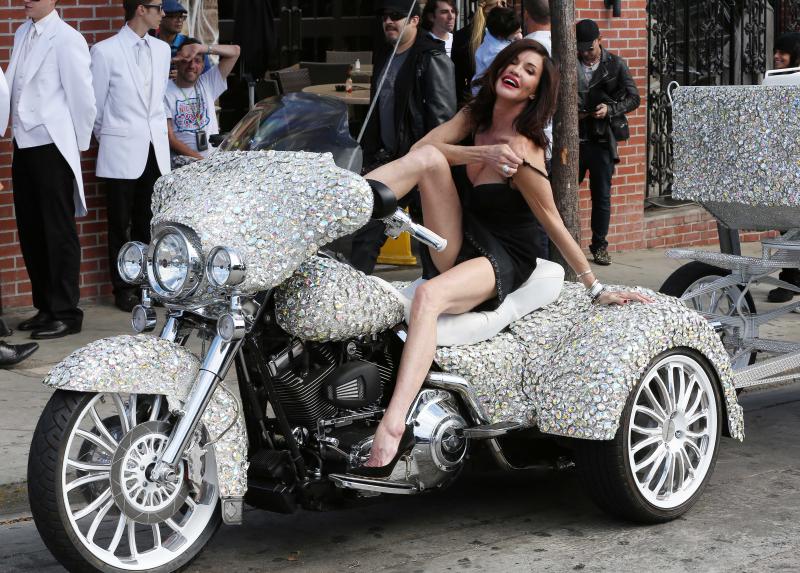 Riding dirty..?
Former supermodel Janice Dickinson goes all out on a 3 wheeled trike for an anti bullying campaign in Los Angeles on October 28th. We're not quite sure as to what exactly is going on, or why this pose came to mind, but it was almost too good not to share. Enjoy!
Splash News
Our dream team
Modern Family stars Julie Bowen and Jesse Tyler Ferguson attended the Modern Family Fan Appreciation Day event in Los Angeles, California on October 28th. During their interview with the just as comedic Ross Matthews, Julie was grabbing the microphone and making faces at the photographers, and basically just being her hilarious self.
Splash News
SJP, please just adopt us already.
Actress Sarah Jessica Parker being her adorable self, walking her adorable daughters, in their adorable matching jackets on October 28th in New York City. The three were on their way to school in the West Village, and they couldn't be more picture perfect.
Splash News
We don't know what to say anymore..
Lady Gaga, we really should just dedicate our entire site to you. Leaving her hotel in London on October 28th, Gaga was spotted sporting another outfit that we still can't seem to wrap our heads around. But hey, at least she's staying with a consistent color palette, right?
Splash News
The only man who can make a scooter sexy
Actor Hugh Jackman, only one of the most attractive human beings to ever walk to earth, was seen traveling in style on October 28th in New York City. We aren't sure if this was supposed to be a joke or not, but he definitely pulls this look off. We just love him. A lot.
Splash News
Tsk tsk Christopher
Singer Chris Brown was released from court on October 28th in Washington, DC after he was arrested this weekend for punching someone in the face after they asked for a photo. As big of fans as we are, all this drama is getting kind of old.
Splash News
Baby Bruno
Singer Bruno Mars looks like a child next to his bodyguard while leaving his Ritz Carlton hotel in Berlin on October 28th. Taken right before his show at O2 World arena, this is obviously a case of amazing illusion, but we can't stop looking at it. We love you just the way you are Bruno.
WENN
Please oh please stay together!
Actor Orlando Bloom and soon-to-be ex model wife Miranda Kerr were seen walking together October 26th in New York with son Flynn. After announcing they will be getting a divorce, and no longer wearing their wedding bands, it's good to see they are keeping a great relationship for their son. We're still praying they work things out!
Splash News
Story time
Actor Jim Carrey promoted his new childrens book How Roland Rolls at Barnes and Noble on October 26th in Los Angeles. We can just imagine how hilarious this would've been to witness him acting the book out.
Splash News
She's still scaring us
Lady Gaga has been on a roll lately with her outfits. At the G-A-Y London event on October 26th in London, she did not disappoint. Can't wait to see what's next..
Chris Jepson/WENN
Like mother, like son
Actress Amy Poehler's son Abel might be the cutest kid on the planet. Spending the day at a Farmer's Market on October 27th in Los Angeles with mom and brother Archie, Abel was giving the photographers a good laugh with showing off his comedic side. We can't wait to see how much longer till this one's doing standup.
Splash News
Chocolate cravings?
We've got to admit, Simon Cowell and pregnant girlfriend, Lauren Silverman, are kind of adorable. Spotted at Whole Foods together on October 27th in Los Angeles, he carried all the bags after leaving. We never knew you were such a gentleman, Simon!
Splash News
Just... what??!
Singer Lady Gaga wore this "hat" when leaving the Ritz Carlton hotel in Berlin on October 24th. We are at a loss for words trying to figure out what her inspiration was for this look.
WENN
Again, no words.
Lady Gaga's Berlin ARTPOP tour is so ridiculous, we have two pictures of her in one day. She was seen sporting a fake mustache and rather frightening makeup in Berlin on October 24th.
WENN
Blue hair don't care
Singer Demi Lovato and her blue hair looked fabulous as she was photographed leaving the Katie Couric Show in New York City on October 24th. Rock on, girl!
Splash News
Oh baby!
Prince William and Kate Middleton, the Duke and Duchess of Cambridge, christened their three-month-old son Prince George/the world's most famous baby in London on October 23rd. The little prince donned a full length classic christening gown. Kate, how do you look so amazing only a few months after having a baby?! Tell us your secrets!
Splash News
Shine bright like a diamond
Rihanna performed live in concert for her Diamonds Tour to approximately 52,000 fans in Tel Aviv on October 23rd. Apparently Rihanna arrived late on stage, but I doubt anyone was complaining.
WENN
Jackassin' around
Johnny Knoxville and Jackson Nicoll horsed around on the red carpet premiere of Jackass Presents: Bad Grandpa in Los Angeles on October 23rd. This duo will undoubtedly make for a hilarious full length feature of their famous Jackass sketch.
www.splashnews.com
Berlin Selfies
Lady Gaga arrived in Berlin on October 23rd to promote her new album, ARTPOP. She promptly took a bunch of selfies with the locals. Classic Gaga.
WENN
Filming on Sunset
After the Sunset co-stars Pierce Brosnan and Salma Hayek were back together again while filming their new movie How to Make Love Like an Englishman in Los Angeles on October 22nd. We love seeing this duo back on screen together!
Splash News
Cześć, Polska!
Actress Sharon Stone visited the Polish parliament in Warsaw, Poland on October 22nd. Sharon will be awarded this year with the Peace Summit Award for her HIV/AIDS humanitarian work. Sharon is proving to be an international inspiration in Hollywood.
WENN
Sweet home Oregon
Reese Witherspoon donned a giant backpack while filming her new film Wild in Ashland, Oregon on October 22nd. That backpack is literally bigger than her! How did she not fall over?!
www.splashnews.com
Miss popular
Natalie Portman signed autographs for fans at the Thor: The Dark World premier in London on October 22nd. We can't get enough of this girl!
© www.splashnews.com
Agh!
The Carrie Diaries Lindsey Gort appeared to be having a hard time making her handprint at the Planet Hollywood in Times Square, New York City on October 22nd. Lindsey, maybe it's time to start working on your arm strength?
WENN
Ariana ain't scared
Singer Ariana Grande and boyfriend The Wanted's Nathan Sykes (not pictured) enjoyed a scarily fun night out at Universal Studios' Halloween Horror Nights in Los Angeles on October 21st. Watch out, Nathan, looks like Jason is after your girl!
Splash News
Here we go again
Alec Baldwin was seen confronting a photographer in New York City on October 21st. This sort of run in seems to be Alec's new M.O...
TNYF/WENN.com
Bear hug
Russell Brand embraced an employee at his new shop run by volunteers of the mental health charity called Thurrock Mind in Grays Essex, UK on October 21st. We love Russell's giving back to the community!
WENN
We Love Leto
Actor/singer Jared Leto looked like he was having fun at the 17th Annual Hollywood Film Awards held at The Beverly Hilton Hotel in Los Angeles on October 21st. Leto is looking healthy again after having to lose almost 40 pounds in his role for Dallas Buyers Club where he plays a transgendered drug addict.
FayesVision/WENN
Onward!
Richard Gere practically leaped out of this convertible while filming his new movie Franny in Philadelphia on October 21st. We like this new look on Richard!
Hugh Dillon/WENN
Scootin' around town
Hugh Jackman scootered around New York City with his family and french bulldog on October 21st. Only Hugh Jackman can make riding a scooter look cool.
Splash news
He's got that one thing
One Direction's Harry Styles played volleyball shirtless in Adelaide, Australia on October 19th. How do we get in on this game?!
SplashNews
Open for Business
Jamie Foxx cut a giant ribbon on the set of Annie in New York City on October 19th. This modern day version of Daddy Warbucks opened his 5000th cell phone store. We're excited to see this new take on a classic!
WENN
Viva Last Vegas
The cast of Last Vegas received a key to the city of Las Vegas at the Bellagio Hotel on October 20th. We wonder why the cast of The Hangover didn't receive this honor as well...
DJDM/WENN
Alice in LaLaLand
Neil Patrick Harris, David Burtka, and kids Harper and Gideon looked too cute with their Alice in Wonderland themed costumes. Everyone else can go home now, this family already won Halloween 2013.
Splash News
Hang on!
Singer Chris Brown and model girlfriend Karrueche Tran screamed at the Universal Studios Halloween Horror Nights in Los Angeles on October 18th. It's ok, we're scared of heights too.
SplashNews
Pumpkin Pickin'
Jessica Alba and daughter Honor Marie Warren enjoyed a day out at Mr Bones in Los Angeles on October 20th. Honor looked dashing in her green glitter face paint!
Splash News
Who's that ghoul?
Gravity star Sandra Bullock was almost completely unrecognizable underneath this sugar skull makeup on her way to a halloween party in Los Angeles on October 19th. Talk about taking a costume to the next level!
SplashNews
Bieber <3's Adidas
Singer Justin Beiber was featured in the new lookbook of the NEO Adidas Winter 2013 collection, released October 17th. Adidas will now see a surge in sales in the "females under 16" demographic.
Adidas Neo Label/Splash News
Come and get it!
Selena Gomez showed off her dance moves on stage in Brooklyn for her Stars Dance tour at the Barclays Center in Brooklyn, New York City on October 17th. Does this dance routine remind any one else of Britney, circa 2001, or is that only us?
SplashNews
Hammering down
Actor Eric Stonestreet smashed down on a carnival game while filming Modern Family in Los Angeles on October 17th. We're sure he is the unchallenged champion in this game.
Cousart/JFXimages/WENN
Me Enamora!
Tom Hanks showed off his guitar skills on the Spanish television talk show El Hormiguero (The Anthill), specially filmed in Paris, on October 17th. We would love to see a Tom Hanks album!
SplashNews
You're fired!
Donald Trump yelled out to some fans when leaving the Late Show with David Letterman on October 17th in New York City. Don't mess with The Donald!
SplashNews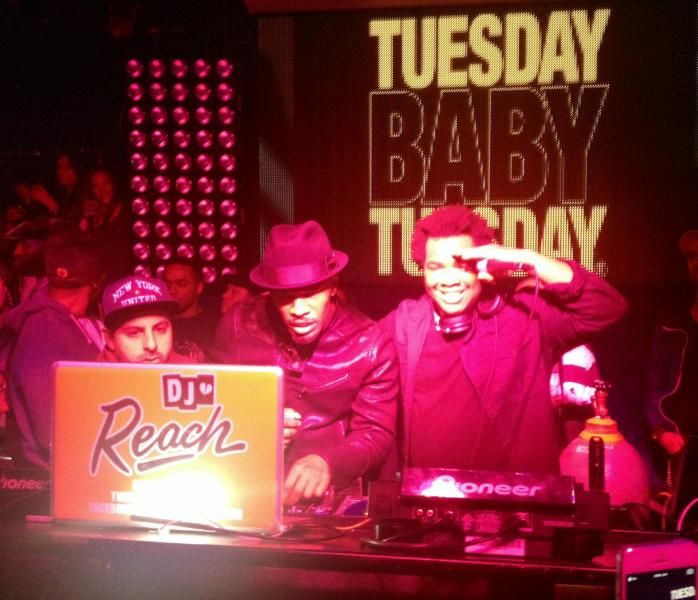 Blame it on the...
Jamie Foxx took over the DJ booth at New York City's Finale night club on October 16th. We're wondering how many times he played Blame It that night.
SplashNews
Happy 100!
Aubrey Plaza and Adam Scott got silly in a whipped cream fight as the cast of Parks and Recreation celebrated their 100th episode on October 16th in Los Angeles. Just to the side of this picture, Leslie Knope (Amy Poehler) was enjoying a plate of waffles from JJ's.
SplashNews
Everyone gets a box!
Oprah Winfrey posed with packed boxes ahead of her Montecito mansion auction on October 15th in Los Angeles. The TV mogul is auctioning the contents of her 23,000-square-foot estate in November and donating the proceeds to her leadership academy for girls in South Africa. We love what she's doing!
SplashNews
Kids and the City
Sex and the City star Sarah Jessica Parker walked her daughters Tabitha and Marion home from school on October 16th in New York City. The girls looked so freaking cute (and trendy!) in their matching outfits. They must get it from their mama!
SplashNews
Little Orphan Annie
Quvenzhane Wallis was having a blast filming Annie on October 15th in New York City with Jamie Foxx. We're anxious to see this amazing young star in her next project. Is there anything she can't do?!
WENN
Bike it like Beckham
David Beckham was spotted riding his custom built '93 Knucklehead motorcycle in West Hollywood on October 16th. Just when we thought he couldn't get any hotter...
WENN
Puppy Love
Amanda Seyfried and Justin Long held hands as they walked their dogs through Washington Square Park in New York City on October 16th. Are these two the next hot couple of Hollywood?
SplashNews
Butterfly Kisses
Real Housewives of New York star Bethenny Frankel and daughter Bryn sported Halloween costumes in New York City on October 16th. We think Bryn may be the cutest butterfly NYC has ever seen!
SplashNews
Va-Va-Voom!
Nicki Minaj posed with a bright pink Lamborghini the Kmart and Shop Your Way Launch of her clothing collection at Kmart on October 15th in Los Angeles. Will the car be part of the new collection, too?
WENN
What's this?!
Supermodel Cara Delevingne looked confused holding a fry on set for a DKNY shoot in Times Square, NYC on October 15th. It's ok, Cara, we are also confused at what goes in fast food.
Splash News
Monkeying around
Mad Men star January Jones and son Xavier looked like they were having fun out in Los Angeles on October 15th.
WENN
Ice cream for all
Singer Cher Lloyd handed out free Cool Haus ice cream at Covenant House in New York City on October 15th. We love to see stars who love to give back!
WENN
Gym, Tan, Talk Show
Jersey Shore stars Snooki and Jwoww talked with Mario Lopez on Extra in Los Angeles on October 15th. Both girls look great-- maybe we should join Dancing with the Stars too?
Splash News
Spooked Stars
Pretty Little Liars stars Ashley Benson and Shay Mitchell enjoyed a scary night out at Universal Studios' Halloween Horror Nights in Los Angeles on October 15th. Let's hope A isn't lurking around...
Splash News
Soy un perro
Elijah Wood made some sad puppy eyes on Spanish television talk show El Hormiguero (The Anthill) in Madrid on October 15th. Is he possibly mimicking his furry friend from Wilfred?
Splash News
No way!
Scott Disick and Kylie Jenner saw something interesting on Scott's phone at the Day By Day Fashion Show in Los Angeles on October 15th. Hey guys, we want to see, too!
WENN
Dad of the year
World's most adorable dad Orlando Bloom carried son Flynn home from lunch in New York City on October 14th. This picture may be the cutest of 2013!
Tom Meinelt / Splash News
Boys lunch out
Arnold Schwarzenegger and Sylvester Stallone dined together at Nello's restaurant in New York City October 14th. We would be scared to serve this intimidating duo!
Splash News
Modern Furball
Modern Family star Ariel Winter played with a bunny at a Los Angeles Farmers Market on October 13th. New pet for Alex Dunphy?
Splash News
Shaking it up!
Disney star Zendaya and father/bodyguard Kazembe Ajamu Coleman signed copies of her new book Between U and Me and her debut self titled album Zendaya at Planet Hollywood Times Square in New York City on October 14th. Kazembe must be one proud father!
WENN
Woof!
America's Got Talent judge Heidi Klum and her new puppy made an appearance at her kids' soccer game in Brentwood, CA on October 14th. Her pup hands down won MVP of the game!
Splash News
$*#@ off!
Sex and the City star Cynthia Nixon flipped the bird while filming on location for Life Itself in the Upper West Side, NYC on October 14th. Is she acting or just being a typical New Yorker?
Doug Meszler/Splash News
Peace, Love, Yoko
Yoko Ono visited the John Lennon High School with her John Lennon Educational Tour Bus, the largest moving music studio in the world, in Berlin, Germany on October 15th. We love that Yoko is still rocking it and promoting peace and music all over the globe!
Splash News
Crazy Kids
Ke$ha signed autographs for fans at the Jimmy Kimmel Live studio in Hollywood, CA on October 14th. We're loving her dye job-- a look only Ke$sha could pull off.
Cathy Gibson/Splash News
Little Childen soon to be
A very pregnant Kate Winslet poses for the paparazzi at the premier of her film Labor Day at the BFI London Film Festival in London, UK on October 14th. With her pregnant glow and fabulous red dress, she looked absolutely stunning!
Lia Toby/WENN
Funny Buddies
Actors Max Greenfield, John Cho, Rashida Jones, and Mindy Kaling performed onstage at The Young Storytellers Foundation's Annual 'Biggest Show' on October 12th in Santa Monica, California. Biggest show or best show?
Imeh Akpanudosen/Getty Images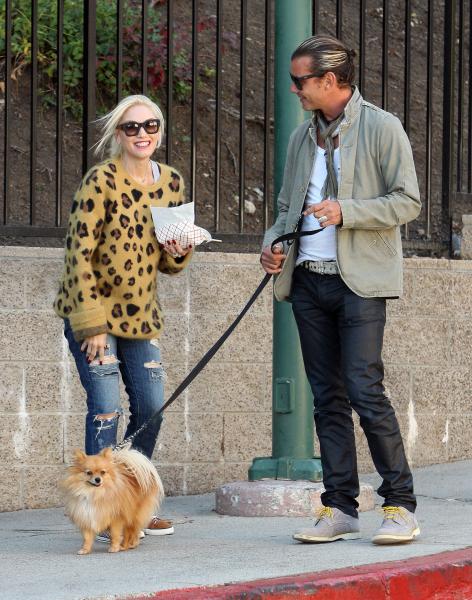 Rock Royalty
Gwen Stefani and Gavin Rossdale took their two sons and puppy to an outdoor fall fair in Lake Arrowhead, California on October 12th. Gwen must be laughing because she thinks we don't know she's pregnant under that sweater.
WENN
Zombie Q&A
Andrew Lincoln, Danai Gurira, Steve Yuan and Lauren Cohan sat on stage for the The Walking Dead Panel at New York Comic Con at Jacob Javits Center on October 12. We're guessing a fan asked a really specific and awkward question, so the panel started to go full zombie on the audience...
Laura Cavanaugh/Getty Images for AMC
Ready to Jazzersize
Fitness guru Richard Simmons took centerstage at the AIDS Walk in Los Angeles on October 13th. Ok, he looks a little crazy with the tights, wig, and glittery tanks, but Richard is hands down the most amazing human ever. As long as you keep up with him at his Slimmons fitness studio!
Guillermo Proano/WENN
Gas Pumping
In "Things We Never Expected to See in One Million Years" news, photographers caught Kanye West pumping his own gas in Calabasas, California on October 12th. Shouldn't he have a half-man-half-unicorn or something to do that for him?
Splash News
Birthday Gift for All
Birthday boy Hugh Jackman performed a "one-night-only" performance at the Dolby theater in Hollywood for his big night on October 12th. Hey, Hugh, for our birthday, do you think you could swing by for a private show, wink, wink!
Splash News
Model Behavior
Model Alessandra Ambrosio looked gorgeous on October 12th while shooting a new Chanel campaign in Beverly Hills. We're getting a bit of a 90s Clueless vibe for this shoot, and we're ok with that.
Splash News
late night game night
On October 10th, Katy Perry stopped by Late Night with Jimmy Fallon to play some Taboo with Jimmy and promote her appearance on SNL. Maybe Katy can pop over to our next game night...
Lloyd Bishop/NBC
band on the run
Sir Paul McCartney made a surprise performance in the back of a truck in the middle of Times Square on October 10th in New York City. McCartney tweeted about the concert just minutes before to let his fans know, but some of us had to work and missed it.
Splash News
what is the deal with cronuts?
Two of the funniest New Yorkers, Jerry Seinfeld and Tina Fey, left the Dominique Ansel Bakery in SoHo on October 10th with plenty of bags from the bakery. They really just did what New Yorkers do best, use their connections to cut lines and get way more Cronuts than the rest of us poor slobs.
Splash News
#selfie
Kenny "Babyface" Edmonds was joined by Usher for the unveiling of Babyface's new Walk of Fame Star on Hollywood Boulevard on October 10th. Of course Usher shot a selfie to commemorate the honor, is there any other way to do it?
Nikki Nelson/WENN
listen to your friend billy zane, he's a cool dude
Cool dude, art lover, gentle Ben Hur, and actor Billy Zane posed with a work of art at his Seize The Day Bed art exhibition launch party in London on October 10th. Billy's quite the renaissance man!
Joe Alvarez
Holy Cow!
Lena Dunham milks a cow filming Billy on the Street with Billy Eichner in New York City on October 9th. We could totally see this cow having a cameo on the next season of Girls.
Christopher Peterson/Splash News
West v. Kimmel
Kanye and Jimmy finally sat down together on Jimmy Kimmel Live on October 9th in light on their recent twitter feud. Despite the somewhat awkward interview, the two managed to settle their differences. Jimmy even gave Kanye a pair of leather jogging pants for North West. Talk about a peace offering!
© 2013 American Broadcasting Companies, Inc. All rights reserved.
Bad Grandpa in London
Johnny Knoxville attends the screening of Bad Grandpa at Odeon Covent Garden in London on October 9th. We can only imagine what crazy stunts he did to have to wear that arm brace.
WENN
Dancing in the rain
How I Met Your Mother star Alyson Hannigan embraces the rainy day in Los Angeles on October 9th. Someone sure isn't letting a little rain dampen her spirits!
Kaminski/Splash News
Bright Lines
Robin Thicke performed his huge summer hit at the Liverpool Echo Arena in Liverpool, UK on October 9th. Luckily, no Miley was in sight.
Sakura/WENN
What does the Fallon say?
Ylvis, the Norweigian pop group, performed their hit "What Does The Fox Say?" on Jimmy Fallon Late Night in New York City on October 9th. Jimmy even came out in full fox regalia. We really hope this outfit makes a weekly appearance on the show.
Lloyd Bishop/NBC
Run for Cover!
Great Gatsby star Isla Fisher dodges the rain in Los Angeles on October 9th. Seems the star wasn't prepared for a little weather!
John Galt/Splash News
Bells are in the air
Newly engaged Hayden Panettiere shows off her ring from boxer fiance Wladimir Klitschko in New York City on October 9th. Hey Hayden, how do we score an invite to the wedding?
Splash News
Sweat! Swim!
Richard Simmons dons quite the speedo for Swim for Relief, a 48-hour marathon to raise money Superstorm Sandy, featuring long-distance swimmer Diana Nyad, in New York City on October 9th. Will this piece make a comeback for his next video?
Derek Storm/Splash News
Puppies love Coco
Ice Loves Coco star Coco Austin attends an event at the New York Celebrity Pet Lounge in New York City on October 9th and receives quite the smooch from a bulldog. We wonder if Ice-T was jealous...
Thelonius/Splash News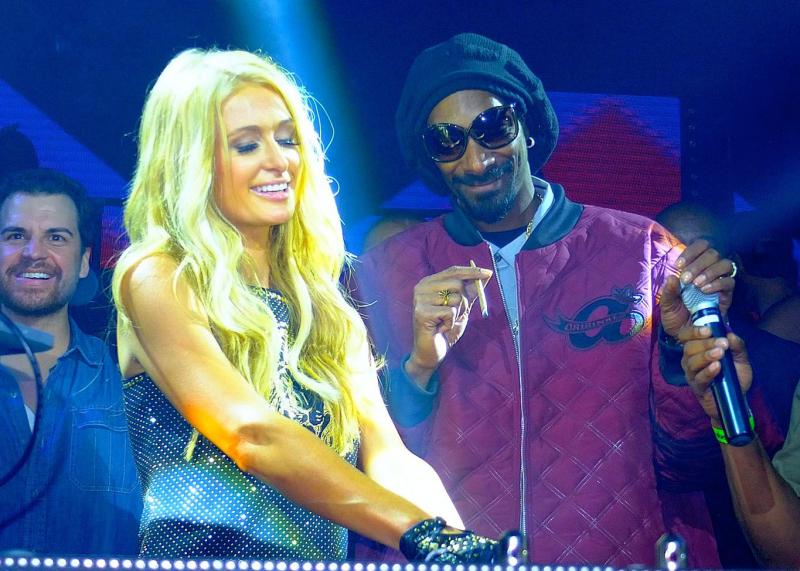 stars are blind
Paris Hilton celebrated her new single "Good Time" at Crate Nightclub in Hollywood on October 8th. Yeah, Paris, stars must be blind, which explains what Snoop is smoking back there...
Winston Burris/WENN
Wrong Number
Actress AnnaSophia Robb was spotted in New York filming Carrie Diaries on October 8th. We're not sure who on the other end of that phone call, but we hope she's got some hand sanitizer after using that pay phone!
Splash News
FOUR
Keeping Up With the Kardashians patriarch and Olympian Bruce Jenner played golf with Kylie and Kendall in the wake of his separation from Kris Jenner on October 8th. The trio - and camera crew - look to be in good spirits despite the sad news.
Splash News
piano man
Musician John Legend played a private show for iHeartRadio fans on October 7th in New York. The newlywed performed songs from his new album, Love In The Future, including the single "Made To Love" which we're sure he dedicated to his new bride. Awww!
Jen Pottheiser/iHeartRadio
story time
Funny man Jim Carrey took time from filming Dumb and Dumber To for an appearance in Toronto to sign copies of his first children's book How Roland Rolls on October 6th. Hey, Jim, how does Rolland roll?
Joe Kan/WENN
She Can't Stop
Miley Cyrus performed with mushrooms, rainbows, flowers, and little people in tow for her October 7th concert on the Today Show in Rockefeller Center, New York. Of course she did.
Mayer RCF / Splash News
Cool hat, you hot dog
Actress Zooey Deschanel wore a t-shirt that read "Ocean Conservation day 2013" and topped her outfit with a hot dog hat on the beach as she filmed scenes for New Girl in Los Angeles on October 7th. Hey Zooey, are you costars wearing other snack food hats, too?
Deano/Splash News
A Hard Day's Late Night
Beatle band member Paul McCartney hung-out with Jimmy Fallon before his appearance on Late night with Jimmy Fallon on October 7th. Crying that we weren't there...
Lloyd Bishop/NBC
New Hair, Don't Care
Jada Pinkett Smith and daughter Willow (not pictured) arrived at LAX after flying in from Paris on October 7th. What is with the Pinkett-Smith family and their hair choices?
Splash News
the cool mom
Sarah Jessica Parker walked her her son James to school on October 7th. We wish our moms dressed that cool when we we younger - a cool sweater, Coach bag, and no mom jeans in sight!
TNYF/WENN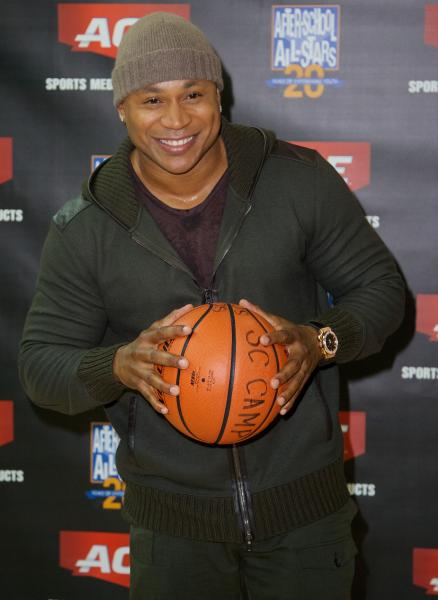 accidental ball player
Rapper and actor LL Cool J played basketball with some local kids at Chelsea Piers in New York City on October 7th for the ACE Brand kick-Off "A" Game Challenge. We bet he got some 3-pointers, right LL?
Alberto Reyes/WENN
raarrrrr!
New dad Olivier Martiez took his step daughter Nahla to the Mr Bones Pumpkin Patch in West hollywood on October 7th to pick up Halloween supplies. While there, Olivier let Nahla get her face painted and just be the cutest celebrity kid ever.
Michael Wright/WENN
Hang 10
One Direction band members Louis and Liam went surfing at Whale Beach in Sydney, Australia on October 7th during an afternoon off of their world tour. We bet these guys crushed it on the sweet, salty waves!
Splash News
may we have this dance?
Glee actress Dianna Agron dances with Nick Mathers at the Veuve Clicquot Polo Classic in Los Angeles at Will Rogers on October 5th. They win for cutest couple at the polo game.
Charley Gallay/Veuve Clicquot
made in the shade
Revenge actress Ashley Madekwe hid form the sun under a Veuve-hued parasol at the Fourth-Annual Veuve Clicquot Polo Classic in LA on October 5th. Any chance you can share your umbrella with us, Ashley?
Charley Gallay/Veuve Clicquot
horsing around
Also at the Veuve Polo Tourney in LA on October 5th was actor Owen Wilson hanging out with a few friends, including this fine horsey fellow!
Jason Merritt/Veuve Clicquot
the gavity between them
Parents-to-be (for the third time) Gwen Stefani and Gavin Rossdale took some time out for a movie date to see Gravity at the Chinese Theatre in Hollywood on October 6th. Luckily, the couple sent their kids into a different movie so they could finally get some alone time.
Splash News
running man
Jayden Smith galloped towards his waiting vehicle as he left Urth Cafe in Beverly HIlls on October 4th. Worried about the paparazzi snapping a picture of you eating their amazing waffles, Jayden?
Michael Wright/WENN
he did it!
Sylvester Stallone appeared on German entertainment television show Wetten Dass...? on October 5th. Now, we only know simple German so we're not sure what happened, but it seems that Sly is quick to pass the blame for something...
Marcus Golejewski/Future Image/WENN
Amanda Seyfried
Amanda Seyfried stops to pick up her dog's mess before taking a walk in New York City, USA on October 4, 2013.
Dave Spencer / Splash News
big pimpin'
Jay-Z performed live in concert on the opening night of the UK leg of the Magna Carter World Tour at Manchester Arena on October 3rd. We can't wait until he comes stateside! Lucky Brits getting Hova first...
IconicPix/WENN
twerk miley miley
In case you were in the market for a Miley Cyrus twerking bobble butt figurine, you're in luck! The limited edition model includes a bobble butt feature and is priced at $29.95 and we're getting one for every person in the office.
Splash News
star power
Ginger actress Julianne Moore was honored with a star on the Hollywood Walk of Fame on October 3rd in Los Angeles. We can't wait to visit the Walk of Fame and see your star, Julianne!
Apega/WENN
scooter troubles
On thhe Rome set of Guy Ritchie's new movie The Man From U.N.C.L.E, Armie Hammer and Henry Cavill seemed to have some technical problems with their Vespa. Ugh, we hate when that happens!
Splash News
picture perfect
Ben Kingsley, Asa Butterfield, Harrison Ford, Hailee Steinfeld all made the trip to Madrid, Spain for the Ender's Game photocall at Villamagna Hotel on October 3rd. Can't wait to see the movie, guys!
Sean Thorton/WENN
It's a bird, its a plane!
Soccer star and hot guy David Beckham shot day two of his H&M commercial in East London on October 2nd. Ok, we'll say it. David Beckham makes everything at least a little sexy, even ziplining in a safety harness and boxer-briefs.
Splash News
giving direction
Comedian Louis C.K. was spotted on the set of his FX show Louis in New York's East Village on October 2nd. THANK YOU. It's about time we get moving on new episodes!
Splash News
heeeeey!
Jennifer Hudson strikes a pose outside the October 2nd New York screening of The Inevitable Defeat of Mister and Pet. Is she doing the Single Ladies pose or miming us?
Splash News
straight grillin'
Brit singer Rita Ora arrived at Kings Cross Station in London, UK on October 3rd on a train from Paris. Most people consider sweatpants for a long train ride, but not Rita. She went for plaids and a grill.
INF Photo
and the winner is...
Tilda Swinton was on hand for the 21st Hambug Film Festival where she received the Douglas Sirk Award on October 2nd. Glückwünsche!
WENN
got the blues
Blue haired Demi Lovato sang her heart out on The Tonight Show With Jay Leno on October 2nd. It's not easy being green? Pft! Trying being blue...
Stacie McChesney/NBC
George and Sandy Sitting in a tree...
On October 1st, actors George Clooney Sandra Bullock attended the Gravity premiere at AMC Lincoln Square Theater in New York City. Can you guys just get married and live happily ever after already?
Kristin Callahan/ACE/INF Photo
Game of Thrones spoilers?
Emilia Clarke and fellow cast members began shooting Season 4 of HBO's Game of Thrones in Split, Croatia on October 1st. Only a few more months until the new season!
WENN
Who run the world? girls!
Jennifer Garner and Hillary Rodham Clinton attended Calvin Klein's Save the Children Benefit Gala in New York City on October 1st. Between Hil's political experience and Jen's kick ass acting roles, these ladies could literally rule the world and I think we'd all be okay with that.
Billy Farrell/Calvin Klein
an american reality star in paris
Kim Kardashian walked out of Societe's Restaurant in Paris on October 1st during her whirl whild - and romantic - trip to Paris with beau Kanye West. Oh, and of course her Keeping Up With The Kardashians film crew was there, too.
Splash News
go team!
Glee actress Naya Rivera cheered on the Oakland Raiders for their game against the Washington Redskins on Sunday September 29th. Cheerleader on Glee, cheerleader in life!
Splash News
she is katy, hear her roar
Katy Perry performed some new music during the iTunes Festival held at the Roundhouse in the UK on September 30th. Did you roar for your Katy Kats, Katy?
WENN
Darling Dan
Hoda Kotb and Kathie Lee Gifford put Daniel Radcliffe on the spot during the fourth our of the Today Show on September 30th while talking about his new film Kill Your Darlings. Hey, DanRad, we've got a few questions for you, too...
Peter Kramer/NBC
Street Fighters
On September 30th, Naomi Watts and Ben Stiller were spotted arguing on the streets of New York while filming their new movie While We're Young. We hope your characters worked it out, nothing bums us out like a big argument in a rom-com.
Zelig Shaul/ACE/INF Photo
Say cheese!
Model and newlywed Chrissy Teigen posed with a fan while out shopping on September 30th in New York. Best celebrity fan photo. Ever.
Splash News
three's a crowd
Lenny Kravitz, Salma Hayek, and Francois-Henri Pinault fought through the crowds to get to their front row seats at the Saint Laurent fashion show held in Paris on September 30th. Nothing like hoards of fans and photographers to get you in the Parisian fashion spirit!
INF Photo