How Bad Is Guy Fieri's Restaurant? The People Speak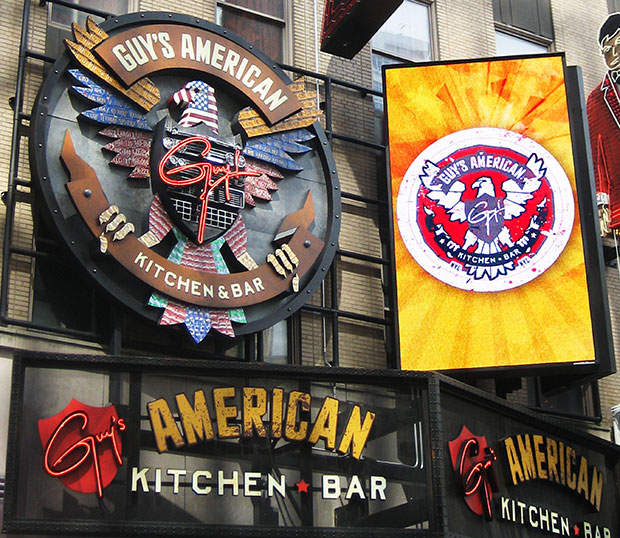 If there is one thing Pete Wells' caustic New York Times review of Guy's American Kitchen and Bar did for Guy Fieri's Times Square restaurant it's generate buzz. From Twitter to the conference room, Flavor Town has been on the tip of everyone's tongue for the past two days — and Hollywood.com's headquarters is no exception. Along with the rest of the New York Times-reading, Today show-watching, grub-loving population, we couldn't stop talking about Fieri and his, as Anthony Bourdain so gracefully put it, "terror dome." The one question that was heard echoing throughout our office was, "Could it really be that bad?" Naturally, we had to find out for ourselves. So lunch today for Kelsea Stahler and myself took place at Guy's American Kitchen and Bar.
Even in the wake of a foodie scandal — or as close to a scandal this industry gets — it was business as usual today at 220 West 44th Street. The place was hopping, filled to the brim with hungry tourists and business lunches. According to a restaurant employee, who was instructed to stay neutral on the topic, "Today was just a normal day."
But for passersby and diners alike, the Times review and its fallout was never very far from anyone's mind. A man from Columbus, Ohio, told us as he casually perused the menu outside with his wife, "We knew about [Fieri], we had seen him on the food channel." His wife chimed in, "Yeah, I knew he had a restaurant here before we saw the review." She added, "We saw him on the Today show this morning. I thought he did an excellent job, stood up for himself." And, despite the potential diners' familiarity with the scathing review and the fact that much of the food on the menu "look[ed] kind of heavy," the two headed inside for a bite.
Rishi Sharma and Alex Wolfe, young professional New Yorkers working in the finance industry, cited Wells' review as the sole reason they and a friend chose to make the trek across town to Guy's American for lunch. And the verdict: Not so bad. Sharma (who enjoyed the pork sliders, mac and cheese, and calamari appetizer) said of his experience, "The food was good, our service was very good. The food was flavorful, our waiters were very attentive. The ambience was like a normal, mid-sized, good old fashioned American chain. So I walked away thinking it was a good experience."
But that doesn't mean the review was forgotten. In fact, Wells' critiques formed the foundation for Wolfe and Sharma's lunchtime chatter. "We were just saying over lunch that we're all foodies. No one is more discriminating and can be scathing in their criticism than us," Wolfe said. "But come on, it's a mid-sized, mid-priced, chain restaurant and for that I think it's very good. And I think the review, as entertaining as it was to read, was pretty unfair, pretty over the top. And almost kind of… you think about the New York Times being the gold standard in journalism and all that, and I thought that that review was so over the top that it almost compromised their integrity. And that comes from three vicious food critics."
A couple who wished to be identified as "Native New Mexicans" also said the were inspired to check out Guy's American after reading Wells' review. "I watch Diners, Drive-Ins and Dives. And it was such a scathing review that it was like, Could it really be that bad? So we decided to come and see how bad it was," the wife offered. The couple also echoed Wolfe and Sharma's faint praise of the cuisine at Guy's American. "I thought it was typical bar-type food that was fine. I had the tortilla soup which tasted good. My waitress was cute and nice and friendly," the woman said. (She later clarified, "My tortilla soup was good, but I was warned that it was spicy and — we're from New Mexico, we know what spicy is — it wasn't that spicy. It was tasty, but it wasn't spicy.") Both agreed that the apple crumble (called "House Made Granny Apple Crumble," $11) was the best thing they ate.
Thanks to the review's instant viral popularity, news of its vitriol spread beyond the restaurant's haven on 44th street and into the wilds of Times Square. There we found Jennifer, a young woman visiting New York from Santa Monica, who knew much of the review. "I thought [the review] was pretty funny. I mean, I haven't eaten there, so I don't know, but my instinct is that it was fair. I think there's room in reviews to be creative." Would she be stopping by to see how things were for herself? "I was actually thinking about taking a picture and tweeting it and saying, 'I've heard a lot of buzz about this place. Maybe I should check it out.' But I wouldn't actually eat there."
The question at the heart of this whole debacle is whether the Times was right to hold Guy's American to the same standard as they would the "fine dining" restaurants they usually review. Can we expect the same things from Guy Fieri's curation of greasy American bar food located smack dab in the middle of tourist trap Times Square that we would from Thomas Keller or Wylie Dufresne? Although she enjoyed chuckling at Wells' review, Jennifer thinks not. "I get his brand and I'm sure that the people that would want to eat at his restaurant wouldn't feel the same way that a New York Times reviewer would," she said.
She added, "I mean, it's kind of like reviewing Applebees, right? So I bet that for people who love Guy Fieri and really follow his brand it's going to be just great. And I think that a lot of people who are tourists, especially in Times Square, that's the kind of expectations you have."
And indeed, Jennifer has a point. In waiting to question unsuspecting diners as they exited the restaurant, we witnessed Beth Mowry and Abbey Brown, two young women from Ohio, walk up to the menu posted outside the door, take a gander, and go inside — only to exit two minutes later. "What made you decide not to eat there?" we asked. They gleefully responded, "We're going to, we made a reservation for tomorrow!" While Brown admitted she had read Wells' review earlier that day — "I think it was a little harsh. I mean, if he didn't like it he should give them a bad review, but the things that he said were a little extreme," she said — Mowry was simply a fan of Fieri's. "We just passed by, happened to notice the name with the sign and wanted to check it out," she said. Both agreed, "We watch his show and enjoy it."
Let's now kick it back to our initial query, "Could it really be that bad?" The general opinion seems to say no, not really.
Follow Abbey Stone on Twitter @abbeystone
[Photo Credit: PR Newswire/AP Photo]
More:
Anthony Bourdain Also Slams Guy Fieri's Restaurant
Guy Fieri Defends His Times Square Restaurant After Scathing NY Times Review, Hombre!
Guyfall: Testing Fieri's Greasy Spoon in the Aftermath of the 'Times' Review
---
From Our Partners


Stars Pose Naked for 'Allure' (Celebuzz)


Which Game of Thrones Actor Looks Least Like His Character? (Vulture)