How Do You Measure Up? 'The Hobbit' Height Chart 

Bilbo! Bilbo! Bilbo Baggins, only three feet tall. Bilbo! Bilbo! Bilbo Baggins, the bravest little hobbit of them all! 
Now that we've mastered the tricky 
language of Middle-earth
and learned how to
remember which hobbit is which
just in time for the release of
Peter Jackson
's
The Hobbit
, in theaters Friday, it's time to brush up on the varying heights (yes, they vary) of Tolkien's inventions. Bilbo (played by
Martin Freeman
), as
Leonard Nimoy
so wonderfully helped us remember through song, is only three feet tall. But what about the others who put the "bit" in hobbit?
This Tolkien fansite
puts eleven of the thirteen dwarves between four-and-a-half and five feet, while Thorin (
Richard Armitage
) aka "the tall dwarf" is estimated at 5′ 2″. This got us thinking, who else in Hollywood could join the hobbits and dwarves along on their travels?
Jersey Shore star Snooki is a very hobbit-like 4 '8″, while actress Kristen Bell could easily go on an Unexpected Journey at just 5′ 1″. Harry Potter's Daniel Radcliffe could cross franchise boundaries as he stands at 5 '5″ and Tom Cruise, who could add some more star power, is just 5′ 7″. Check out our Hobbit height chart line-up below.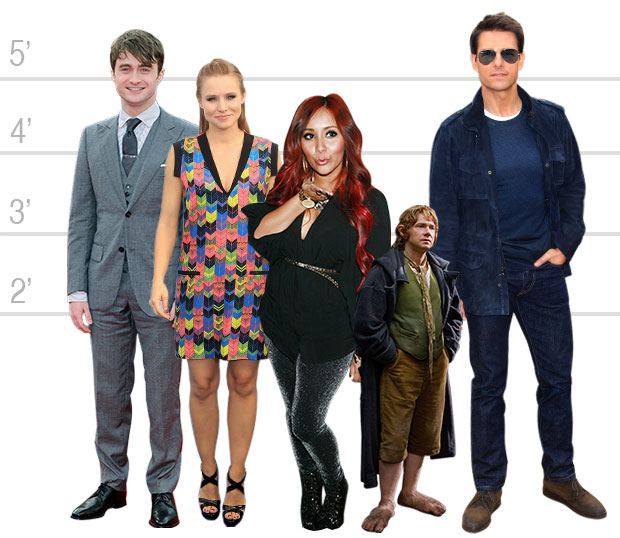 [Photo credit: Wenn (4); Warner Bros]
More: 
You Might Also Like:

20 Hottest Bikini Bodies of 2012: Megan Fox and More!