How to Be a Sexiest Man Alive: Channing Tatum Did It, Can You Do It Too?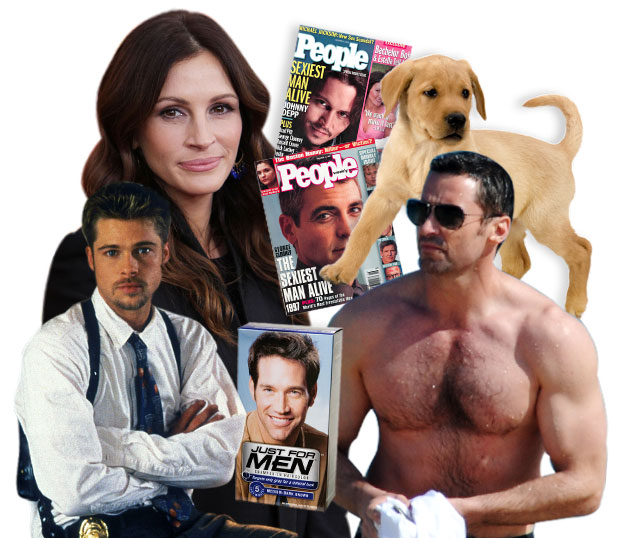 Some of us saw the big reveal of
People's Sexiest Man Alive
this morning and screamed into our cups of morning Joe, "I
knew
it!" Of course
Channing Tatum
, oh he of charming personality, box office millions, copious shirtless scenes, and dance moves so sexy they could knock you out at the mere th—excuse me. I have to stop myself before I let it get a little too sexy in here. Anyway, when most Sexiest Men are named — excepting poor
Bradley Cooper
who strangely won during the Year of
Ryan Gosling
– we're all in agreement. Duh, it's Channing. Who else could it be?
But why are we so readily in agreement? Is there some formula we're recognizing here? (Besides the fact that every single winner of the yearly award has been unyieldingly sexy.) We think there just might be some grand method to all this hottie-praising madness. We dissected the résumés, hobbies, and physical attributes of all the past winners and came up with a few tips for future SMA hopefuls:
Have Brown Hair
Like Tatum, the majority of past SMA winners have wooed us with their raven locks. Of course, the brown-haired men are only beating the blonds by two, so if People feels like making up for past wrongs by throwing Gosling on next year's cover, the blonds could start to pull ahead! (Sorry, Silver Foxes.)
Play a Cop or Federal Agent
Did you investigate unlawful activity in a movie? Were the stakes incredibly high? Were shots fired? You just might have what it takes to be an SMA, because 18 of 26 winners have played that role prior to winning.
Yes, Being Married Helps. Actually.
As most people with an Internet connection know, Tatum married his Step Up co-star Jenna Dewan in 2009, and they've been making everyone with a pulse jealous ever since. It turns out, there are far more SMA winners who were married when they won (including Richard Gere who shared his title with then-wife Cindy Crawford when they wed in 1991) than single men.
Don't Have an Accent
We're talking stateside accents, too. Only six past winners have full-blown accents, including Sean Connery and Matthew McConaughey, a.k.a. the original James Bond and the guy who plays bongos naked. That's the kind of pull it takes to be an outlier in this group, apparently.
Must Love Dogs
We could put this under: Be an agreeable person. Or perhaps: Enjoy wonderful things. Even: Winners must possess the ability to love another living thing. Nineteen winners have or have had dogs. One even had a pet pig — may Geroge Clooney's Max rest in peace.
Don't Have Green Eyes
Only one winner has green eyes: Tatum. Perhaps he's starting a green-eyed revolution?
Star in a Movie With Julia Roberts
Apparently, Ms. Roberts is the glue that holds America's sexiest men together. Seven past winners were in movies with her and apparently, starring in multiple films with the Pretty Woman star earns you bonus points. Just ask two-time winners Brad Pitt, Gere, and Clooney.
Speaking Of Two-Time Winners…
Winning SMA once helps your chances of winning it again. In addition to Pitt, Clooney, and Gere, Johnny Depp has also won twice. Basically that means it's been scientifically proven that one title can't contain the sexiness of these men.
Be in Your 30s
Call it ageist if you want, but we're just looking at the numbers, folks. The majority of SMA winners, including Tatum who clocks in at 32, were in their 30s. However, fear not, men above and below the magic decade. Tom Cruise squeaked in at 28 and Connery nabbed his title at the ripe old age of 59. Anything is possible… unless you're not mind-blowingly sexy. That's kind of a deal-breaker.
Hail from the South
The SMA title stretches across states and oceans, but there's one region that's churning  out a whole lotta hotties. Congratulations, Southern states, you've given us the greatest number of winners, including Alabama's own Magic Mike. (I'm sorry, sometimes I confuse reality and movies in which Channing Tatum is naked and dancing.)
Duh. Take Your Damn Shirt Off
If you want to be the Sexiest Man Alive, just do it. Take your shirt off. Or least wear a shirt that's conspicuously unbuttoned. Not taking it off would be like trying to fly a plane before you get to flight school.
Follow Kelsea on Twitter @KelseaStahler
[Photo Credit: Just for Men; People (2); iStock; New Line Cinema; WENN (2)]
More:
Channing Tatum is Officially The Sexiest Man Alive
From Not To Hot: 10 Stars Who Have Become Attractive in Record Speed