How to Properly Celebrate the Release of Taylor Swift's 'Red'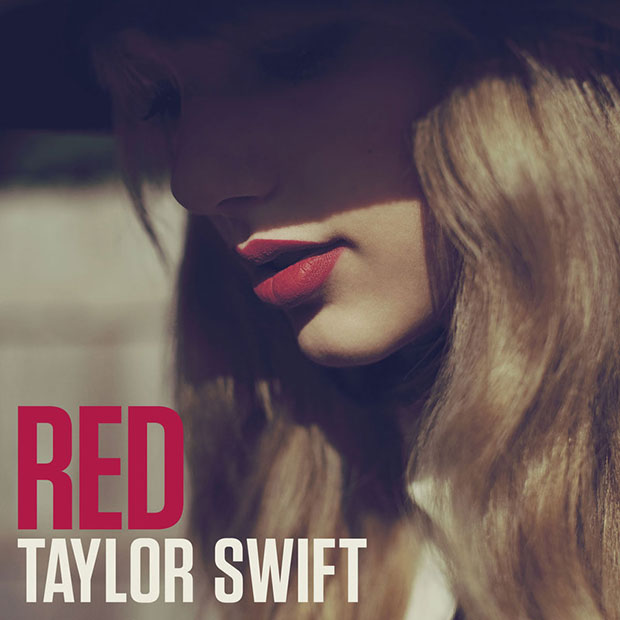 It's here! The release of
Taylor Swift'
s new, more mature album
Red
is finally here, and it includes 11 songs we haven't yet heard all over the Internet. Swift's latest album is different from her past twinkly, romantic albums. (You can't even see her eyes on her album cover, so we know she means business.) This time, she's a big girl, and big girls don't cry; they assess (and maybe get a little angry). Processing all this change is going to be difficult. We're going to need some creature comforts, so we sifted through the scrolling catalog of Swift merchandise to go with the "dark and twisty" new album and found the perfect ways to enjoy it:
Step 1: Make Yourself a Cup of Tea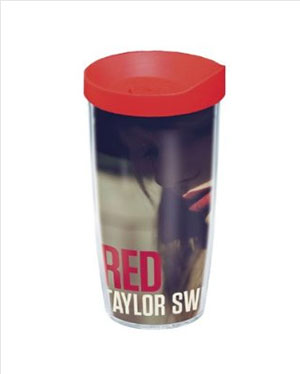 This travel mug emblazoned with Swift's pretty mug is perfect for drinking tea on a cold October day with your best lady friends while you all listen to TayTay's songs about men who've done her wrong. But hey, don't be boring and drink Chamomile. We're harder, tougher now. Shake it up with a little Rooibos or Darjeeling, like a grown-up.
Step 2: Get Warm and Cuddly With a Giant Picture of Taylor's Face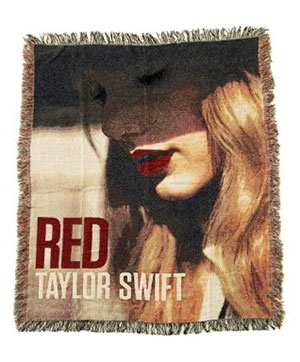 Nothing keeps you warm and cozy like a 50 x 60 blanket with Swift's face on it. Become enveloped by her voice as well as her image and feel closer to the words she's putting into song. No, it's not too much or slightly creepy at all. Why can't you see this for the beautiful gesture that it is? By putting her face on a cozy blanket, Swift is getting closer to her fans. Think about it, when you're wrapped up in a giant image of her face, it's kind of like you're inside her brain while you're listening to her music. Deep.
Step 3: Establish That You're On the Right Team to Enjoy This Album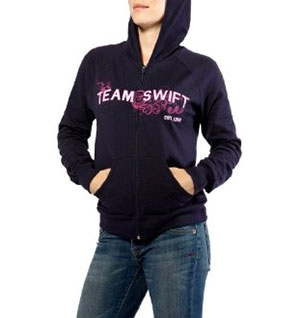 Swift has quite a few exes. And we can be sure the angrier anthems on this new album have a thing or two to do with her past heartbreaks. And let's be honest here: In cases of Taylor's heart, there is no middle ground. Don't give me the "there were problems on both sides" argument. Swift is right, Jake Gyllenhaal/John Mayer/rumored Indie love interest is wrong. Get it right. And declare it with a sweatshirt that declares your allegiance to the right side of a battle we didn't know existed.
Step 4: Make Sure You Can Really Hear It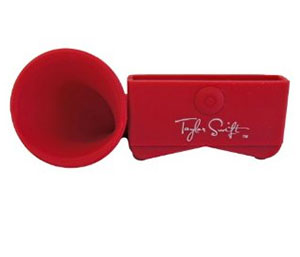 Did your iPod speakers break? Are you listening to Swift's album somewhere in nature, gripping your Swift mug of grown-up tea, wrapped in that face blanket? That little iPhone isn't going to be loud enough, so stick this Seussian mini megaphone on your communication device and listen to the album the way it was mean to be heard: through really tiny, pixie-sized speakers.
Step 5: Take a Walk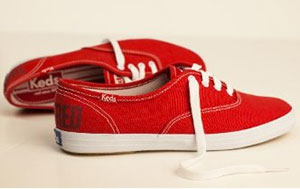 This album might rustle up a lot of emotions, so slap on your red Red keds and take a walk — preferably through some place full of willows and mossy, fallen trees. Okay, now you can resume your cozy listening party with a clear head.
Step 6: Show Your Growth With an Appreciation of Ray Bans and Graphic Tees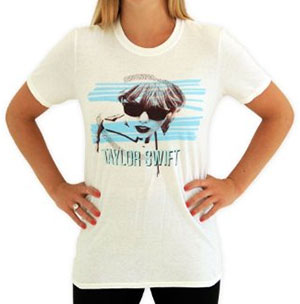 Swift isn't a pop princess anymore and now that you've made it through her whole album, you're ready to grow up a little, too. And that means you can't be caught walking around in your sparkly purple Speak Now shirt. No way. You need something that speaks to your new outlook. Show everyone how much you've matured with this hipster-style t-shirt. You're going to have to find your own Ray Bans, though.
Step 7: Use Your New Knowledge (and This Backpack) To Tell Your Ex Off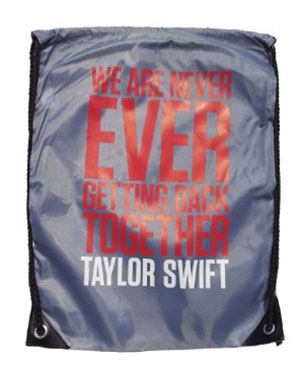 Now that you've witnessed Swift's post-breakup strength, you're ready to tell off your own ex. But sending this kind of message to someone who broke your heart into a million pieces isn't easy. In case the songs didn't inspire you quite enough to march right up to the bastard and tell him what's what, you can always just strap on this backpack and briskly walk backwards towards him or her. That'll teach 'em. Pro tip: assess the ground beforehand. Lord knows tripping on an uneven piece of sidewalk is the only thing that would render this whole endeavor ridiculous.
Follow Kelsea on Twitter @KelseaStahler
[Photo Credit: Big Machine]
More:
Taylor Swift and the Significance of 'Red'
Pop Culture Debate: Who Is Taylor Swift's 'We Are Never Getting Back Together' Really About?
Taylor Swift's New Video Gives Us Deja Vu
From Our Partners:

Pippa Middleton Acknowledges Her Famous Bottom in New Book: 'It's a Bit Startling to Achieve Global Recognition'
(Celebuzz)

LeAnn Rimes Sits Down With Katie Couric For First TV Interview Since Treatment For Cyber Bullying
(Celebuzz)