Hugh Jackman's Stalker Threw Her Pubic Hair-Ridden Razor at Him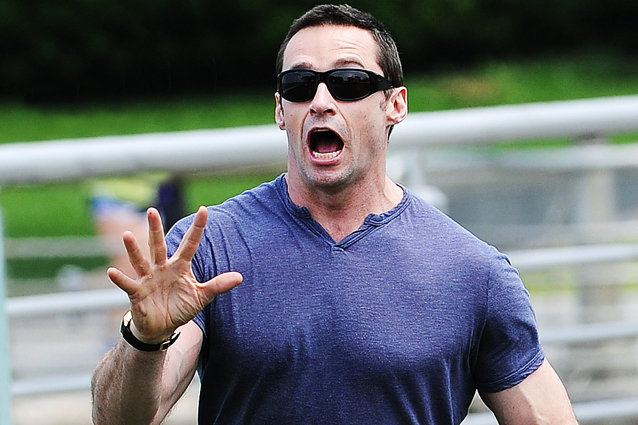 Now that is some serious pubic indecency. (Cue rimshot: I'll be here all day, folks.) Hugh Jackman's stalker threw a razor at him that was filled with pubic hair. Because she loves him, explained the New York Post. And while on the outset the story is quite ridiculous (obviously), it's also a bit sad and kind of scary in a way, too. Welcome to the weekend news cycle: trumped up curio masked as news in order to reel readers in!
The woman, Kathleen Thurston, has an infatuation erring on the side of intense for our jazz-handed Wolverine, and took to the gym (natch) to declare her love for Jackman. And how else does one do such a thing than with three little words ("I love you!") and a gift that's extremely personalized? Only problem is that Thurston said I love you with an electric razor covered in intimate hair clippings to the head. Needless to say, she was arrested. (Hollywood.com has reached out for comment, but did not hear back by the time of publication.)
But this isn't Thurston's first time at the Jackman Rodeo. Seems that the stalker has been a fairly consistent side-thorn, having previously appeared outside of Jackman's home, as well as the school of the actor's 7-year-old daughter. Fairly scary stuff.
It gets sad, though, when you realize that Thurston seems to have some problems of her own: the Post reports that Thurston's permanent address is a Harlem shelter for the mentally ill, no doubt bringing to mind the myriad of ways a.) our country's mental health system has failed its inhabitants, b.) that perhaps folks should obsess over celebrity less (she writes from the celebrity section of a pop culture news site), and c.) pubic hair should really be something that stays between you and your aesthetician.
Needless to say, Thurston was charged with stalking and was awaiting arraignment. Gotham Gym staffer David Rivera told the Post, "You wouldn't expect someone coming in here and looking to come after you like that … To just have someone invade his personal space like that is not OK." Indeed: Jackman has found his pubic enemy number one (it was too easy, I had to. And I'm not sorry about it).
Follow @AliciaLutes on Twitter
More:
'Days of Future Past': Ready for More Wolverine?
'The Wolverine' First Footage …on Vine
Is Hugh Jackman a Better Abraham Lincoln
---
From Our Partners:


Eva Longoria Bikinis on Spring Break (Celebuzz)


33 Child Stars: Where Are They Now? (Celebuzz)