'Hunger Games' Cast Confirms That Jennifer Lawrence Is Nuts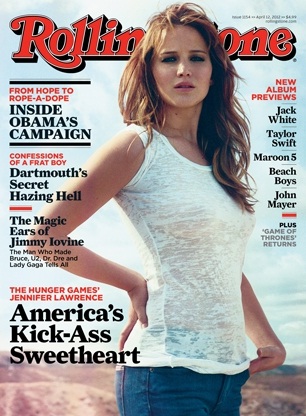 There has been speculation for some time now that Hunger Games star Jennifer Lawrence — brilliant actress, skilled archer, and all around nice person — might be bananas. Lawrence, 21, has not only helped earn The Hunger Games an overwhelming fan base (everyone loves it… sort of), she has also developed quite the engrossing media personality, freaking out David Letterman and expressing her violent urges toward the exercise community. You might think that this is all for show. Maybe she's just playing up her adorable eccentricity to win the world over. But according to her Hunger Games cast members, she's just as affably weird both on and off-camera.
Josh Hutcherson (who plays Peeta in The Hunger Games) has previously shared a few stories about his big screen co-star. In an article in the upcoming issue of Rolling Stone, Hutcherson explains his first conversation with Lawrence, implying that their chat was a lot more bizarre than the usual meet-and-greets shared by co-stars. "When I got cast, she called me up for one of those five-minute 'Excited to work with you, blah, blah, blah' things," he remembers. "The conversation started with her saying, 'Think about a catheter going in — ouch!' and then turns into a 45-minute rant about zombies and the apocalypse."
But this is not nearly as indicative of Lawrence's flimsy filter as her meeting with Woody Harrelson, who plays Haymitch Abernathy in the film. "I was on my bus," Harrelson say. "On my bus I have a yoga swing. Jennifer comes on, and she goes, 'Hi, Woody, I'm J — is that a sex swing?' Her first sentence to me."
Lawrence's oddball nature is not reserved for the Hunger Games cast — her fellow X-Men got a glimpse as well, specifically Zoë Kravitz (who played Angel Salvadore in X-Men: First Class, opposite Lawrence's Mystique). "I'd met her a few times, and she was like, 'You should come over and we'll hang out,'" recalls Kravitz. "So I go over to her apartment, and she opens the door in a towel. She's like, 'Come in, sorry, you're early, I was about to shower.' And she drops her towel and gets in the shower, and starts shaving her legs, totally naked. She was like, 'Are we here yet? Is this OK?' And I was like, 'I guess we're there!'" Kravitz's father, musician/actor Lenny Kravitz, stars in The Hunger Games as Katniss' stylist Cinna.
It does appear that Lawrence borders on the batty side, but in a world where celebrity insanity is the norm, her kind of crazy is quite welcome. Keep up the antics, Lawrence. They are sure to earn you sponsors.
More
Pic: Jennifer Lawrence Voted 'Most Talkative' in 7th Grade
Hunger Games' Jennifer Lawrence Plays "Chickenball": Best Talk Show Guest Ever?
Hunger Games to Horror: Jennifer Lawrence's House at the End Trailer — VIDEO