Hurricane Sandy Shuts Down Broadway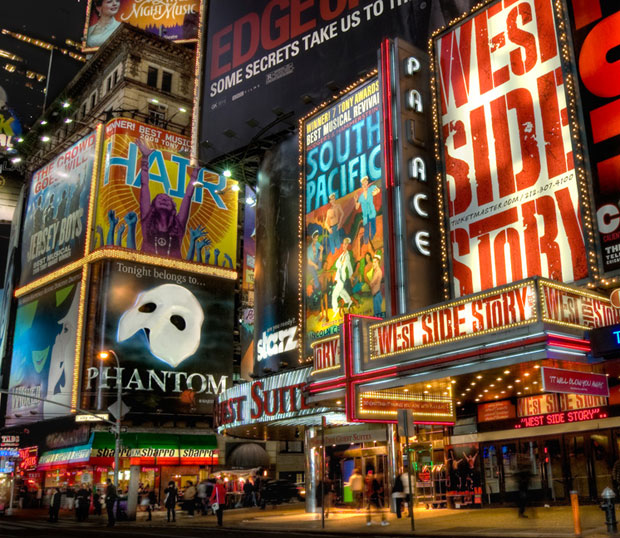 The lights on Broadway are rarely dimmed —and certainly not for weather—but when you're a S'noreastercane or Frankenstorm or super-storm like Hurricane Sandy, you get special treatment. Sometimes the show must not go on! Because of the shut down of New York City's public transportation system (though we're pulling for your experience to be less-than-calamitous, New York) from the very out-of-season hurricane shenanigans, the Broadway League has made the call to suspend any Broadway and Off-Broadway performances scheduled for Sunday evening through Monday.
Given data from the 2010 – 2011 season, Broadway makes about $3 million every performance day, so shutting it down always poses a financial risk. In addition, Broadway contributes about $11 billion dollars to the New York City economy every year—meaning that every performance missed causes a hefty loss to an array of local businesses.
In the official press release, safety was noted as the primary concern for all theater-goers. The full press release, including information for refunds, is below.
As a result of the suspension of public transportation by government authorities in preparation for the incoming storm, all Broadway performances on Sunday evening, October 28th and Monday evening, October 29th will be cancelled.
Charlotte St. Martin, Executive Director of The Broadway League, stated, "The safety and security of theatregoers and employees is everyone's primary concern. As a result of the suspension of public transportation by government authorities in preparation for Hurricane Sandy, evening performances will be cancelled tonight, Sunday, October 28th, and Monday evening, October 29th."
If tickets were purchased via Telecharge or Ticketmaster via phone or online your credit card will be refunded automatically within 7-10 business days. For any issues, please contact the customer service information included with your tickets. Please have your Order Number/Confirmation Number handy. Original tickets need not be retained.
If tickets were purchased at the Box Office: please return your original tickets to the Theater Box Office. You have the option of receiving a full refund to the original method of payment or exchanging your tickets for an alternate date of your choice, subject to availability.
If tickets were purchased as part of a Group: please contact your Group Sales Agent for more information regarding refunds or exchanges. Original tickets should be retained until you contact the Group Sales Agent.
If tickets were purchased through any other sales channel, please return to the original point of purchase for more information. If you have your tickets in hand, please retain them for a refund or exchange.
Do you think Broadway made the right decision to shut down? Were you supposed to attend a show this weekend? Let us know in the comments!
[Photo Credit: Randy Le'Moine Photography/flickr]
Follow Alicia on Twitter @alicialutes
More:
Lena Dunham Compares Voting to Sex and Causes A Stir, Because Of Course
Uggie, Hollywood's Most Famous Dog, Spills the Dirt on His Costars — VIDEO
Justin Timberlake Responds to Tasteless Homeless Video Fiasco
From Our Partners:

Levi Johnston Marries Sunny Ogelsby in Alaska
(Celebuzz)