Ian Somerhalder: 'Vampire Diaries' Bad Boy Is Actually The Nice Guy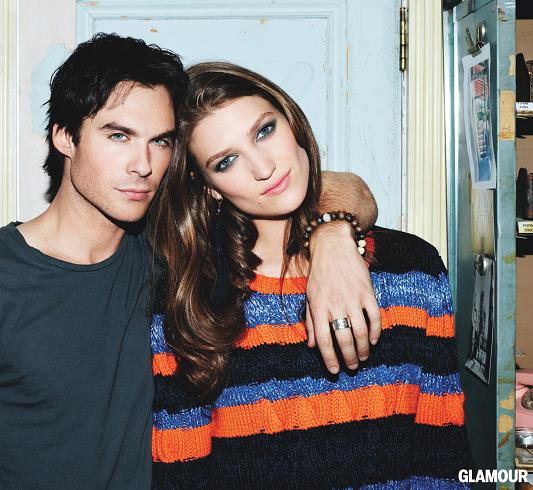 Most of the female population knows actor Ian Somerhalder for two reasons: he once played the heartbreaking Boone on ABC's long-running hit Lost and he's the bad boy half of the blood-sucking, sexy Salvatore brothers on CW's flagship series The Vampire Diaries. And while he certainly earns his nickname as the "Smoulderholder" on TVD, in real life he's about as cuddle as his multiple – yes, multiple – kittens. 
In an interview with
Glamour
, Somerhalder discuss his love of his little feline friends as well as how to treat a lady right. Hold it together, ladies. You can swoon after you see all the photos. Not only is he willing to go the distance for the lady in his life (the current lucky lass is none other than his
TVD
co-star
Nina Dobrev
), but he's even flown to Paris just to dine with one (unnamed) lady: "Flying across the ocean for one meal was pretty awesome…It paid off!"
This commitment to romance probably stems from his take on relationships, which is also pretty swoon-worthy (almost there, girls). "If you are respectful and nice and charming to a woman, it's a better approach. And I don't know what women want. No one knows what women want!" he said. It's sage advice, but what would you expect from a man who's usually in character as a 170-year old vampire?
So we've learned the Somerhalder loves animals, he's romantic, and he highly respects women. Can he get any better? Yes. Yes, he can. He created the Ian Somhalder Foundation in an effort to empower kids to save the environment through their own ingenuity. "Kids are meeting in coffee shops and basements figuring out what's unsustainable in their communities," he says. "That's the future."
Well, that seals it. He is actually perfect. And the perfection continues with these photos from Glamour's "Hot Night In" feature. Just make sure you're sitting down before you scroll down.