In Their Shoes: 12 Celebrities Are Other Celebrities for Halloween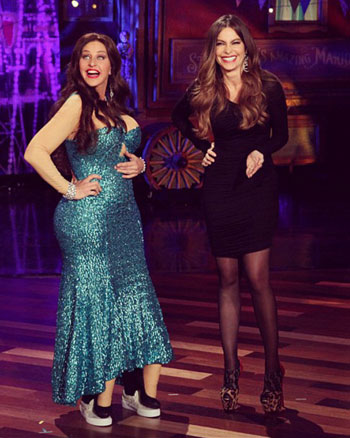 Recent years have seen a boom in pop culture Halloween costumes. No longer is being a skeleton acceptable, or a mummy, a vampire, or any other number of classic ghouls. (Well, being a vampire is okay if you're one with a name, like Bella Swan or Eric Northman.) Instead, you have to be Spaghetti Cat or Khal Drogo or Lindsay Lohan. Anything found on the Internet is fair game, anything generic is off limits — sayonara Black Cat and Fairy, hello Kim Kardashian!
But this trend isn't just popular with us regular folk, Hollywood is getting in on it, too. In a strangely meta twist, the past two years have seen a boom in celebrities costumed as other celebrities. And we're not talking Golden Age of Hollywood celebs (although Kate Upton does make a killer Marilyn Monroe), we're talking about celebrities who dress up as their peers. And, in some instances, their friends. They say imitation is the highest form of flattery… but we're not too sure about that.
Launch our gallery of celebrities who dressed up as other celebrities for Halloween below:
12 Celebrities Dressed as Other Celebrities
Follow Abbey Stone on Twitter @abbeystone
[Photo Credit: Twitter]
More:
15 Cool (and Ghoulish) Celebrity Halloween Costumes — GALLERY
'Modern Family' Does Halloween Early: Which Shows Are Playing Dress-Up Next?
The 9 Wildest Movie Makeup Transformations — GALLERY

Heidi Klum Cancels Her Annual Halloween Party Due to Superstorm Sandy
(Celebuzz)