Is Beyonce Too Obsessed with Being Mrs. Carter? Where's Our Independent Woman?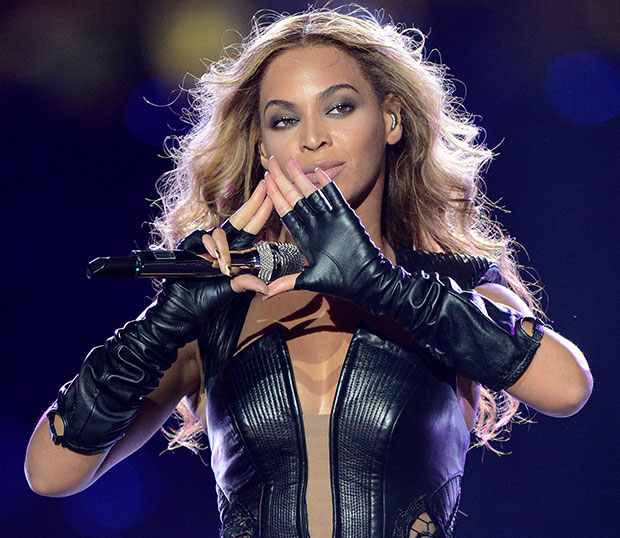 Still riding that Super Bowl halftime high, fans rejoiced when Beyoncé announced her world tour late Sunday night. But then, as our hangovers — both real and emotional — subsided, and the mountains of chicken wings and nachos we consumed became but a dream, we were able to see clearly. And we realized, like, really realized, that Beyoncé named her tour after her husband. Basically. Ms. Independent Woman named her tour "The Mrs. Carter Show World Tour," and we're a little confused.
Here are the things we do understand: Beyoncé is one half of the biggest power couple this side of the Obamas, Jay-Z is amazing, and the two of them are beautiful and perfect together. What we don't understand, is when Beyoncé became overly obsessed with her husband. Because if she's not there already, she's perilously close.
RELATED: Beyonce Announces 'The Mrs. Carter Show World Tour'
First, during the Super Bowl, Beyoncé flashed a mysterious triangle sign with her hands, spurring rumors of crazed Illuminati tendencies. But fans of the couple know that the symbol is instead a signature of Jay-Z's, and doesn't harken back to the mysterious cult at all. In joining her index fingers and thumbs together and raising her hands high for all to see, Bey was giving her husband a nod. Which is nice, really and truly. We love that Beyoncé wanted to give her boo a shout-out on stage. But then, hot on the performance's heels, Beyoncé revealed her tour's name. And suddenly, in the place of Queen B, we have Mrs. Carter. Let the head-scratching commence!
Now, we know that for all of her songs of female empowerment, Beyoncé has always been a bit traditional (and traditional and feminist are in no way, shape, or form mutually exclsive). The endgame of "Single Ladies" is, after all, marriage. But, while Beyoncé reminded us that girls run the world, we can't help but wonder why she has decided to brand her latest world domination endeavor with that moniker of the patriarchal marital system. Why is Beyoncé hiding behing "Mrs. Carter"? We know you're proud of your marriage and your family, Bey — as you should be! — but don't shy away from owning your own spotlight. You never have before. 
RELATED: Beyonce at the Super Bowl: 47 Reasons The Halftime Show Was Better Than The Game
Follow Abbey Stone on Twitter @abbeystone
[Photo Credit: AP Images]
---
You Might Also Like:

 Adam Brody, Leighton Meester Dating?

'Smash' Crashes in Ratings: What Went Wrong

'Walking Dead' Tops Deadliest Shows: Exclusive