Is it Sexist for Us to Worship Michelle Obama's Look? (No.)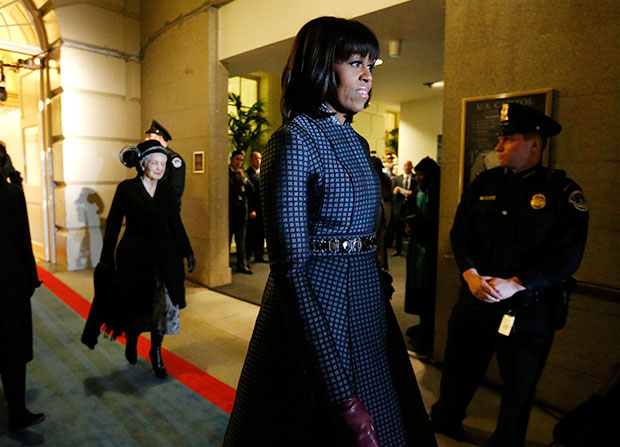 The media focused so much on Michelle Obama's looks for yesterday's inauguration that The Daily Show correspondents spent an entire segment wearing bobs-with-bangs wigs. Yes, we all got a little too excited this week about Michelle Obama's spectacular new bangs. Even I, a longtime bang advocate, found myself particularly surprised by how flattering they looked on the First Lady.
And yes, I'm totally fine with having that thought.
One could make the argument that we are being superficial and ignoring the real issues by spending time on Michelle Obama's shocking aesthetic decisions — not just bangs, but a Jason Wu gown for the second inauguration in a row! But one can also be pretty sure that the same air time and publication space used to discuss such matters would not automatically be turned over to incisive analyses of geopolitics. If anything, they'd be in danger of occupation by a Kardashian or Real Housewifian sartorial choice. Wouldn't you rather see Michelle Obama there?
RELATED: Michelle Obama Style Guide: Did the First Lady Top Her 2009 Inaugural Looks?
That's why we can all feel good about our obsession with Michelle's bangs and gowns and sweaters and eyelashes, especially on Inauguration Day, which is basically like prom for presidents.
This obsession may carry a whiff of sexism, in the most basic sense: No, we're not quite as interested in men's fashion choices, though Jay-Z also looked spectacular. Oh, and you, too, Mr. President. But the president is the one who is president. The fact that we haven't had a female president is sexism. The fact that we pay more attention to the president's words — you know, the historic invocation of Stonewall and call for gay rights, the plea for better gun control — than to his outfit is common sense.
RELATED: Michelle Obama Rocks New Bangs: The Best and Worst in Celebrity Fringe
It's deeply sexist when we degrade and dismiss a woman in politics based on her looks, as so many have done to Hillary Clinton, Nancy Pelosi, and probably every other female politician ever. It's sexist when we focus on Sarah Palin's sex appeal while ignoring her politics, for better or worse.
But on a day when pageantry is paramount, and the First Lady looks stunning, there's nothing wrong with stopping to admire her. She's a particularly important public figure for women, based, to some extent, on the way she looks — she is a woman of color who wears both designer and off-the-rack mall staples like J. Crew. She also has the kind of figure we don't necessarily have to starve ourselves to aspire to (though we will need our hand weights). That's no small thing.
Now, how many of you are getting bangs this week?
RELATED: Beyonce and Jay-Z: The Other First Couple?
Hollywood.com correspondent Jennifer Keishin Armstrong is the author of two forthcoming books, Sexy Feminism (due out in March) and Mary and Lou and Rhoda and Ted, a history of The Mary Tyler Moore Show (due out in May). For more information visit JenniferKArmstrong.com.
Follow Jennifer on Twitter @jmkarmstrong