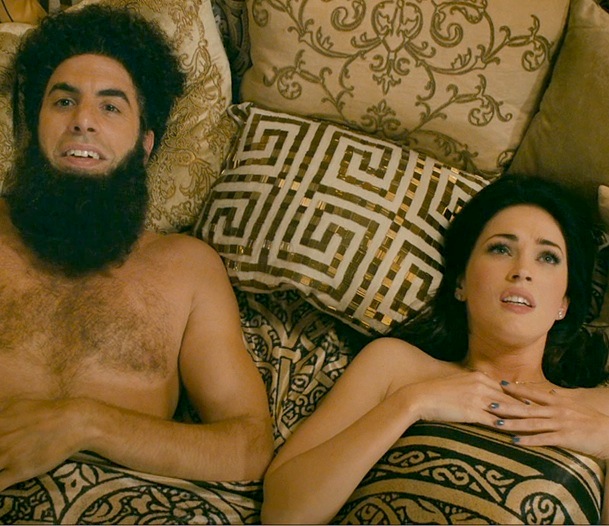 Megan Fox is only 25-years-old, but her career path is already taking a sharp turn in another direction. Surprisingly, it's a wonderful thing.
Thanks to director Michael Bay's signature brand of fetishistic filmmaking on full display in 2007's Transformers, Fox blew up from unknown sitcom day-player or background extra into a kick butt action heroine with the looks to match. The success streamlined from there—Fox became a tabloid sensation, slapped with the "sexy girl" label, and saw her actual skills as a performer overlooked. Aside from the media's focus on her off-beat tattoos, interesting points-of-view on sex and relationship with Brian Austin Green, it didn't help that Fox's TF follow-up Revenge of the Fallen and her comic book movie Jonah Hex were both panned by critics, the latter fizzling out completely at the box office.
In the wake of the career frenzy, Fox made an unexpected choice that's only starting to payoff: she went back to her roots. Before she spent her time outrunning ferocious robot invaders, Fox was popping up on shows like Hope & Faith and in supporting roles alongside then-tween comedy god Lindsay Lohan (Oh, Confessions of a Teenage Drama Queen, remember those days?). Megan Fox has a funny bone, and even in the whirlwind of post-Transformers fame she was trying to flex it, seizing new found clout to nab roles in the little-seen How to Lose Friends & Alienate People and the wickedly comical Jennifer's Body. But, almost as response to the reactions from her recent work, Fox staying low on the radar, clocking time in comedy-driven movies that will all unleash in 2012. Can she go back and convince crowds she's a comedy actress?
Signs point to yes: with the upcoming indie Friends with Kids, Sacha Baron Cohen's The Dictator (which should be equally outlandish as his Oscar red carpet stunt) and Judd Apatow's next This Is Forty, Fox is ready to prove herself to naysayers and past history says she has a good shot. at doing so. Consider a guy like Mark Wahlberg, former underwear model turned action movie star. He's been hit or miss at the box office with his tentpole blockbusters, but when he scales it down and spoof himself—as he's done successfully on SNL and in the Will Ferrell cop comedy The Other Guys—he's won back audiences. Fox is in the same boat, but with an even bigger hill to climb. Let's face it, it ain't easy for a funny lady to be funny in Hollywood (that's why Bridesmaids blew so many minds). But if Fox can successfully lampoon herself in 2012, she'll once again be a star, dispel some of the misconceived ideas of her personality and, hopefully, be appreciated for her abilities. When you make a crack about a Kardashian (as she does in the trailer for The Dictator)and it actually elicits a laugh…that's a talent. Fox is the exact opposite of today's comediennes, which gives her even more of an advantage to take the big screen comedy world by storm.
Megan Fox is funny. She's stunning, mysterious and a little kooky, but she's funny. This year, it seems, we'll all have a chance to recognize that fact.
="font-style:>