Did Tierra from 'The Bachelor' Get Engaged?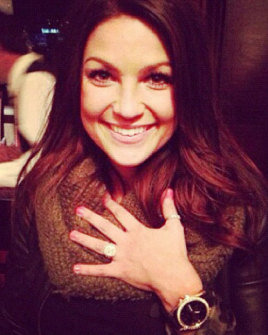 Some people (and by people, I mostly mean grandmothers) will tell you that when it comes to love, there's a top for every pot. And, apparently, even when you're one of the most hated contestants from ABC's The Bachelor, love can find you. And not just any kind of run-of-the-mill, we-met-at-a-bar-and-got-two-cats sort of love. No! But magical, romantic comedy done by Nancy Meyers type s**t. At least that is what Tierrable (aka Tierra LiCausi), the most recent castoff from the ABC reality series, will have you believe, as she recently maybe-sort-of announced her engagement via Instagram.
The whole thing started on February 1st — 10 days before she would even be kicked off The Sean Lowe Shirtless Project — and only a few months after returning home from filming. LiCausi posted a picture of one of the more aggressively large engagement rings this writer has seen, sparking a flurry of questions. Did (god forbid) Sean give it to her? Was she engaged to someone else…already? Was it all a big publicity stunt to make her seem more normal? LiCausi has kept mum on the subject, though it (of course) hasn't stopped her from posting two additional pictures of the ring on the social networking site Instagram. Why? A way to prove its authenticity?
RELATED: The Bachelor Recap: Never Let Them See You Sparkle
Wetpaint got confirmation from her brother Tyler that the engagement was in fact a real thing, and his sister was so crazy in love just before she went to film the show that some dude decided to put a ring on it. "Tell us more!" dozens of ladies who watch the show screamed at their computers.
Only…the younger LiCausi continued to ride his sister's vague parade, telling the outlet that he's "not sure [Tierra's fiancé] wants his name out there just yet." But nameless or not, LiCausi's brother went on to paint a dreamy little picture that oh-so-conveniently makes his sister look more normal than her on-camera desperation ploys painted her to be. "It's someone she had been seeing before the show," LiCausi's brother explained. The couple had dated for nearly "three or four years" and they lived together in Vegas (which, of course she lived in Vegas) until they had "a bad breakup" that ended with Tierrable packing her bags and running away to film The Bachelor — no doubt to mend her broken heart.
But lo! A TWIST! Apparently "right after she left to film, though, he had a huge change of heart and wanted to get her back. The only problem was he couldn't reach her. Her phone was turned off." Oh no! Not the phone! But our lovelorn hero of Tierra's heartspace would not be one to give up so easily. LiCausi continued, explaining that this mystery man "kept trying and trying, but he couldn't get ahold of her. That's when he called my parents, who told him what she was doing."
RELATED: The Bachelor Recap: Winter is Coming. And it is Tierrable.
Oh, what a fickle beast true love can be! But if you thought this story couldn't get more stereotypically rom-com, you'd be mistaken. LiCausi's brother's script continued, but the fires of love had been opened, so the next course of action was obviously an epic quest! One so ridiculous and over-the-top convenient that it has to be broken down into bullet points.
– "When he found out she was filming The Bachelor, he did everything he could to try to get to her." (Oh, did he?!)
– "He even called ABC to find out where she was filming so he could fly there." (Because I'm sure they just give that information out to anyone that calls.)
-"He was literally on his way to St. Croix the day he finally reached her." (How convenient!)
– "It turns out, that was the exact same day Sean let her go." (NO!)
– "When Tierra got to the St. Croix airport, she was given her phone back. She turned it on and the first call she got was him — telling Tierra he was on his way." (How ROMANTIC.)
– "She told him not to come, that she was on her way home to Denver." (Don't chase me is the travel equivalent of 'Look at me! Don't look at me! But seriously, look at me!')
– "So instead of flying to St. Croix from Las Vegas, he flew to Colorado." (True love never listens!)
– "They've been together ever since." (Happily ever after, no doubt)
– "He picked up his whole life to move here for her."(Because people do that all the time!)
And as for the epic and embarrassingly large ring that Tierra's fiancé just happened to be able to afford? Appropriately enough, LiCausi's brother described it as "kind of insane." And he also — of course — had all the specifications down to tell the reporter. "The main stone is a four-carat yellow diamond and it's surrounded by a set of white diamonds." No wonder Tierrable thought Sean buying her a bunch of jewelry was first-date appropriate.
RELATED: The Bachelor Recap: Sean Lowe and The Not-So-Happy-Campers
Hollywood.com — ever the skeptics when it comes to reality television stars — have reached out for comment from NZK Productions and ABC, but did not hear back at the time of publication. 
Do you think the engagement is real? Could Tierrable really be faking it? Let us know your thoughts in the comments!
[Photo Credit: Instagram]
Follow Alicia on Twitter @alicialutes.
---
From Our Partners:

'SI's 25 Sexiest Swimsuit Covers of All Time (Vh1)

Pregnant Kate Middleton Bikini Pics Spark Palace Anger (Celebuzz)