Is Vanessa Lachey Becoming a 98 Degrees Groupie?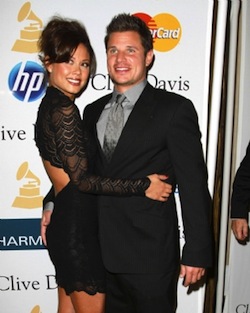 While we were ecstatic about the news that 98 Degrees might be reuniting for a 15-city tour this summer, there's one woman who was much less amused by the rumor. And no, it's not because she's a die-hard 'NSYNC fan. Vanessa Lachey is set to give birth in the fall, and thus a tour would take her husband Nick Lachey away from her in the final weeks of her pregnancy.
Vanessa tells E! that her husband will remain by her side — for now, at least. "They broke up about 10 years ago and they've always talked about a reunion," she explains. "As of now, he will not be on tour." Of course, after the baby is born, there's no reason that the Lacheys couldn't go on the road together.
And if Vanessa does decide to join her husband on tour, she'll be in good company. For some reason actors and musicians are the peanut butter and jelly of the entertainment world. Just take a look at these other high-profile groupies.
Beyonce is fond of saying that she hadn't really dated anyone before Jay-Z, but there are rumors that she had a relationship with rapper/former B2K member Marques Houston. Even if they never hooked up, she deserves a place on the list just for those adorable videos of her rocking out at Jay-Z concerts.
Gwyneth is living the groupie's dream. She met Chris Martin backstage at a Coldplay concert and they went on to get married and have two kids. However, remember we're not talking about a mere mortal here. This is the same lady who dated both Ben Affleck and Brad Pitt.
Kate Hudson got her first big break playing groupie Penny Lane in Almost Famous and it turns out the role wasn't too much of a stretch for her. Both of her children were fathered by famous rockers. Ryder is the son of ex-husband Chris Robinson of the Black Crowes — and last year, she and fiance Matthew Bellamy of Muse welcomed a boy named Bingham.
Anderson was married to both Tommy Lee of Motley Crue and Kid Rock. Plus, just to round out her rock star resume, she made a sex tape with Bret Michaels of Poison.
Tommy Lee's other ex, Heather Locklear, has a soft spot for musicians too. After she divorced Lee, she married Bon Jovi guitarist Richie Sambora. They divorced in 2007, and she moved on to fellow Melrose Place alum Jack Wagner.
The most surprising thing about Carmen Electra's short-lived marriage to Dennis Rodman: The fact that he wasn't a musician. Electra has dated Tommy Lee, Prince, and B-Real of Cypress Hill. She was also married to the Red Hot Chili Peppers' Dave Navarro and is currently engaged to Rob Patterson of the bands Otep and Filter.
If Ryder's exes banded together, they'd make up the weirdest musical group ever. Just picture Beck, Ryan Adams, Soul Asylum's David Pirner, Helmet's Page Hamilton, Jamiroquai's Jay Kay, Mystic Valley Band's Conor Oberst, Rilo Kiley's Blake Sennett, and Green Day's Tre Cool rocking out on stage. And don't forget Johnny Depp on the tambourine.
[E!]
More:
UPDATE: Vanessa Minnillo Flaunts Baby Bump on a Boat
98 Degrees Reuniting? Good — They're The Best Boy Band of the '90s