It's Time to Leave Miley Cyrus Alone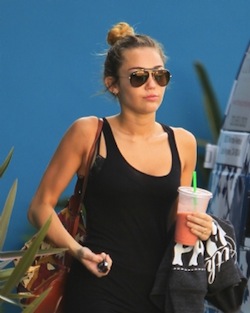 In the past few days, there's been a torrent of negative stories about Miley Cyrus. First, paparazzi snapped up-skirt shots that revealed she wasn't wearing underwear. Then, she was accused of cutting after she was photographed with marks on her wrists. Now, people who've never even met her have diagnosed her with anorexia, though she's actually losing weight due to a food allergy. Is it any wonder that the girl recently announced she's thinking of leaving Hollywood?
It's time for someone to track down Chris Crocker, because just like when he wailed that people needed to "Leave Britney alone," coverage of Cyrus is getting totally out of hand.
"For everyone calling me anorexic I have a gluten and lactose allergy," Cyrus tweeted on April 9. "It's not about weight it's about health. Gluten is crapppp anyway! everyone should try no gluten for a week! The change in your skin, phyisical and mental health is amazing! U won't go back!"
And, accusing Cyrus of something as serious as cutting is awful, particularly because it doesn't even make any sense. The faded marks were spotted on April 2 when she was walking her puppies (who certainly couldn't be responsible for the scratches). However, when Cyrus was photographed less than a week earlier, her forearm looked totally normal.
No star can escape speculation about their personal lives, but the rumors about Cyrus have taken an unusually nasty turn recently. The only facts about Cyrus' well-being are that she's been working out, taking care of her dogs, and supporting her long term boyfriend while he promotes The Hunger Games. Plus, she's co-starring with Demi Moore in the upcoming film LOL. It actually sounds like she's doing better than ever, and the speculation about how she might be battling some serious demons is just unfair.
[N.Y. Daily News, Hollywood Dame]
More:
Liam Hemsworth: Miley Cyrus Would Beat Me in 'The Hunger Games'
'Hunger Games' Star Liam Hemsworth & Miley Cyrus: Engaged?