Jackson Family Drama: Nephew Named Guardian, What's Going On? — VIDEO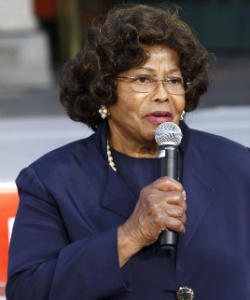 Earlier today it was reported that TJ Jackson (Tito's son), was named temporary guardian of the late singer Michael Jackson's three children Wednesday.
In the unfolding saga that seems to be the Jackson family, it was declared that Katherine Jackson (Michael's mother) was being kept against her will from seeing the children and, making her unable to fulfill her guardian duties. Confused yet? Well, it doesn't help that reports from members of the family all seem to confuse rather than clarify–they all say something different. But it all becomes part of an even bigger picture, as drama unfolds about Michael's will.
RELATED: Police Respond: Katherine Jackson, Michael Jackson's Mother, Reported 'Missing'
It seems as though some allege the will is fake, or a forgery–in it, the children are given Michael's estate control exclusively. But the date Jackson allegedly signed the will, he was in New York, not California where his executors live. Suspicious! The will stated that upon Katherine Jackson's death, her portion of the estate passes to Paris, Prince, and Michael Jr., leaving Michael's father and siblings with nothing.
Is this a power-play to gain control over the estate and therefore Michael's money? Not so, says L.A. Superior Court Judge Mitchell L. Beckloff. Merely an injunction to make sure the kids are properly taken care of, though they say different. Jackson's daughter Paris took to Twitter, saying "8 days and counting . something is really off , this isn't like her at all .. i wanna[sic] talk directly to my grandmother!!," adding fuel to the fire that something more else is going on here. So naturally, the aunts and uncles decided to stop by the house and start videotaping their talking to the kids on camera phones. (Because that is a very normal way to interact with your family!)
RELATED: Michael Jackson's Family: Police Called for Feud at Matriarch Katherine's House
To further propagate (though seemingly unintentionally) the confusion, Michael's brother Randy went on Good Morning America to explain that this was all just to tell the kids that they can see their grandmother whenever they want. What? So are they against the children or the executors here, or the will? Check out Randy's conversation below:
RELATED: Pepsi Is Taking Michael Jackson on Tour: Hologram Next?
So now we are left to wonder…is Katherine OK? Why haven't the kids seen the person that is allegedly their guardian? Are they (or Katherine) being manipulated by the executors? Or by the aunts and uncles? Is this all part of a storyline to some secret reality show we don't know they're filming? Only time will seemingly tell. It seems as though once the will's authenticity is invalidated (or not), the rest of the story will unfold. In the meantime, TJ Jackson will be making all decisions involving the kids until this whole situation is sorted out.
What do you think about the unfolding Jackson drama? Are you worried for Michael's kids or Katherine Jackson? Let us know in the comments.
[Image Credit: WENN]
Follow Alicia on Twitter @alicialutes