Jake Foushee Does the Best Impressions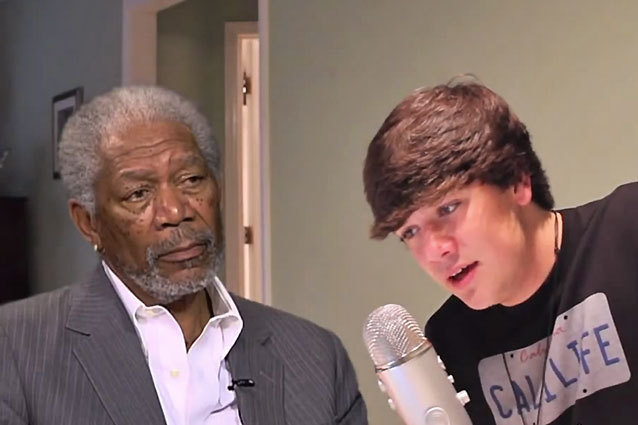 OurPizzaGang/YouTube
Looking at 15-year-old Jake Foushee, you wouldn't think he'd be able to do a perfect impression of Christian Bale's Batman or Morgan Freeman, but then you'd be totally wrong. His video "Jake Foushee Does Voice Impressions" has already amassed over a million views on YouTube and has been picked up my multiple news sites like Mashable and Business Insider.
However, this isn't Foushee's first time in the viral video rodeo. Last year Foushee's YouTube video, "My Movie Trailer Guy Impression," granted him his first taste of Internet stardom. The two million views that first video has received are well worth it because Foushee's portrayal of Don LaFontaine's movie trailer voice is totally dead on.
The teenager's fame even landed him on The Ellen Show. Foushee talked about what it was like to wake up one day with such a deep voice — apparently hilarious. Then he did some voiceover work for Ellen DeGeneres herself, before she got him an agent, of course because this is Ellen and she's fantastic.
Now Foushee's newest impression video is taking off. This time around, the teenaged voice acting prodigy tackles more well known actors and characters including Joe Swanson and Peter Griffin from Family Guy, Ted from Ted, Duke Nukem, Jason Statham, as well as our favorite: Optimus Prime (seriously, it's like the Transformer was reincarnated in Foushee's body.)
If you have a few minutes, and you like a good impression, definitely check out Foushee's video and judge them for yourself. Spoiler alert: they're going to blow your mind.