James Franco Named Daytona 500 Grand Marshal, Because… Um… Wait…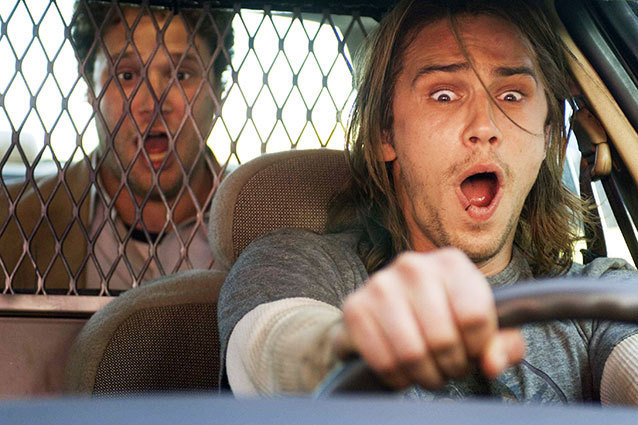 What we've come to learn over the past few years is that if something exists, James Franco must be the leading authority on it. This isn't simply a mindset perpetrated by Franco himself, but by some of America's premiere institutions: NYU, where the actor teaches a film class (about his own movies, no less); the Yahoo! corporation, which enlisted Franco to craft a free-verse poem about the inauguration of President Barack Obama; and the Daytona 500, which has named Franco as the Grand Marshal of the 55th Annual motor race, set to take place on Feb. 24.
A natural choice for the celebrated NASCAR event, Franco will be delivering the ceremonial first command: "Drivers, start your engines!" It hardly takes an automofiliac to handle such a feat. But still, curiosity surrounds the selection of Franco as the 2013 Grand Marshal. What, exactly, made the minds behind NASCAR think, "He's the guy we need!"?
RELATED: James Franco Writes a Poem for Barack Obama's Inauguration About James Franco
And sure, it's not as though each of the past Grand Marshals have been their respective generations' Henry Fords (I'll be honest with you, that's as car-friendly a reference as I'm capable of — but I'm not claiming right to Daytona Grand Marshalry…), but they at least had somewhat of an athletic vehicular background.
Last year, we (or whoever watches these things) saw Kate Upton and Jane Lynch take on the "start your engines" responsibilities. They might not be the most obviously relevant figures, but each has a leg up on Franco: Upton is a swimsuit model for Sports Illustrated (sports! there's the connection!), and Lynch starred in the NASCAR movie Talladega Nights.
RELATED: James Franco Had a Lot of Sex at Sundance
The year prior, Transformers franchise director Michael Bay and stars Josh Duhamel and Rosie Huntington-Whiteley took the reigns at the race. These three are perfectly suitable choices thanks to their penchant for hanging out around robots that turn into cars.
Heading back through the years, we see a consistent linkage between Grand Marshals and the territory over which they are asked to Grand Marshal: Nicolas Cage (stole a bunch of cars in Gone in 60 Seconds), John Travolta (worked at a garage in Grease), James Caan (shot dead in a car in one of the most famous movie scenes ever).
All reasonable selections. But Franco… we don't get it. 
RELATED: 'Spring Breakers': James Franco for Best Supporting Actor 2014 — TRAILER
What is the stronghold the 34-year-old actor has over institutions like Daytona? Various academic organizations? The Academy of Motion Picture Arts and Sciences? Lindsay Weir? Why do we all assume he is the perfect candidate for opportunities like honoring our Commander-in-Chief and reviving an L. Frank Baum classic?
While we might never understand what makes Franco an all-purpose go-to, we can only hope that it's not already too late to put the kaibosh on his reign. After all, with a blitzkrieg of 200 mph, crash-protected, adrenaline-fueled machines at his disposal, his powers might already be beyond control.
[Photo Credit: Columbia Pictures]
---
From Our Partners:
Justin Bieber Drug and Cheating Rumors?! (Vh1)