Is James Franco's Philosophical Explanation Of The Selfie Ridiculous Or On Point?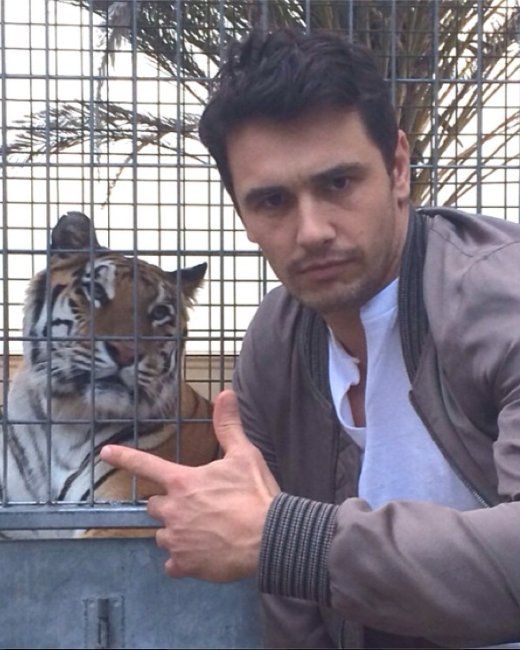 Instagram
If you're not following James Franco's Instagram account, you are missing out on about 10 amazing Franco selfies a week. With over 1600 photos of himself, family, friends and work-related stuff (like this totally serious article demanding an Oscar for Franco's performance in Spring Breakers), @jamesfrancotv is one of the best celebrity Instagram accounts to follow, hands down. Plus, his Vines with his grandma are just … tops!
But fans of the actor/writer/director/everything-er know that even when James Franco is just being a pretty face on Instagram, he's being sooo much more than just a pretty face on Instagram. He recently contributed a piece to the Arts secion of The New York Times, entitled "The Meaning of the Selfie" and, initially, it's kind of hilarious. It reads like a philosophical treatise on the cultural significance of something so frivolous, it's difficult to embrace the idea of it having cultural significance at all. Franco writes, "I've learned that the selfie is one of the most popular ways to post and garner the most likes from followers." Really, dude? A busy guy like you, concerned with getting the most likes? It sounds so ridiculous but as the piece goes on Franco makes some strong points.
He concludes that the selfie is a reflection of the fact that everyone — celebrities, artists, writers, high school students, everyone online and off — is looking for attention. And of all the photos one could share on Instagram, selfies tend to get the most attention, as they offer a snapshot of a person's true self. "Self-portraits" for this generation, he calls them. But isn't that kind of … sad? And while Franco does admit there is a vain aspect to all of this he doesn't admit that it's actually almost entirely about vanity. And he also doesn't bring up the fact that sometimes this vanity is totally inappropriate, like that one time he expressed his concern about this year's LAX shooting with … an airplane window selfie?
Is there philosophical and cultural significance in the art of the selfie? Sure. But isn't it also just one more, kind of ridiculous way to make everything about yourself? Probably. One just wishes Franco (who is awesome, BTW) might have addressed this as well.