James Franco Is Obsessed with a Weird Puppet, Gay Sex, and Some Creepy Twins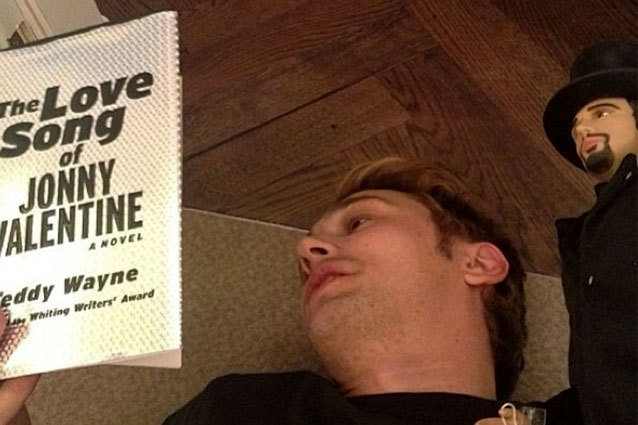 America's greatest dilettante, James Franco, has so many jobs and so much news coming out about him on any given day there really should be a James Franco section of every newspaper: right between the Sudoku and and the obituaries. Today we learn that he's obsessed with a puppet, loves gay sex, and hung out with the crazy ATL twins on the set of Spring Breakers. 
First, there is the puppet Franco posted two pictures of on his WhoSay blog (it's basically a MySpace for famous people). Just what is that thing? Is it his character from Oz the Great and Powerful? Is it the older brother of his sex pillow from 30 Rock? Is it a possessed spiritual token that he stole off the set of a Poltergeist remake that he is writing/producing/directing/doing craft services/editing/color correcting/starring in that hasn't been announced yet? With Mr. Franco, it's usually best not to ask too many questions. 
RELATED: James Franco Had a Lot of Sex at Sundance
Next he's supporting his friend Travis Matthews fight the nasty censors in Australia, who think that the dudes and sheilas down under aren't grown up enough to watch some real live gay sex on screen. Matthews' film I Want Your Love, a sexually explicit story about a conflicted gay man and his friends in San Francisco, was supposed to tour Australian gay film festivals but was banned from the country for being too dirty. Franco, who co-directed the film Interior. Leather Bar  — a sexually explicit story about a conflicted straight man and his famous friends in Los Angeles — with Matthews, made the video below to tell Australia they are a bunch of backwards minded pansies. I agree. 
What a great shirt! He might have stolen it off the set of Spring Breakers, the upcoming movie by Harmine Korine, where Franco plays a corn-rowed, begrilled member of a Bacchanalian troupe of teens trying to have so much fun that they destroy the world. New York Magazine has some photos from the set, including one where Franco is hanging out with one of the ATL Twins, two guys from Atlanta who are, well, pretty crazy. They dress and do everything together: including having sex with the same women. I guess the only thing they do separately is hang with James. 
Follow Brian Moylan on Twitter @BrianJMoylan
[Photo Credit: WhoSay]
---
From Our Partners:


40 Most Revealing See-Through Red Carpet Looks (Vh1)


15 Stars Share Secrets of their Sex Lives (Celebuzz)