James Holmes Charged with 24 Counts of Murder for 'Dark Knight' Shootings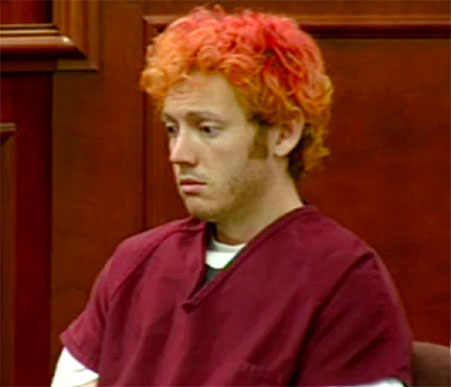 Just 10 days after the shootings at a midnight screening of The Dark Knight Rises in Aurora, Col. that left 12 dead and 58 wounded, the alleged shooter, James Holmes, appeared in court Monday. Holmes was formally charged with 24 counts of murder, 116 counts of attempted murder, and one count of possession of explosives, The Associate Press reports.
According to ABC News, the 24 counts were charges of first degree murder — two counts for each person that Holmes allegedly killed on that tragic day. For each death, the double charges accuse Holmes of showing premeditation and showing extreme indifference to life. Both of the charges can carry the death penalty if he is found guilty.
The 116 attempted murder charges were also counts of the first degree.
Holmes was initially arrested on July 20 outside of the Century 16 theater where the shootings took place. Prior to the shooting, the 24-year-old was a student at the University of Colorado — but withdrew from the college just last month.
This is the second time that Holmes was in a court room since the shootings. His first appearance took place on July 23. But, unlike the July 23 hearing, District Chief Judge William Sylvester wouldn't allow video or still cameras in the court room today.
Follow Lindsey on Twitter @LDiMat.
More:
Alleged Aurora Shooter James Holmes Makes First Court Appearance
Police Have Successfully Disarmed Most Dangerous Explosives in Holmes' Apartment
Photo of Alleged 'The Dark Knight Rises' Shooter, James Holmes