James Van Der Beek: I Didn't Name My Son After Joshua Jackson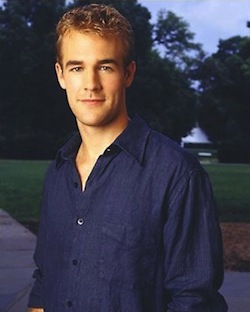 Sorry, Dawson's Creek fans. James Van Der Beek says he didn't name his three-week-old son Joshua as a sign of his undying love for former co-star Joshua Jackson. 
"It would have been cute, but no, it's something I did not even think about," Van Der Beek said. "It's a great name."
Van Der Beek "adores" being a father to Joshua and his 18-month-old daughter
Olivia
. "You don't realize it until it actually happens and then it's like, 'Oh, that's what they were talking about,'" he explains.
In this age of "Pilot Inspektor"s and "Bear Blu"s, Van Der Beek's baby names are just a bit disappointing. However, he's already done his bit to encourage unusual baby names. In 1998, the name "Dawson" had a huge surge in popularity for boys, going from a ranking of 734 to 175 on the list of most popular baby names in the U.S. Also, while there had previously been no female "Dawson"s, in the year the show launched there were 20. While series creator Kevin Williamson says "Pacey" was the name of one of his best friends as a child, no babies had been given the name for decades. Yet, in 1998 seven female and 11 male "Pacey"s were welcomed into the world.
[Us, OurBabyNamer, OurBabyNamer]
More:
Will There Be a 'Dawson's Creek' Reunion?
James Van Der Beek Welcomes Baby Boy