Jane Fonda Performances That Transcend the Controversy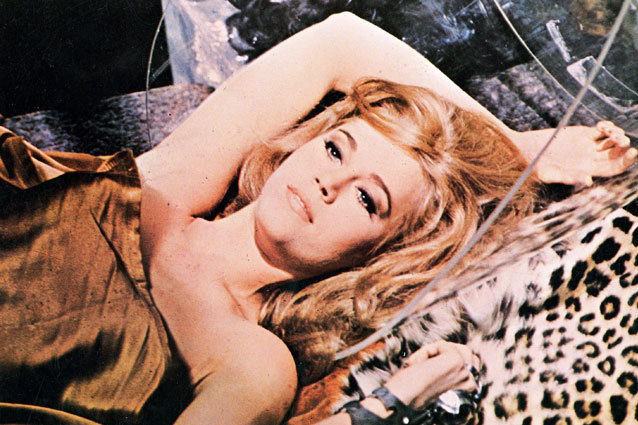 Paramount Pictures
Chances are, when the good people over at the American Film Institute were settling on Jane Fonda as their next Lifetime Achievement honoree, they weren't thinking about her critically-acclaimed performance in Monster-in-Law. No, Lady Jayne Seymour Fonda (the most awesome birth name ever) has had a long and varied career, which Jennifer Lopez thankfully figures into but minimally. She's still a contentious choice, however — it doesn't matter what midlife crisis you're going through; if you pose for a wartime photo pretending to shoot at American troops, people tend to remember. "Hanoi Jane" aside, Fonda's contribution to film history is quite meaty, and covers almost every genre. These performances are our favorites. 
In this comedy, Fonda plays a college cheerleader looking to get her M.R.S. degree by snagging Anthony Perkins's basketball star. She reportedly hated the role, but it makes our list because it was Jane's (and Robert Redford's, coincidentally) film debut.
It ain't Shakespeare, but the title character of this outer-space camp-fest turned Fonda into a cultural icon.
They Shoot Horses, Don't They?
Jane was nominated for an Oscar for her work in what surely must be the most depressing dance movie of all time. Step Up 2 The Bread Line?
Fonda took home her first Academy Award for playing the working girl who teams up with a detective in this thriller. It was the '70s, so prostitutes basically made up about 80% of available parts for women. (Statistic not fact-checked.)
The public wasn't super excited about an anti-war activist being cast in a film about the plight of Vietnam War veterans. But Oscar #2 got into Fonda's hot little hands via this drama, where she plays a girlfriend to a disabled former soldier.
Fonda starred with Lily Tomlin and Dolly Parton in one of the most beloved film comedies of all time, and one of the few to feature such a female-heavy cast.
The Newsroom
Fonda was a huge get for the ensemble cast of The Newsroom, whose third season renewal announcement is expected soon. As station owner Leona Lansing, she shows up every few episodes to yell at people and look fabulous.
More:
The Baddest of Bad Guys: Hollywood's Best Worst Men
'Gravity' Is a Lacking Story But An Unbelievable Emotional Experience
Review: 'Runner Runner' Is All Talk and No Show
---
From Our Partners:


40 Most Revealing See-Through Red Carpet Looks (Vh1)


15 Stars Share Secrets of their Sex Lives (Celebuzz)