Janeane Garofalo's Life Is a Sitcom: She Accidentally Got Married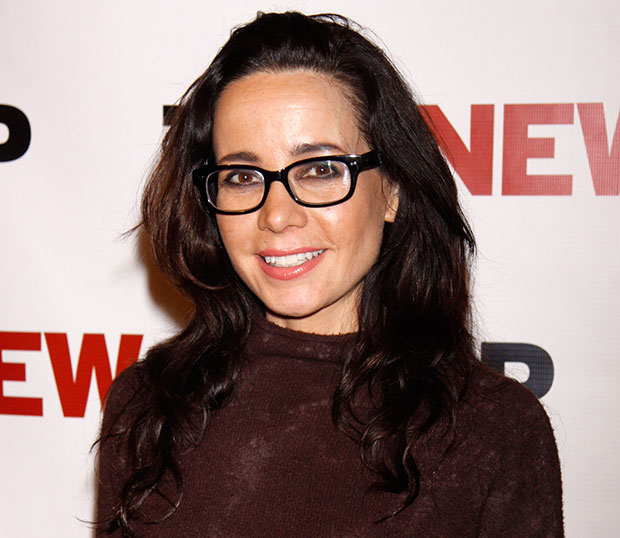 We all know how the story goes: Boy meets girl, boy and girl get drunk, boy and girl get fake married, and — oh f**k, that wedding wasn't fake! It's every single person's worst nightmare. And, for actress and comedian Janeane Garofalo, the sitcom's wacky plot device was revealed to be reality. Garofalo revealed at the New York Comedy Festival's reunion for The Ben Stiller Show that until this past Saturday, she had been unknowingly married to Big Bang Theory producer Rob Cohen for 20 years. Wha? That's crazy talk! Crazy, but true.
According to The New York Post, Garofalo explained, "Rob and I got married, for real, which we had to have a notary dissolve not 30 minutes before we got here tonight … We were married for 20 years until this evening."
"We got married drunk in Vegas . . . We dated for a year, and we got married at a drive-through chapel in a cab. [We thought] you have to go down to the courthouse and sign papers and stuff, so who knew? We were married, and apparently now that [Rob] is getting married for real, his lawyer dug up something," says Garofalo.
Holy moly, this is some pretty unbelievable stuff. Unbelievable, but not unheard of. From everyone's favorite mildly incestuous cousins to a hungover toothless man and his stripper, funny people just love gettin' accidentally hitched. Luckily for Garofalo, her surprise marriage ended in a quickie divorce. Not so for these less fortunate brides and grooms, who had things go terribly awry once they said their vows.
Jack Donaghy and Liz Lemon on 30 Rock
While Jack is trying to marry his girlfriend Avery on the show's fifth season, the minister accidentally pronounces Jack and Liz husband and wife. The horror! Before they can undo what had been done, Jack and Liz are forced to go through couples counseling.
George Michael and Maeby Funkë on Arrested Development
Unfortunately, romantic feelings are not so mutual with these kissing cousins. After George Michael and Maeby have a "mock" wedding to appease Alzheimer's patients at the hospital, George Michael decides not to tell Maeby that the wedding was actually real. When the truth gets out — because the truth always does — Maeby is none-too-thrilled. Hey, at least Garofalo and Cohen's wedding was a secret to both parties!
Ross Geller and Rachel Green on Friends
Much like Garofalo's situation, Ross and Rachel tie the knot in a drunken stupor in Sin City. But as the two remember what they had done, things take a turn for the creepy — Ross pretends to have annulled the marriage when, in fact, he never signed the papers. That dastardly so and so!
Stu and Jade in The Hangover
During his inebriated nuptials with Jade (a Vegas Stripper), Stu not only gives away a tooth but also his grandmother's Holocaust ring. At least neither Garofalo or Cohen gave away priceless family heirlooms… that we know of.
Fonzie and Jenny on Happy Days
What starts out as a fun costume party on a boat turns into one heck of a web to unweave when Fonzie and Joanie's friend Jenny realize their farce wedding might actually be real. While the Fonz thought the whole ordeal was just a gag, the fact that an actual sea captain performed the ceremony meant that he might have actually gotten hitched. To complicate matters, Jenny is not so keen on getting the marriage annulled. In classic overly complicated sitcom fashion, our hero is ultimately saved by a technicality — the boat upon which he said "I do" was only a half mile off shore, and, according to Happy Days' Maritime Law, a vessel must be three miles out to see before a sea captain can take matrimonial authority. Needless to say, Garofalo got off easy.
DJ Tanner and Uncle Jesse Marry Their Greek Cousins on Full House
Whatever you do, don't walk around a table with a Greek person — you'll wind up married. Luckily, all it takes to end said marriage is to walk back around the table backwards… at least in the reality of Full House.
Follow Abbey Stone on Twitter @abbeystone
[Photo Credit: Joseph Marzullo/WENN]
More:
Channing Tatum Officially Named the Sexiest Man Alive
Brandy Remembers Whitney Houston with New Album, 'Two Eleven'
Let's Play 'Taylor Swift or 1950s Etiquette Manual?'

'Twilight Saga: Breaking Dawn — Part 2' Star Kristen Stewart on 'Twilight' Finale: I'm 'Desperate' For a Job Now (VIDEO)
(Celebuzz)