This Picture of January Jones Being Ignored Might Actually Make You Feel Bad For January Jones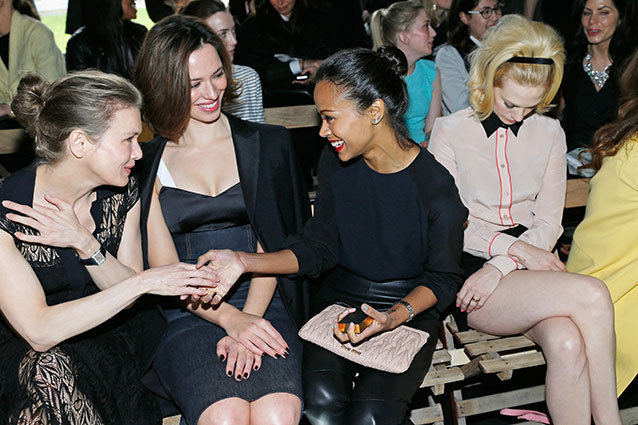 Here's something we never thought we'd say: awww, poor January Jones. We know, how could a woman who's as reviled as Anne Hathaway and Kristen Stewart combined actually garner any compassion? But this bummer of a picture from the front row at the recent Miu Miu Fall/Winter 2013 show at Paris Fashion Week conjures up every terrible flashback of being ignored by all the cool girls in high school. 
RELATED: January Jones Did Not Find 'Fat Betty' As Amusing As Everyone Else
Becoming just another meme waiting to happen (don't be said, Sad Keanu and Sad Taylor, you'll finally have some more company!) should really be the least of her concerns, considering the Internet scorn thrown her way thanks to those recent disastrous Liam Hemsworth affair rumors. But, to add insult to injury, the Mad Men actress is now clearly being cast aside by the likes of popular stars Rebecca Hall, Zoe Saldana, and… Renee Zellweger!?! The woman that nobody could recognize at the Oscars is now throwing you shade. Oh, it hurts. It hurts!
RELATED: January Jones Gives Birth to a Baby Boy
In the unforgiving world of high school Hollywood, January  — who is getting s**t from the popular senior class girls all the way down to the freshman — is pretty much going to have to befriend the lunch lady at this point. 
[Photo credit: Bertrand Rindoff Petroff/Getty Images]
---
From Our Partners:


40 Most Revealing See-Through Red Carpet Looks (Vh1)


15 Stars Share Secrets of their Sex Lives (Celebuzz)