January Jones vs. Christina Hendricks: Is Betty or Joan a Hotter Redhead? — PICS
We never thought we'd say it, but it seems Betty has a little Joan in her. Mad Men star January Jones was spotted sporting a new, just-made-partner-at-Sterling-Cooper-Draper-Pryce-esque look at a Father's day party in Malibu. That's right — the woman otherwise known as Betty Draper seems to be channeling costar Christina Hendricks, an actress famous for her voluptuous red hair (and some of her other voluptuous features, too). It's enough to give Roger Sterling (another) heart attack!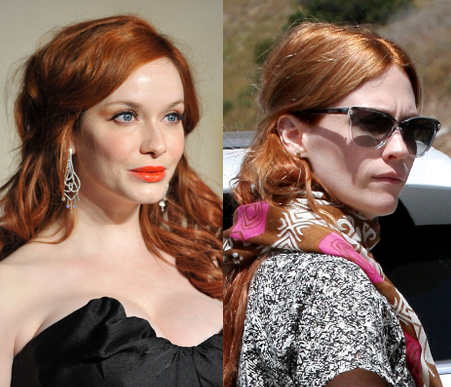 Even though Betty would certainly never be seen with dyed red hair, Jones is no stranger to color: In March, she wore hot pink highlights. So, which Mad Men star is a more glamorous ginger: Jones or Hendricks? 
[Images: National Photo Group, Wenn]
More:
'Mad Men': Why The Show Can't Go On Without Peggy
'Mad Men' Wants You To Get Mad… At Dish TV – PIC