Life Will Never Be the Same for Jason Collins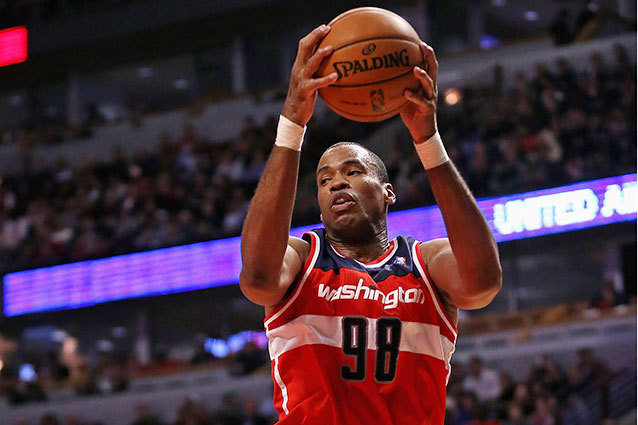 In sports, a game is never "just a game." The game is everything. And players' personal lives are often forgiven — or at least forgotten — in the name of team spirit. If you're a sports fan, your team is your life. You don't care if Michael Vick goes to jail for illegal dog fighting, as long as the Eagles make the playoffs. Nets fans abhor Kris Humphries not because he married Kim Kardashian, but because he can't make a jump shot. And don't even get me started on golf's blind admiration of Tiger Woods. But with his big announcement on Monday, NBA veteran Jason Collins purposefully put his personal life center stage — or more fittingly, center court. 
In announcing that he is gay in a poignant article for Sports Illustrated, Collins has effectively ensured that he will become a part of basketball's eternal history not because of his moves on the court, but because of the very personal decision he made to publicize his private life. Collins will now first and foremost be known as the first openly gay man to play in one of America's four major team sports — and his athletic accomplishments will forever pale in comparison. No NBA or NCAA triumph better showcases his strength, bravery, and honesty.  
But now that Collins' announcement has been made, he wants to return attention to the game. Come the start of next season, he wants to be seen as a ball player first and a gay man much further down the line. For better or worse, I doubt that this will become his reality. Broadcast announcers will surely mention his new connotation when introducing him; fans will undoubtedly cheer for his personal strength over his athletic prowess (which, after 12 years in the NBA, isn't what it once was). 
This inevitable fascination with Collins' personal life over his professional achievements is something far more common to Hollywood than to sports. While Ben Roethlisberger's 2008 rape charge was all but forgotten with nary a championship title in site, actress Anne Hathaway become Hollywood's most hated person the very same year she won an Oscar. And her greatest crime was being annoying. 
In terms of coming out, Hollywood has proven to be more accepting (or certainly more prolific) than professional sports. But from Neil Patrick Harris to Zachary Quinto to Frank Ocean, sexual orientation has trumped the merit of their work in major magazine features and press interviews. While sportscasters are able to interview Tony Parker without bringing up his extramarital affair, the same can hardly be said of his ex-wife Eva Longoria. And, more to the point, you'd be hard-pressed to find a profile on Frank Ocean published in the last year that didn't mention his sexual orientation. 
In the conclusion of his SI article, Collins writes, "I'm glad I can stop hiding and refocus on my 13th NBA season." But while Collins may be focusing on the sport, the fans and the media will be focusing on his private life. In making his groundbreaking announcement, Collins has become bigger than the game. While Collins will still reside in the realm of professional sports, he has also entered the greater cultural zeitgeist. He can never really go back to being "just" a team player. And this is a good thing. 
Follow Abbey On Twitter @AbbeyStone
More:
Jason Collins On Coming Out: 'I'm the Happiest I've Ever Been' 
Jason Collins Is the First Active Pro Team Athlete to Come Out as Gay
Four NFL Players May Come Out as Gay
---
From Our Partners:


Beyonce Flaunts Bikini Bod for H&M (Celebuzz)


33 Child Stars: Where Are They Now? (Celebuzz)