NBA Player Jason Collins on Coming Out as Gay: 'I Am the Happiest I Have Ever Been in My Whole Life'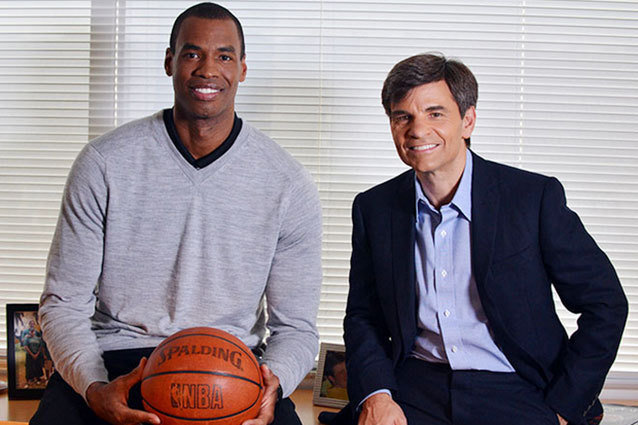 It feels appropriate that only a few short weeks after the release of 42, with discussions of the historic exploits of Major League Baseball player Jackie Robinson in full swing, that we face the destruction of a new barrier in professional sports.
On Monday, Washington Wizards center Jason Collins became the first active professional athlete to come out as gay, offering the announcement through Sports Illustrated. On Tuesday morning, Collins followed up his declaration with an interview on Good Morning America. The 34-year-old NBA player told George Stephanopoulos that before accepting himself as homosexual, he "tried everything in the book, as far as trying to convince [himself], to lead 'the life that you should.'" Ultimately, however, Collins undertook the realization that he needed to be honest with himself and the people in his life.
Collins came very close to getting married to a woman before coming out. "Calling off the wedding was obviously a tough decision, but it was the right one," he said. "I knew I wasn't getting married to the right reasons." Following the interview, Stephanopoulos informed viewers that Collins has every intention of getting married and having children someday.
Despite hurdles like these, the support of his family allowed Collins an easier entry into honest living. The athlete's aunt Teri L. Jackson — a Superior Court Judge — was the first family member to whom he came out. "I have a special relationship with my aunt. I love my parents and my brother, and everyone else in my family. But there is just something about the way that I get along and relate [to her]." Collins affirmed that Jackson knew he was gay before he even told her. "She had her suspicions about me. She was extremely supportive. She's a judge in San Francisco, so I guess she's good at reading people."
But the rest of his family, his twin brother Jarron (Collins interjected proudly that he is "eight years older" than Jarron) included, had fewer intuitions about Collins' sexual orientation. "I am really good at playing it straight," Collins joked. "Maybe [Jarron] needs to hang out with my aunt a little more, get a discerning eye like she has." Nonetheless, Collins' slightly younger brother has been "incredibly supportive." The athlete said with a laugh, "I've always had that big brother role. Eight minutes is an eternity," adding with a bit more sincerity, "I've always had that role on the team, of being the quote unquote enforcer. So I was also protective of my little brother, who happens to be close to seven feet. Now he's sort of taken on that role of protecting me."
Collins described coming out to the realization about the differences between he and his brother around the age of 12, when he was first introduced to rap and hip hop music. "All kids around that age, around puberty, you start noticing things. There was a difference, obviously, between us." But at this point in his life, he hardly feels like the admission will alienate him, especially from his fellow Wizards. "From my teammates, I'm expecting support. That's what I would do for my teammates. A team is like a family — the NBA is like a brotherhood. We all support each other on and off the court."
Summing up, Collins offered some dutiful words: "I hope that every player makes a decision that leads to their own happiness. Whatever happiness that is in life." Before closing the conversation, Collins offered a spirited statement that will hopefully inspire others struggling with the decision to come out to embrace honesty: "I know that I, right now, am the happiest I've ever been in my whole life."
Follow Michael Arbeiter on Twitter @MichaelArbeiter
More:
Jason Collins Becomes First Active Professional Athlete to Come Out as Gay
Four NFL Players May Come Out as Gay
Boxer Orlando Cruz Is a 'Proud Gay Man'
---
From Our Partners:


Eva Longoria Bikinis on Spring Break (Celebuzz)


33 Child Stars: Where Are They Now? (Celebuzz)